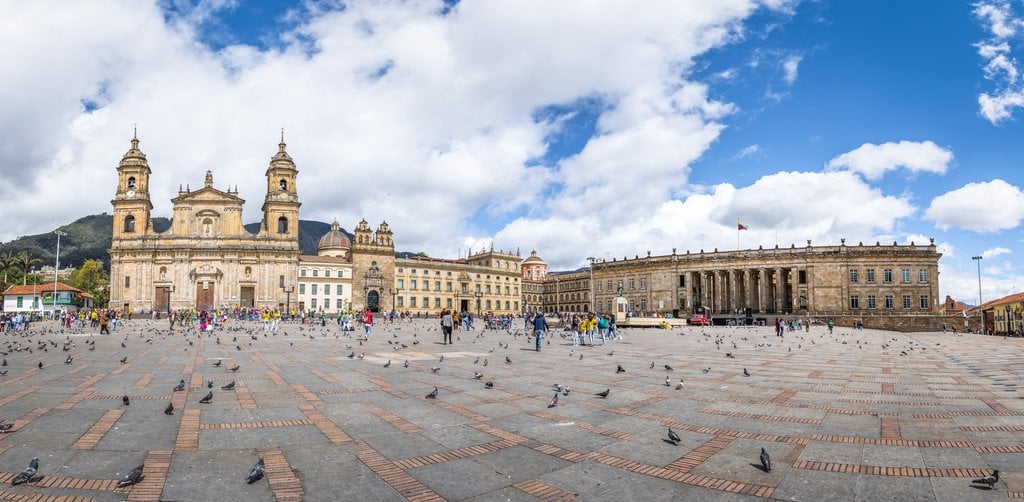 Over the years, visitors have been flocking to Colombia to sample the distinctive Colombian coffee, consume the delicious cuisine prepared with Latin flair, and frolic on the lovely white sandy beaches of Tayrona. However, Bogota, the capital, is often perceived differently, yet it offers some of the best experiences you will have in Colombia, from the culture to art and a vibrant nightlife, there is so much to see in this modern and sophisticated city that is saturated with history. With a wide variety of impressive neighborhoods to see, here is a list of some of the trendiest ones that you should make a point of touring.
Zona Rosa
Located between Calles 79 and 85, and Carreras 11 and 15, Zona Rosa is an upscale area that has some of the best offerings of Bogota, including plenty of bars, restaurants, shopping centers, and fashion retailers. Besides all these delights, Zona Rosa has a thriving nightlife, and is also considered to be one of the safest parts of Bogota. If you are looking for a wild night out, this is the place for you!
Top notch restaurants are in plenty, including Central Cevicheria on Carrera 13 that serves splendid seafood. You will enjoy the Thai Ceviche as well as the octopus and fish ceviche among other things while you are here. Another spectacular restaurant is 14 Inkas where you will find delicious Peruvian cuisine and enjoy its contemporary and casual environment.
Artesanias de Colombia is a great place to visit, oozing classiness and quality. You will find some of the best home accessories, toys, hammocks and plus bags here. Since they are made by local artisans, they make for authentic souvenirs. What's more, more than half of the profits made from sales actually goes back to the artisans!
For retail therapy, make a stop at Amelia Toro and Olga Piedrahita's shops, where you will find high-end and fashion-forward clothes that are runway-ready! Other Colombian designers in Zona Rosa you should sample include Pepa Pombo, Leal Daccarett and Hojas, to mention a few.
For the famed nightlife of Zona Rosa, you can start your night at Vintrash, which holds entertaining events such as Gringo Tuesdays, where the evening begins with a language exchange and ends with dancing and drinking. For the best martinis in the city, head on over to Pravda. Dance the night away at Maroma Nightclub to a mix of Western and lively Colombian music.
Parque de la 93
Towards the north of Zona Rosa, Parcque 93 is situated between Carrera 11A-13 and Calle 93A-93B. This area of Bogota is similarly safe, with a beautiful park, hip restaurants and bars, galleries, boutiques, and shopping centers.
Take a relaxing afternoon stroll with your family or friends in the park as you admire the temporary art exhibits that are regularly set up there. If you so desire, have a romantic picnic in the evening within the park as you watch the sunset, with additional scenic views of the surrounding mountains.
If you would prefer to have a lovely dinner indoors, head on over to Gato Negro where you will enjoy superb Colombian dishes and drinks. The décor is also exquisite, and the service fast and efficient. Have an ale or a lager on the terrace of Bogota Beer Company (BBC), or if you crave a cool crowd, Salto del Angel is a great hangout spot to grab a drink as well. For a great night out, the Apache on the rooftop of the Click Clack Hotel will not fail you.
For your shopping needs, Centro 93 and Portobelo Design Center are great spots. These shopping malls offer well-organized stores, fashion centers, local gastronomy spots, and entertaining events.
Zona G
Are you a food enthusiast? If you your answer to this question is a resounding yes, Zona G is a great place for you to tour considering it is the best gourmet area in Bogota. Situated in an exclusive area between Calle 65-71 and Carrera 7-3, make a stopover here to delight your palate with a great variety of cuisine including Peruvian, Colombian, Chinese, French and American offerings. Some of the most notable restaurants that you might want to try out include Osaki Zona G Artisan, which serves Oriental cuisine and El Arabe, which serves Lebanese food, along with vegetarian options.
After gorging yourself with delicious food from the splendid restaurants in Zona G, indulge in some shopping. La Percha is a lovely store where you will find clothes, jewelry, and accessories from Colombian brands. Though it caters mostly to women, you will find a small men's section on the second floor, as well as a barbershop if you need a haircut.
In the evening, have a cup of the renowned Colombian coffee in one of the many cafes in Zona G. You will be impressed by Amor Perfecto and Bourbon Coffee, but for a mind-blowing café experience, Café Devocion is the place to go. The unique interior décor, reminiscent of 1890s Paris and the pleasant ambiance makes for a great place to enjoy a delicious cup of coffee.
Usaquen
Situated in the northwestern corner of Bogota, Usaquen is a charming town that you will love exploring. This trendy neighborhood boasts countless bars, restaurants, antique shops and shopping malls among other fascinating spots.
If you happen to be in Usaquen on Sunday, make a point of heading to the Usaquen Flea Market which is usually held at Usaquen Park. You will find everything here from snacks to souvenirs.
You will love the street food stalls that sell authentic Colombian cuisine within the alleyways of Usaquen. Enjoy delicacies such as arepa de choclo, which will leave you satisfied without breaking the bank.
If you aren't too keen on street food, you could always eat at one of the many Asian fusion restaurants or a French-style bistro. There are many cafes here too where you will be served with authentic Colombian coffee.
To unwind, head to the Country Club De Bogota, a gigantic well-maintained golf course where you can play golf in serene surroundings.
La Candelaria
La Candelaria holds the distinction of being the oldest neighborhood in Bogota. As a result, it is bursting with history, with colonial architecture, cobblestone streets and vibrant buildings covered in artful murals. You will love the laidback vibe of La Candelaria, which makes it the perfect place to get away from the hustle and bustle of the Bogota city center.
Spend some time at the Bolivar Plaza, a well-known landmark in Bogota. Situated right at the center of La Candelaria, this is a great place to admire political buildings such as Palacio Lievano, National Capitol, and Casa del Florero, as well as the Cathedral of Bogota, all which are in close proximity to the square.
There is the Museo Botero, where you can spend a blissful day admiring pieces of art such as those of Fernando Botero, along with other world-renowned pieces. If you prefer a flashier museum, you will love the Museo del Oro (Museum of Gold), where over 34,000 pieces of exquisite gold artifacts are on display.
To get some exercise in during your visit to La Candelaria, take a walk while admiring the creative and eye-catching murals that decorate the walls on the Graffiti Art Walking Tour. Afterwards, opt to have a traditional Colombian meal at La Puerta Falsa.
Bogota is a huge city, therefore you might feel a little overwhelmed. However, with this guide on some of the most interesting neighborhoods, you have some ideas on how to plan your trip and where to start, along with the varying activities available. Do yourself a favor and pay a visit to this magnificent city next time you are in Colombia.
If you are interested in traveling to Bogota and seeing the rest of what Colombia has to offer, then reach out to us now to start planning your customized adventure.