Sometimes it takes a little push (or shove) to get us to unwind and relax in today's frenetically paced world. Enter a little slice of paradise that not only guarantees rejuvenation, but practically forces it with its unabashed tropical beauty, congenial Caribbean charm and island authenticity. It's Providencia … and it's Colombia's best-kept secret. Here's your quick guide to this "Flower of the Ocean," itself a UNESCO-declared World Biosphere Reserve and a sublimely compact package of crystalline waters, blue skies, tropical forests and white-sand beaches.
The island of Providencia lies approximately 140 miles off Nicaragua's Atlantic coastline and is owned by Colombia. It has a long history as a base for English pirates and so is mostly English-speaking. Today, you might hear English, Spanish and a local creole. The big draw here, beyond the sybaritic island lifestyle, are the limitless opportunities to interact with stunning nature on land and at sea. Snorkelers get giddy over the second-largest coral reef in the Caribbean, while divers explore crevices, caves and huge walls. Of course, there are more than enough beaches to spare if all you want to do is get lost in the rhythm of the waves – no one's judging your FitBit numbers here.
Top 8 Things to Do in Providencia
1. Trek in El Pico Natural Regional Park: Hike from Casabaja to the summit of El Pico mountain for stunning 360-degree views of the "Sea of Seven Colors." It's best to get an early start to beat the heat during this steady 1.5-hour uphill trek.
2. Watch Horses Run on the Beach: There's a weekly bareback horse race along Bahía Suroeste. Escape here for a lazy Saturday to witness a truly island-specific event and take in the beauty of the palm-lined beach and beautiful bay.
3. Snorkel Crab Caye: Take a day trip to snorkel at Crab Caye and peer down over 80 feet into the azure waters, perhaps glimpsing a massive sting ray, barracuda, clown fish, surgeonfish or red snapper.
4. Protect Marine Life at Old Providence McBeach Lagoon: Ten percent of this vast nature reserve protects a coastal mangrove system, while the remaining 90 percent takes care of an offshore area that includes the tiny islands of Cayo Cangrejo and Cayo Tres Hermanos. Follow the eco-path to view mangrove species and the local wildlife. Kayak amongst sea turtles, stingrays and frigate birds and you'll be just as committed to saving them as the island residents are.
5. Live Out Deserted Island Daydreams: Head to the undeveloped, white-sand Bahía Manzanillo (there is one very well-loved bar – Roland Roots – which some call the best bar in the Caribbean). The often-rough water is safe for swimming – beware of strong currents farther out.
6. Drive the Ring Road by Golf Cart: For a moderate price (around US$40 for 24 hours), you can rent a golf cart and drive the perimeter of the island, stopping wherever and whenever you wish – how's that for a custom tour? Hoping for some exercise? Trade in that golf cart for a rented bicycle and trace the same route.
7. Explore Santa Catalina: Stroll the deserted beaches of nearby Santa Catalina island, accessible via a long bridge. Look for Morgan's Head from the water; it's a cliff that seems to take on the shape of a human face. There's a stroll-worthy trail along the coastline if you take the path to the left after the pontoon bridge – check out the old colonial fort and its still-standing cannons.
8. Pass the Conch! Get your fill of the freshest seafood around – from red snapper and lobster to sautéed conch and crab claws. It's usually served with a hefty helping of coconut rice and fried plantains and washed down with refreshing fruit juice or frothy beer. If you're renting a house or apartment in the area, you can pick up seafood of your choice at the fish co-op and bring it home to fry up yourself – rumor has it that onion, coconut milk and mangos make a mean creole sauce for drizzling on just about any seafood. Be sure to try rondon soup, a traditional Caribbean dish in this region, concocted of pig's tail, fish and snails – we promise, it's worth it.
How to Get There: In short, to get to Providencia, you have to really want to get to Providencia. There are two ways to get there. The most oft-used method of getting to Providencia is a 20-minute flight by small plane (eight to ten passengers) from San Andrés' Gustavo Rojas Pinilla International Airport to the island's El Embrujo Airport. If you're a nervous flyer, take your mind off the flight and look out your window at the incredibly pristine coral reefs and turquoise waters you're soaring above. There are direct flights to San Andrés from Bogota, Medellin and Cartagena. Depending on schedules and availability it may be necessary to spend a night (or two) in San Andrés – which is not a bad option since San Andrés is a Caribbean paradise in itself.
Not a small-plane fan? Hop on the catamaran ferry in San Andres for the 3.5-hour, 56-mile boat ride that runs six days a week. It's a pretty rough ride at times, something to keep in mind if you're prone to seasickness.
Where to Stay: Owing to its undeveloped nature (and we truly hope it stays that way), there is a limited selection of upscale hotels on Providencia. Another option we suggest a posada (a locally owned and rented home) for an authentic experience. You'll feel like a local, have the ability to come and go as you please, cook your own meals and watch incredible sunsets from your own porch hammock.
Here are two of the best, upscale properties on the island:
Monasterio del Viento – The property, which sits directly over the turquoise ocean, seamlessly combines luxury-style living with the charming feel of a "home away from home" and its authentic decoration helps it blend into its surroundings.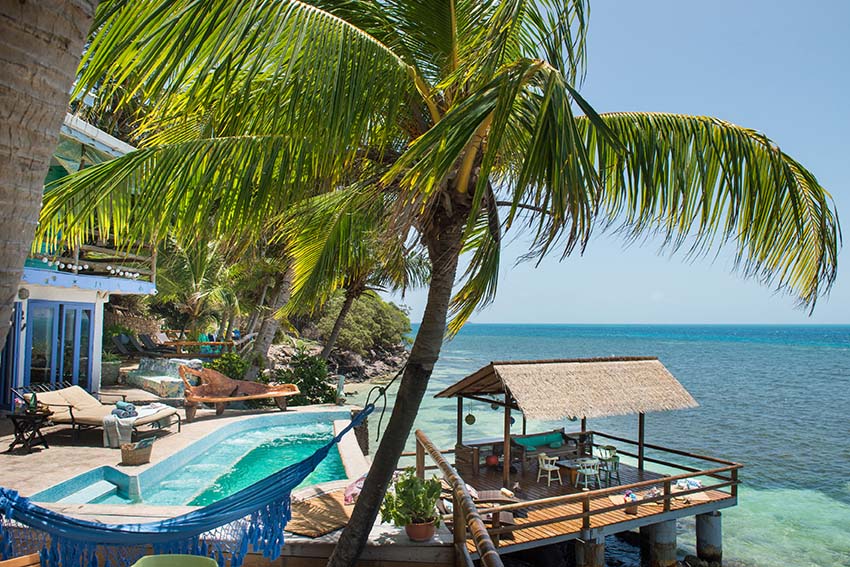 Hotel Deep Blue – surrounded by verdant tropical forest with a splendid view towards Crab Caye and the dreamlike Caribbean sea, Deep Blue was completely renovated in 2010-2012 and under new ownership and management. The hotel is now more luxurious than ever.
With just enough activity and never crowded or overwhelming, Providencia is a delightfully timeless piece of paradise. It's more than worth the extra effort to get there to have the chance to soak up a quiet, sun-splashed, friendly locale where everything slows down yet your spirits perk up. This is where you come when you want an untrammeled destination, a bit too difficult to get to for most travelers, but just right for those seeking a place to switch off and live without social media and your phone chirping at you all day long. Dive with sharks, bike through tropical forest or just laze the day away on a practically deserted white-sand beach, watching the waves and savoring the rare chance to just "be."
Ready to go or learn more about Providencia?