Breaking the taboo of the inaccessibility, insecurity and desolation, Corocora Camp established Colombia's first high-end wildlife camp in the undiscovered wetlands of Los Llanos. The first time we dared to go scouting, without promises of finding anything, we were blown away with the vastness of the savannahs, the smiles and stories of the people, the pride of the llanero cowboy culture, the mastery of the harp players, the barefoot llanero riders, and the abundance and diversity of wildlife – all of it, right there, in one place. Out of the countless places we have explored in Colombia, this is the one we truly fell in love with. Corocora Camp is our way to share with the world – and help protect - this forgotten region and fascinating culture, that very few travellers have had the chance to experience. It started as a crazy idea that led to a pop-up camp for a lucky few. After a number of happy discerning guests, it is now a permanent camp offering much more. See the video of our story.
THE CAMP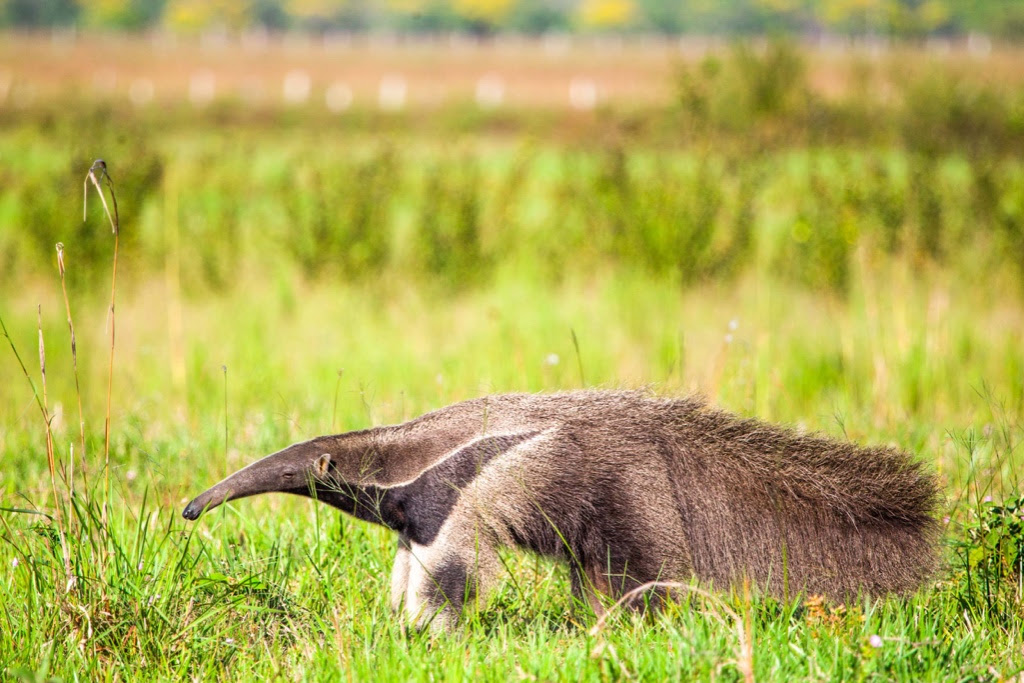 The camp is located on a 9,000-hectare private reserve, a 2.5-hour drive from Yopal (daily flights from Bogota). You will be residing at this reserve with a huge diversity of wildlife including deer, capybaras, jaguars, pumas, howler monkeys, giant anteaters, pygmy anteaters, anacondas, caimans, piranhas, and over 200 bird species.
The camp consists of four sleeping tents with one king or two twin beds, premium pillows and linens, en-suite bathroom with flush toilet and running shower, Loto del Sur amenities, and private deck. All tents are approximately 70-100 meters apart with views of the river and the savannah. Isn't it wonderful to feast your eyes on the beautiful night sky from your comfy bed? At Corocora Camp, you never need to give up comfort for a closer look of the wild nature.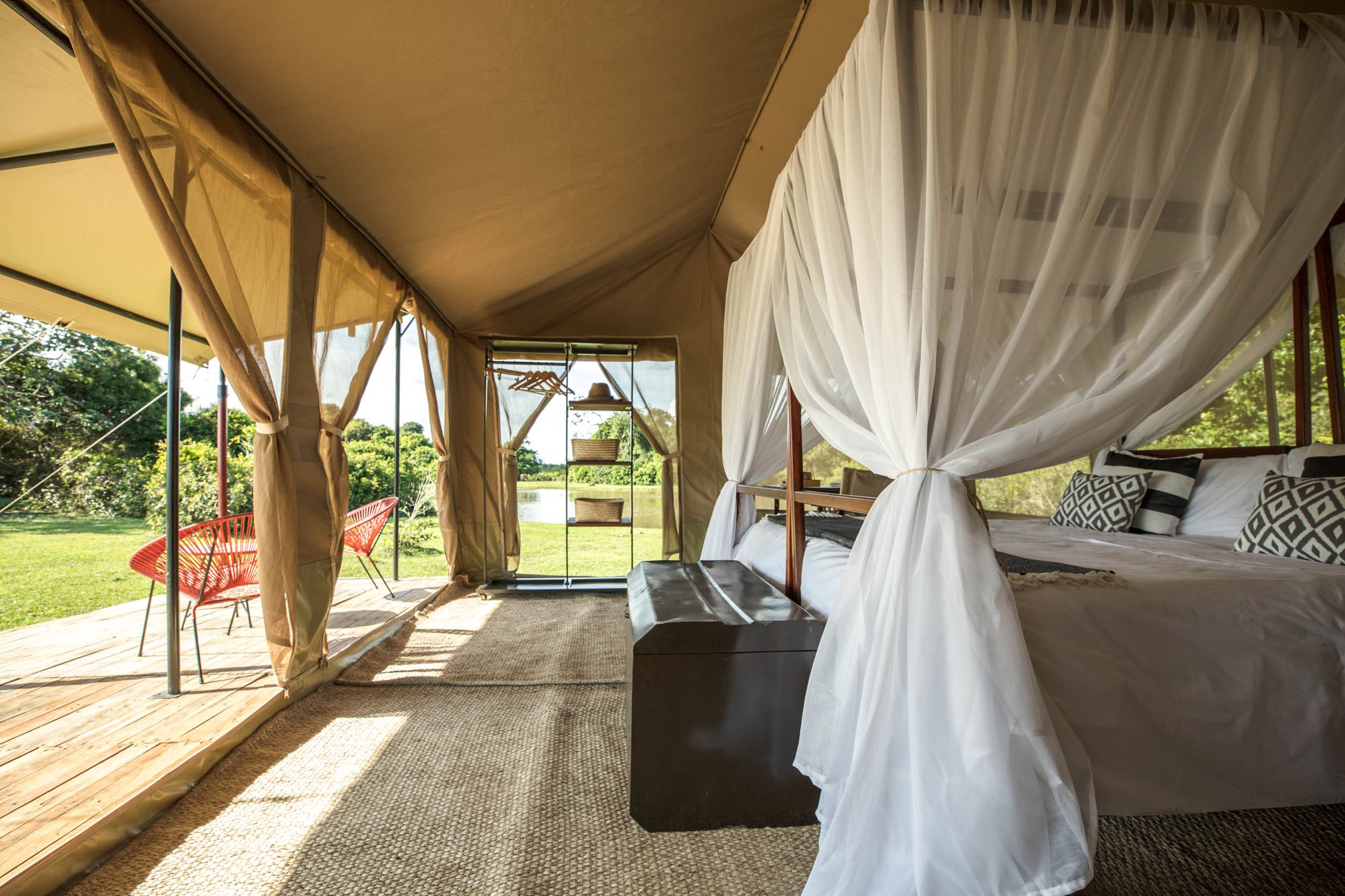 The social tent is at the center of the camp, where guests gather for sunsets, meals, and nightcaps around the bonfire. With views of the savanna and the water, it's an ideal place to cool off, relax, read a book, or play some board games.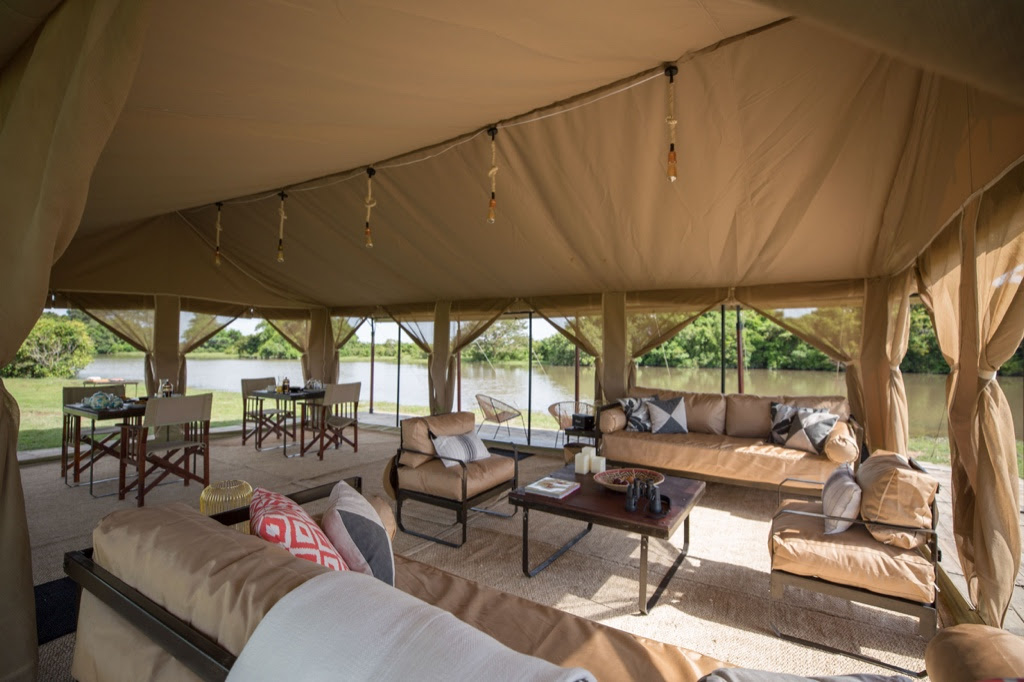 Although the tents are African-style, the interior design honors independent artisans from rural communities and indigenous tribes throughout Colombia with whom we have worked with to custom-make everything from natural fiber carpets to intricate baskets, cotton blankets, clay bowls, woven linens, and hand-painted teapots. We strive to showcase the diversity of Colombia's cultures and the stories of its artisans.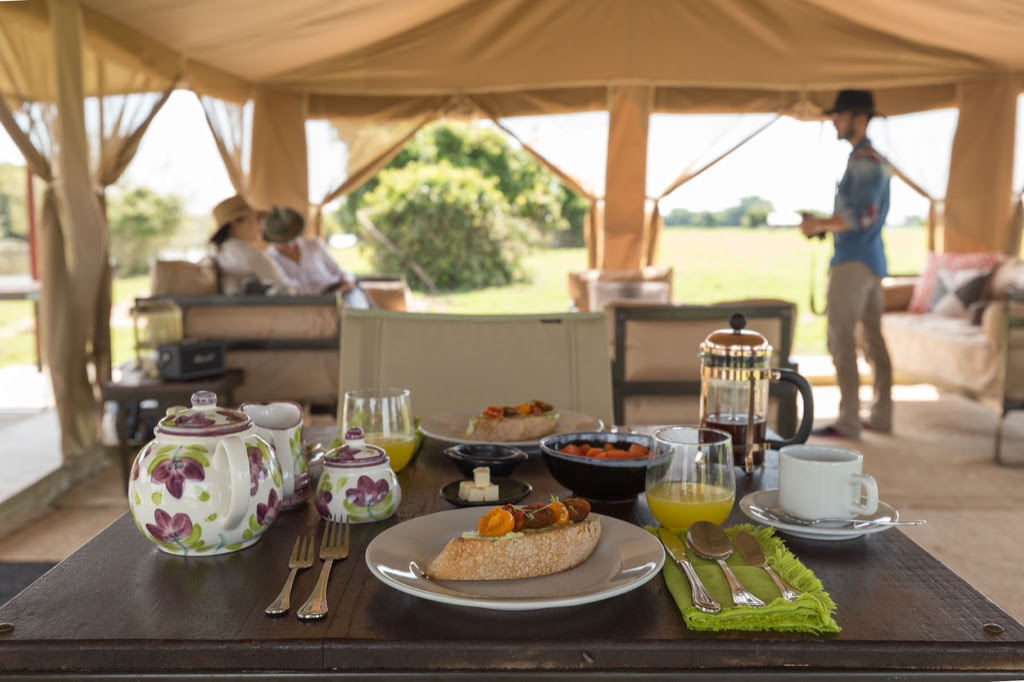 Gastronomy is paramount. The camp's chef uses local ingredients and traditional cooking methods to prepare beautifully presented dishes. The majority of products are sourced from the neighboring farms and villages, traditional recipes are featured throughout the dining experiences.
As every outstanding meal needs to be paired with a good drink, the bar is nicely stocked with 20-year old Colombian rums, single-malt scotches, premium gins and vodkas, and a carefully curated variety of wines. Sipping on your wine while overlooking the savannah, you will feel the serenity and beauty blooming in your heart.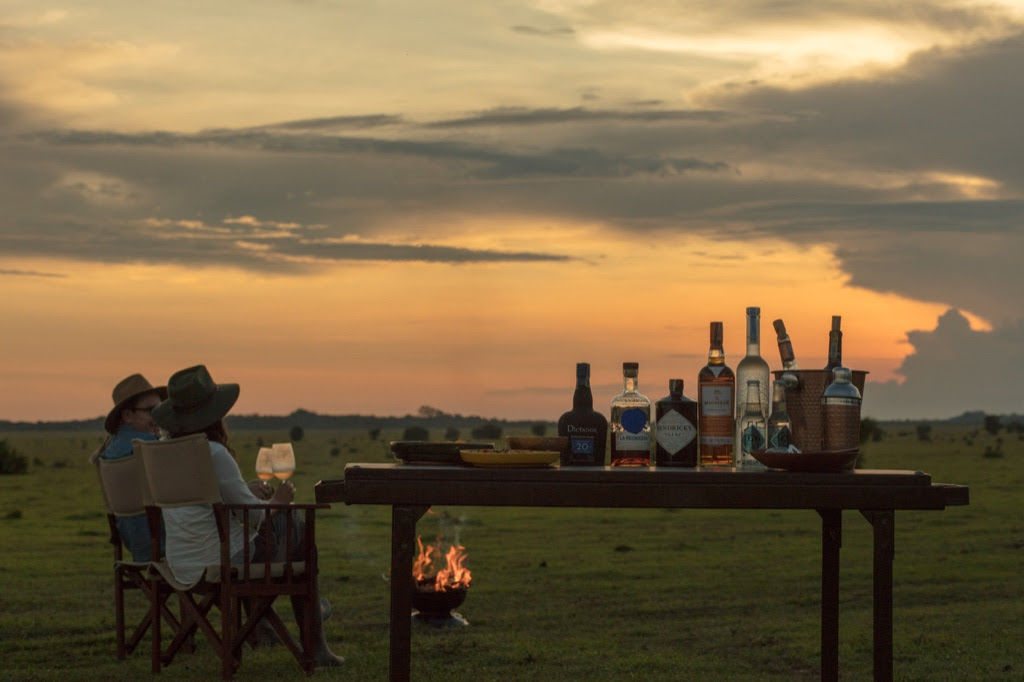 THE ANCIENT LLANERO CULTURE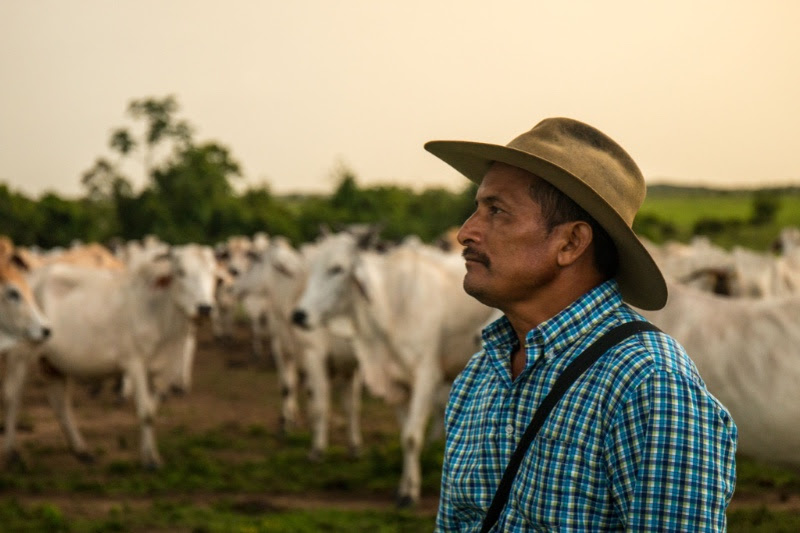 Nature and comfort are never enough for an adventurer like you. Here at Corocora Camp, you have the chance to engage in the local lives. The reserve is also a traditional cattle ranch that has embraced wildlife conservation and works with llaneros, one of the last authentic cowboy cultures in the Americas. Guests can spend the morning with the llaneros experiencing the long-standing traditions that make this unknown culture so unique and fascinating: bareback riding, herding cattle, learning to use a leather lasso, playing the harp and the maracas around a bonfire, and singing folk chants to ease cattle. Llanero work chants were declared by UNESCO an Intangible Cultural Heritage in 2017. Finish the day the llanero way with a traditional parrando - a bonfire dinner with live harp and guitar music and the captivating joropo dancing.
For those seeking an even more immersive adventure, drive to the nearby town of San Luis de Palenque and canoe 2 hours down a lush river to the home of one of the region's more fascinating llaneros. Spend the day learning about their traditions, visiting the cacao plantation, and experiencing this remote way of life.
LIVING THE WILDLIFE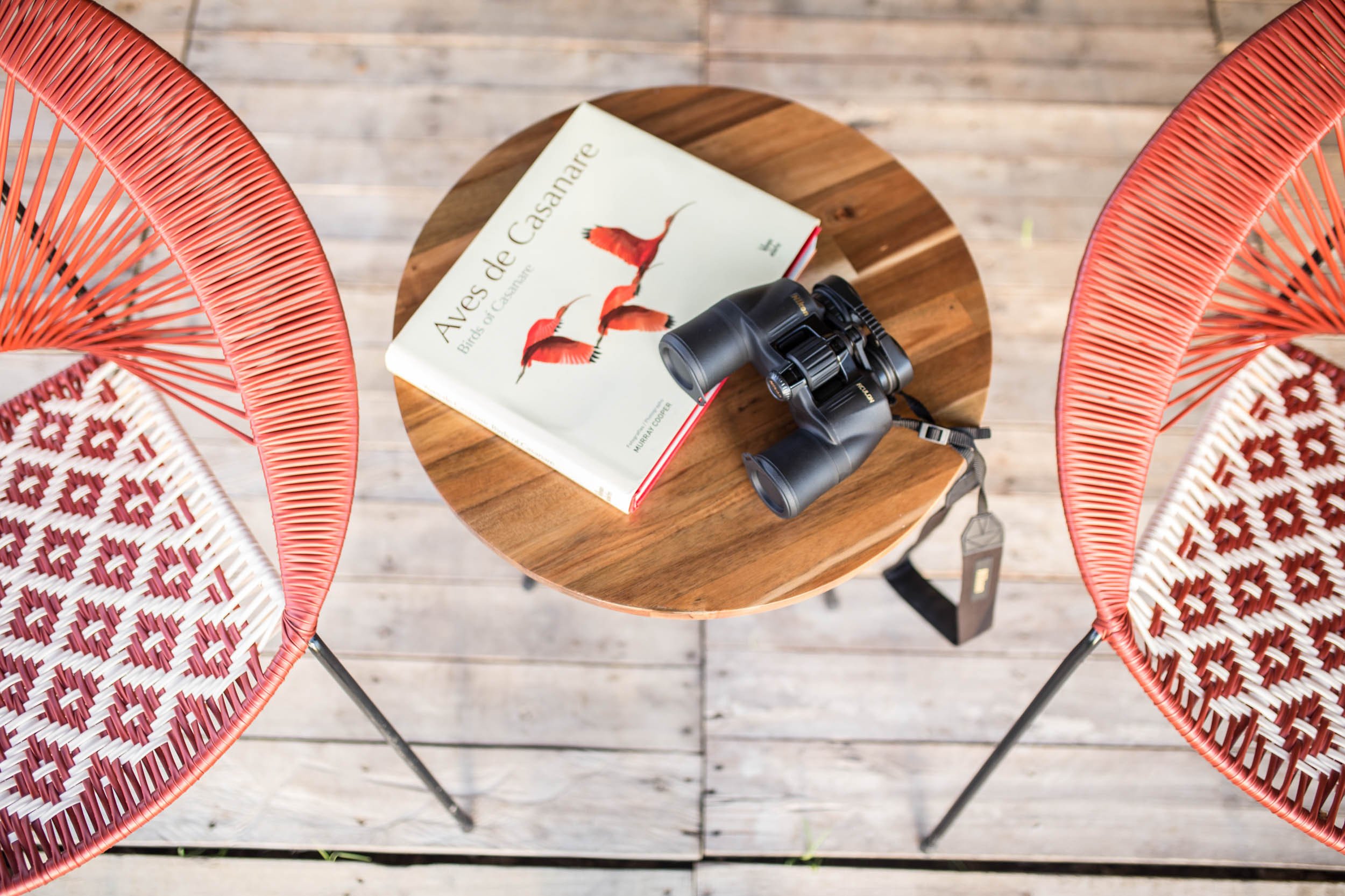 Wildlife experiences include walking, horseback riding, or 4x4 drives in search of local fauna including deer, capybaras, jaguars, pumas, howler monkeys, giant anteaters, pygmy anteaters, anacondas, caimans, piranhas, and fascinating reptiles and amphibians. If those activities are still not enough to boost your adrenaline, helicopter expeditions are available to visit more remote and inaccessible reserves to see other animals like pink river dolphins and rare ecosystems such as the endangered moriche palm forests.
Birdwatchers can enjoy multiple days of specialized birding programms in search of over 200 species alongside an expert. Photography enthusiasts can learn new techniques alongside a professional wildlife photographer.
CONSERVATION & SUSTAINABILITY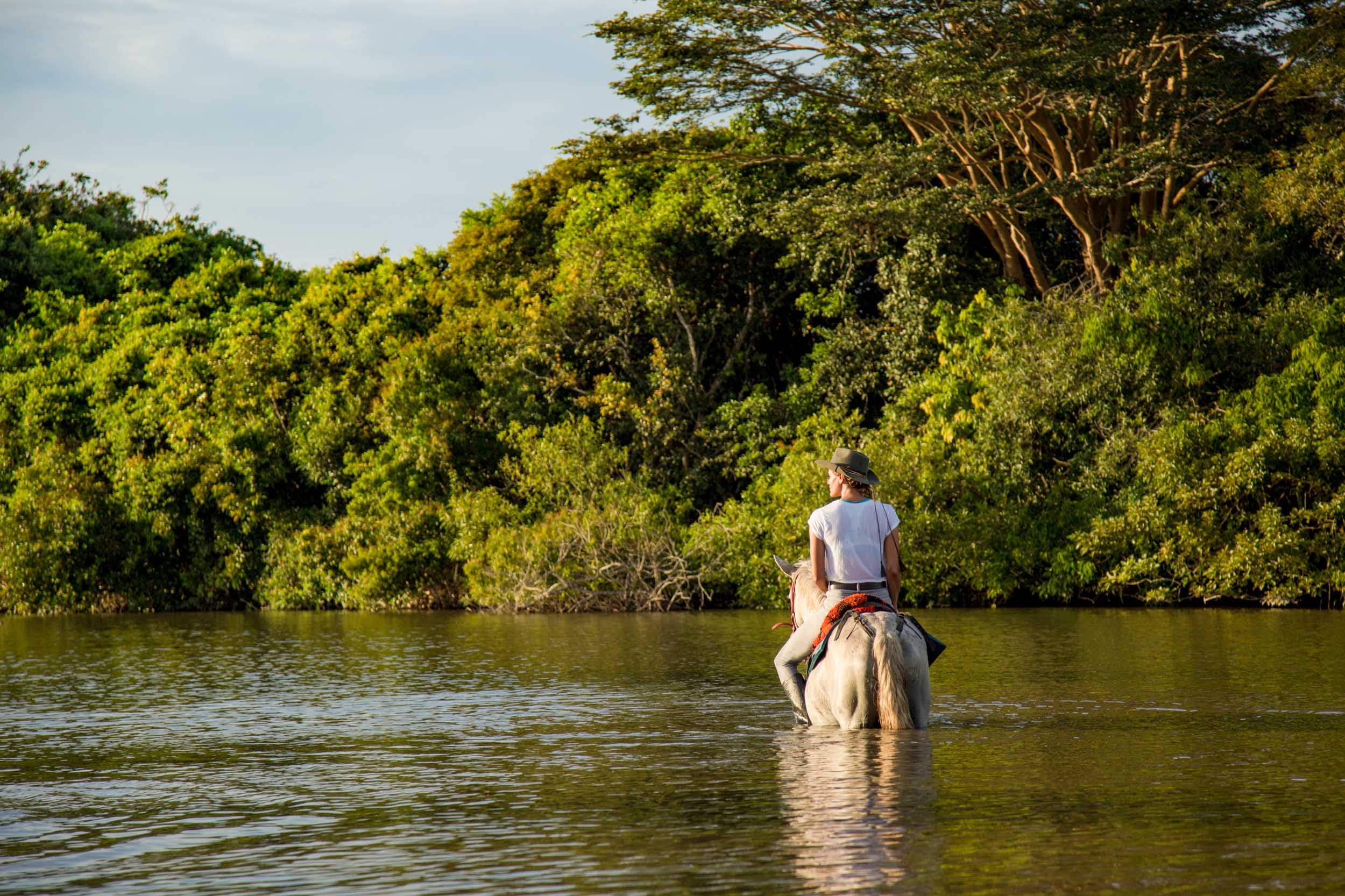 Los Llanos is a region that is under pressure from local oil companies and industrial farming (rice and palm oil) that causes deforestation, depletes the land and destroys the habitats of threatened species such as jaguars, pumas, ocelots, and giant anteaters.
Corocora Camp is the first high-end tourism project in Los Llanos, providing high-value for the communities, minimizing environmental impact, and generating funds for conservation projects.
Corocora Camp partnered with Cunaguaro, a local conservation foundation, to implement a variety of programs in the reserve and surrounding communities. During their stay, guests can also get involved by helping set-up and survey camera traps used to study and better protect the reserve's wildlife, participate in reforestation projects, visit neighboring community projects and schools, and help fund wildlife tagging research projects to help track and study animals' movements and habits.
The camp was designed to minimize environmental impact within the reserve. Lights and appliances are powered with solar panels, water is sourced from a deep well and purified with a specially-designed Natura filtration system (no plastic water bottles), refillable Loto del Sur amenities are used, organic waste is composted, and glass bottles are recycled with the neighboring communities.
THE NITTY GRITTY
- Rates start at $490 per person, per night, including all meals, snacks, non-alcoholic beverages, a personal English-speaking naturalist guide, a local Llanero guide, and private localized experiences such as bush walks, bird watching, canoeing along the gallery forests, artisanal fishing, and visits to conservation project. Horseback riding, off-road vehicle excursions, and other specialized experience have an extra cost (request our portfolio of activities).
- All guests pay a conservation fee of $50 per person, per booking.
- Minimum stay is 2 nights, but 3 nights or longer is recommended.
- Dry season is December - March, characterized by more arid landscapes and higher concentration of wildlife around watering holes. Temperatures range 21°- 33°C, minimum humidity and windy days that keeps guests cool.
- Wet season is April - November, marked by lush green landscapes, and some clouds for cooler days. Although there are patches of rain, guests can still enjoy all activities during their stay.
- Getting there: guests can fly to Yopal El Alcaravan Airport (daily commercial flights from Bogota), followed by a 2-hour drive on paved roads to the reserve then 30-minute off-road to the lodge. Optional 20-minute helicopter transfer.
- Contact us to request the full rate sheet, activities portfolio and detailed fact sheet.