Colombia is having a moment. Travelers are re-discovering that this welcoming country is not only safe and friendly, but brimming with beautiful cities, cultural attractions, jungles and more. Tops among the country's highlights are its bountiful beaches on both the Pacific and Caribbean coasts. The Caribbean coast is home to the most picture-perfect beaches, while the Pacific is equally beautiful but more rugged and remote. Then there's the archipelago that includes San Andres and Providencia, where you'll find that tropical island vibe and spectacular snorkeling. From off-the-beaten path secret swaths of sand to bustling beaches primed for a party, there's a playa for everyone.
Best Beaches for Introverts
Looking for Colombia's best beach secret? Head to quiet Playas de Palomino, nestled up against the Sierra Nevada Mountains on the Caribbean coast. Consider hiding away at Playa Guachalito in the small fishing village of Nuqui, where the most action you'll find is from the underwater sea life. The dark sands and unfettered landscape are tailormade for daydreaming. In Nuqui, you'll also have the opportunity to learn about the region's Afro-Colombian traditions and see flora and fauna not found elsewhere in the country.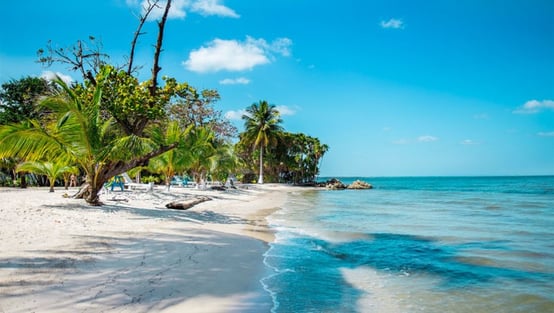 Best All-Around Beach
Colombian families and Cartagena tourists choose Playa Blanca on Isla Baru for its accessibility, pearly white sands and azure waters - all just a 45-minute boat ride from Cartagena. Consider visiting mid-week to avoid crowds. And don't miss the cocada coconut treats, instantly refreshing on a balmy day. Look for humpback whales if you're visiting this favorite Colombia beach between July and October.
Best Beach for Revelers
If you're seeking a lively atmosphere, cut loose at Taganga, Colombia's party beach town. It's not the beach for peace and quiet, but if you're in a social mood, this former fishing village close to Santa Marta might just fit the bill.
Best Beaches for Snorkeling
Hop over to Providencia and Playa de Providencia for snorkeling and diving amidst kaleidoscopic marine life. The colorful fishing boats, powdery white sand, swaying palm trees complete the postcard view at this spectacular Colombia beach. Bonus beaches for snorkeling and diving in Colombia: Playa Soledad in Capurgana and El Aguacate (Avocado Beach) with its iconic green water.
Best Beach to Photograph
The incredible bright orange sand, striking turquoise water, green limestone and quiet cove make for a dramatic vista at Playa El Pilon de Azucar. Sand dunes, cliffs and hills surround the one-of-a-kind beach, about a half-hour from Cabo de Vela.
Best Beach Island
Catch the boat to Providencia and make a day of exploring some of Colombia's most unspoiled beaches. Walk forever along the island's longest beach, Bahia Sur Oest (stop for incredible seafood along the way). At Bahia Maracabio, canoe and snorkel at McBean Lagoon, McBeach National Park and Crab Caye. And check out off-the-beaten-path Playa Manzanillo on the southeast coast, with its beautifully turquoise waters and the chill Rolands Roots Bar, the only building on the beach.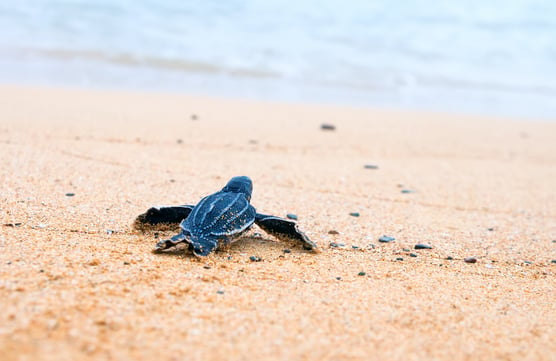 Best Beach for Meeting Turtles and Whale-Watching
Make a new (turtle) pal at El Valle on the Pacific coast near Medellin. Marine turtles return here to lay their eggs on the two dark beaches, and it's likely you'll glimpse migrating whales between June and October.
Best Beach for Sunset
Venture out to Tayrona National Park to catch the sunset from at El Cabo San Juan. The sand here unbelievably soft and the beach is surrounding by lagoons and jungle, in the shadow of the Sierra Nevadas. You might even glimpse a howler monkey or blue-tailed skink while you're swimming and sunbathing.
Check out all of our trips to Colombia for more inspiration. Wondering where to stay? Cayena Beach Villa, Punta Faro Hotel, Hotel Deep Blue, and Gitana del Mar are just a few of Colombia's beach-centric hotels. (See all of our Colombian hotel recommendations, including more beach options, here.)
Hungry for even more travel motivation? Check out our eBook guide to the city of Cartagena.
Contact us to help arrange your vacation to the best beaches in Colombia.