When you think of visiting Colombia, what do you picture yourself doing? Does it involve hanging out with hammerheads or relaxing among some of the most beautiful and rare tropical reefs? I bet not. Don't worry, you're not alone. With so many other incredible land activities to experience there, not many people would think of diving right off the bat. But they should, so let's fix that! Grab your mask and fins and take a plunge beneath the surface to discover our top 5 favorite (underwater) places to visit in Colombia.
MALPELO ISLAND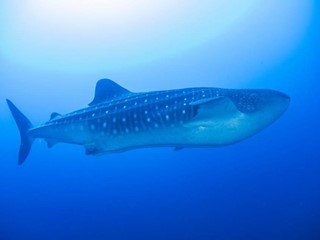 Malpelo is a small isolated volcanic island in the Colombian Pacific that is surrounded by eleven islets and located just over 300 miles west of the town of Buenaventura, in Valle del Cauca.
Malpelo is one of the largest marine protected areas in the world and has been a Fauna and Flora Sanctuary (FFS) in the Colombian Natural National Parks System since 1995. It is located in the Eastern Tropical Pacific Marine Conservation Corridor, an initiative established by Costa Rica, Panama, Colombia and Ecuador in 2007 as part of their combined conservation efforts. In 2002, the island was declared a Particularly Sensitive Sea Area by the International Maritime Organization; in 2006, it was declared a World Heritage Site by the UNESCO; and just recently, it was declared an Important Bird Area (IBA). Needless to say, this island is home to a lot of wildlife, and the government intends to see it flourish.
The Malpelo Island is considered, without a doubt, the best diving destination in the Colombian Pacific. The great variety in this underwater world, together with its sheer walls and majestic caves make Malpelo very attractive for divers around the world.
This island is truly a wonder, but it's also a bit dangerous. Only certified expert divers are allowed to swim here, as the strong currents, powerful waves, and jaw-dropping depths require extensive safety measures. Submersions start around the island's shores and nearby outcroppings, at vertical walls that range from 30 to 140 feet deep, ending in a very rocky seafloor. There are more than 25 diving spots with astonishing seascapes and wide variety of marine life.
Diving in Malpelo means swimming among large and tightly-packed schools of reef fish, tuna, and dolphins, but also some other creatures like scalloped hammerhead, silky, and Galapagos sharks.
GORGONA ISLAND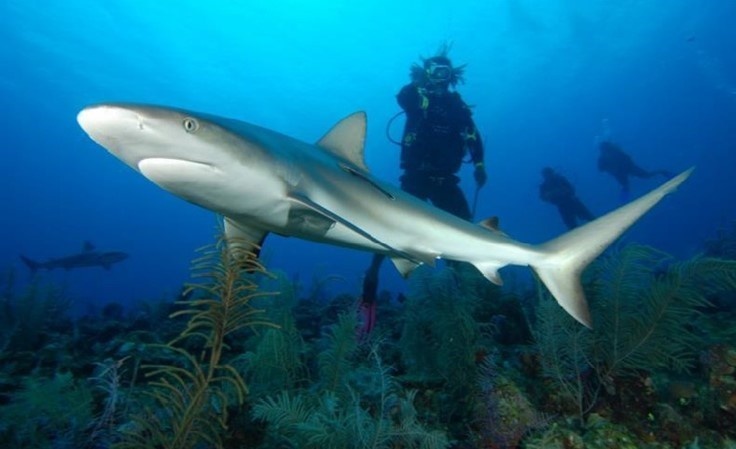 Gorgona is a volcanic island in the Guapi district, about 35 miles away from the region of Cauca. However, the nearest land is 22 miles away, in Punta Reyes, a district of Bazan, in the municipality of El Charco (Nariño). It belongs to the Gorgona Natural National Park, with an extension of 238 square miles, of which 97.5% is a marine area.
The favorable weather conditions (temperature, salinity, and water transparency) have resulted in the largest coral formations in the Colombian Pacific, making this a magnificent diving site.
Its diverse marine wildlife render this place particularly attractive, including schools of large fish and coral reef fish, as well as a rocky seabed with soft corals.
Gorgona has more than 15 submersion sites. The eastern shoreline has the calmest spots, perfect for beginners, while experienced divers can try the west side, offering cliffs and open water sites with stronger currents.
Divers can see giant manta rays, humpback whales, whitetip reef sharks, turtles, moray eels, snappers, Crevalle jacks, Almaco jacks, and barracudas, in addition to coral reef species such as angelfish, butterflyfish, and parrotfish. Not to mention, this is one destination with large octopi numbers.
PROVIDENCE & SANTA CATALINA ISLANDS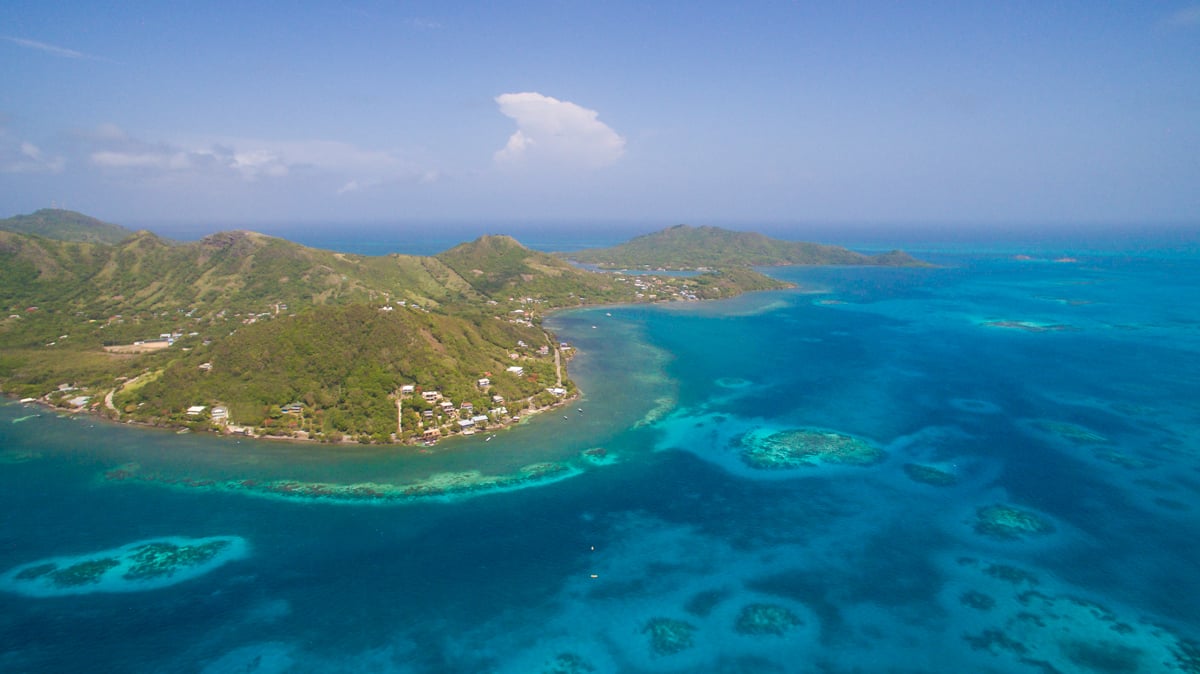 Providencia and Santa Catalina are two small volcanic islands, located 480 miles from the coast of Cartagena in Colombia and 112 miles from Nicaragua. Providencia is the larger of the two, with a surface of 7 square miles, while Santa Catalina is barely 0.3 square miles. It offers a romantic and secluded beach with clear warm waters.
Both islands are part of the archipelago of San Andres, Providencia, and Santa Catalina islands, and due to their natural, cultural, and historical abundance, the archipelago was declared a UNESCO heritage site in 2000; it is also designated as the epicenter of the Seaflower Biosphere Reserve, making it a strictly protected area.
Both beginner and expert divers look at the Providencia and Santa Catalina islands as exceptional destinations for diving, even though books and international travel guides rarely reference these spots.
The coral barrier, approximately 20 miles long with a surface area of 100 square miles, is the second largest in the Western hemisphere, after the famous Belize coral reef, and one of the largest and most accessible barrier reefs in the world.
The many impressive rock shelves are among the top attractions, together with caves, cracks, and sunken ships. A spectacular diving experience awaits divers who dare to swim among barracudas, jacks, snappers, rays, groupers, hawksbill and green turtles. The wide array of sea creatures combined with near-perfect weather conditions—we're talking balmy 80° temperatures and waters so clear visibility reaches over 100 feet!—make Providencia very attractive for divers of every level, from beginners to expert.
SAN ANDRES ISLAND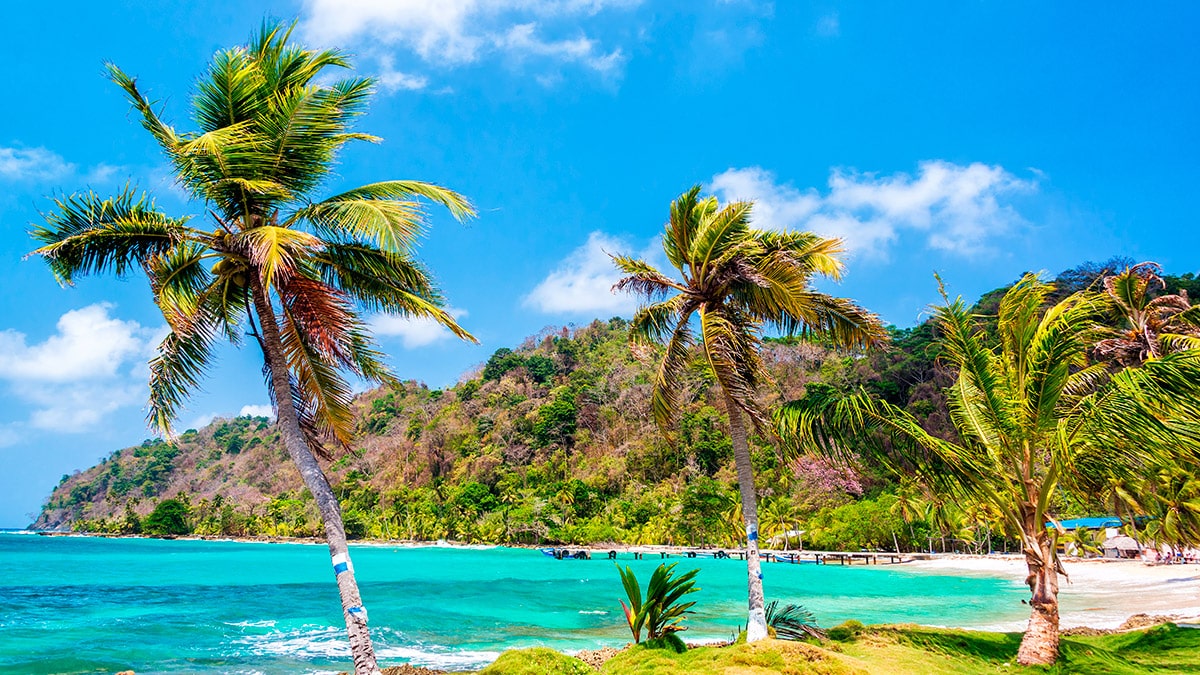 San Andres Island is the largest island in the archipelago (which is a group of islands, keys, and rock shoals) between itself, Providencia, and Santa Catalina, and it is the only region that consists entirely of island territory. It is located west of the Caribbean Sea and about 480 miles from the Colombian mainland.
This archipelago is one of the largest in the Americas, made up by the longest reefs in Colombia—about 78% of the country's total coral area. For this reason, and considering its outstanding cultural and historical values, the archipelago was declared a World Biosphere Reserve by the UNESCO, named "Seaflower Biosphere Reserve," in 2000.
Diving in the "Sea of Seven Colors" is an extraordinary experience. The island is far from continental influence and its platform origins are completely coral-based. This means the beaches and sea beds are composed entirely out of white coral sand that keep the water purely transparent and reflects light clearly.
Visibility is wonderful year-round, constantly reaching over 100 feet, like in Provendencia. This aspect, in addition to the warm waters, allows for widespread, beautiful, and complete coral colonies.
San Andres has more than 40 diving spots with a variety of attractions for both diving beginners and enthusiasts. Some of the most popular shoreline diving spots are Villa Erika, Nirvana, Wild Life, and La Piscinita, with a depth of up to 30 feet; this is perfect for beginners. Boat diving is available in Bajo Bonito, La Trilogía, La Montañita, Blue Wall, Piedra de Carlitos, and La Parguera, among other places where cliffs begin at 15 feet and extend to incredible walls of more than 300 feet.
ISLA FUERTE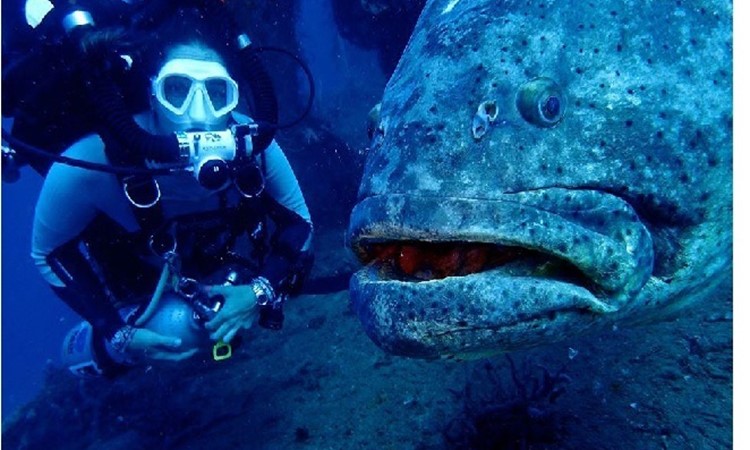 This is a shoreline island facing the coasts of the Cordoba region, located south of the Gulf of Morrosquillo and around 6 nautical miles away from the continent. It is among the group of Colombian continental coral islands including El Rosario, San Bernardo, and Tortuguilla. It is also part of the Corales del Rosario and San Bernardo Natural National Park marine protected area, where Isla Fuerte stands out for its size and elevation.
Isla Fuerte has a unique level of biodiversity compared to the rest of the coral islands in the Colombian continental Caribbean. The combination of dry tropical forest covering most of its area, and the north and south mangrove regions, result in a particular habitat with a variety of ecological niches.
Isla Fuerte offers visitors a number of sites and several different types of diving. The 6 square mile reef platform has shallow coral formations to the north, with some cracks and small caves to explore, then becomes deeper and ends in a steep shelf about 45-70 feet deep. The coral platform extends 3 miles into a gentle slope with virtually no rock shelves to the south and west.
This region has a total of 37 diving spots, including a shipwreck called El Planchon. The climate conditions in the Caribbean Sea can change drastically between the rainy and dry seasons. The currents, waves, and visibility can also vary throughout a single day which makes this spot a little more unpredictable, and that much more exciting!
Isla Fuerte is the closest point on land to reach the four open water or "platform" reefs located 6-13 nautical miles outside of the insular region. Bushnell, Burbujas, and Bartolo are considered the best preserved sites in the Colombian continental Caribbean.
Colombia may be on the small side, geographically speaking, but its adventure opportunities have no bounds. From natural coral sand beaches to 70-foot drop-offs, there's a life-changing experience for everyone to enjoy; beginners to experts. And not to mention all the incredible marine life thriving in these underwater wonderlands! Go dive into Colombia, and discover for yourself what treasures are hiding beneath the surface of those crystal clear waters.