Planning a once-in-a-lifetime trip is something the average person does, well...once in a lifetime. In many cases, the destination is one of the world's most beautiful destinations. Have you ever thought of visiting Belize's Great Blue Hole? If not, you are missing a whole lot of life experience and fun. This Blue Hole is one of the world's most famous tourist destinations. There is a lot to experience starting with its unique location. For those who love Scuba diving, this is the place to be. Apart from this, there is a wild variety of marine life with different types of sharks like nurse, reef and black tip sharks as well as an array of awesome hotels and resorts.
Location of Belize's Great Blue Hole
Before planning to go for a trip, the first thing that you may consider in the destination is the ease of planning and travel. The Great Blue Hole, off the coast of Belize is the largest sinkhole in the world. The sinkhole is located at an isolated place that requires you to spend more than one hour in a boat from either cities on the coast or one of the islands, such as Ambergris Caye. Surrounding it is the Lighthouse Reef which is a destination in itself for many. By visiting the Great Blue Hole, you are therefore able to extend your tour to the reef and maximize your fun and experiences.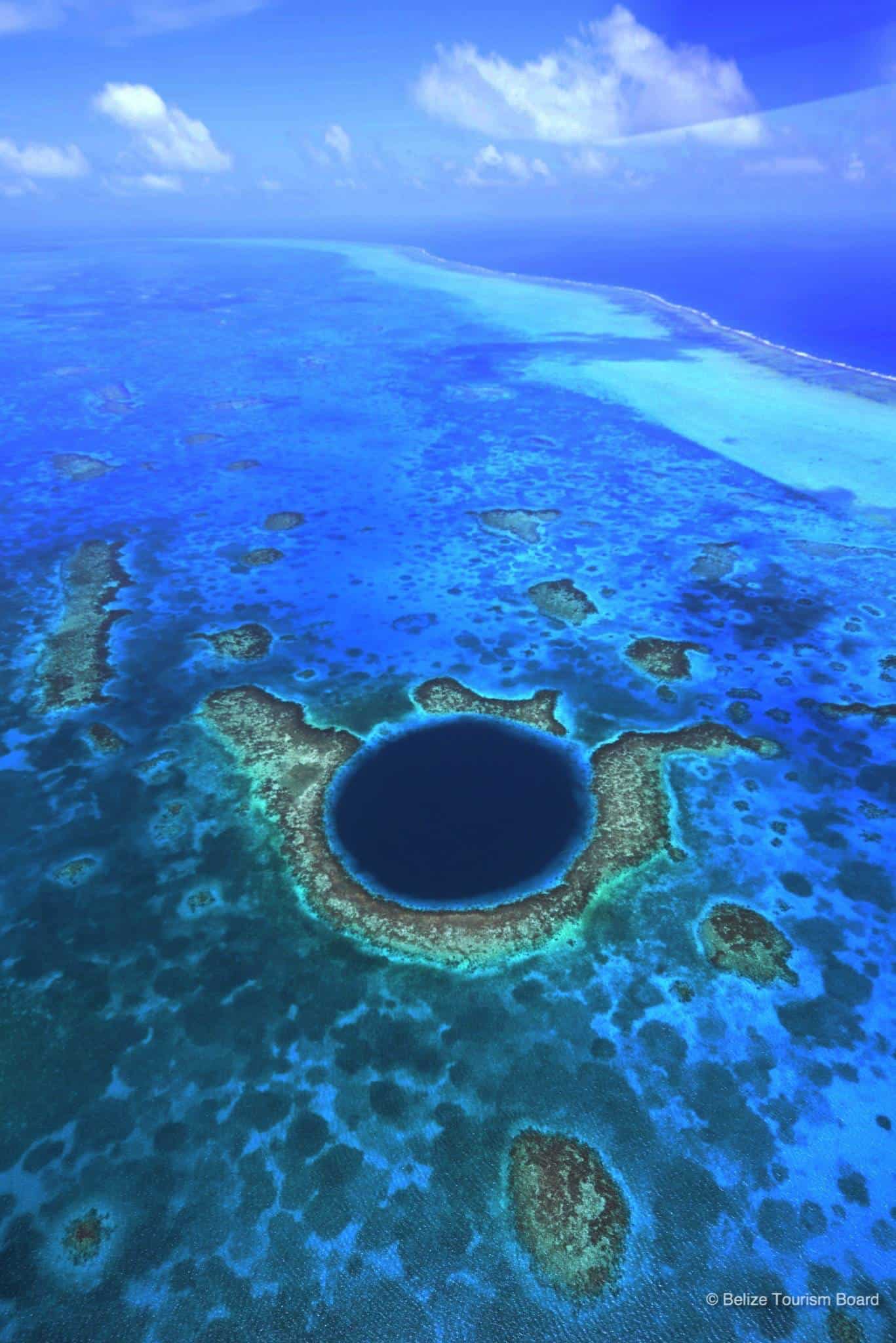 Attractions at Belize's Great Blue Hole
Many divers visit the place for that one great reason. As it is not limited to the divers, there are those who take a tour here to see the natural features as well as observe the marine life found here. The natural features include the way the sinkhole was put into place. Stalagmites and stalactites dominate the place. These are very beautiful scenes for those who love to tour the world and experience its beauty. Being the largest sinkhole, there are different species thriving here. The different types of sharks and other sea life are rampant: nurse sharks, black tip sharks, reef sharks as well as the giant groupers.
Size of the Great Blue Hole
Being famous for its depth, the sinkhole is simply the largest in the world. That means that it covers quite an extensive wide area. Maybe someone is wondering how the term sink is relevant in this case? These holes were formed geographically, after limestone caves collapsed during glaciation and were eventually submerged by the rising waters. This happened so many years ago during the formation of the earth. Belize's Great Blue Hole is more than 400 feet deep and 984 feet wide - quite a large area. A tour of this place can not only be for leisure but also for academic purposes to see the geographical aspect of this place.
Evolutionary history found at Belize's Great Blue Hole
Scientists found out fascinating history on this particular place. This is in terms of coral reefs found there. The coral reefs were just remarkable and contributed so much in proving the history of evolution. Different life forms are attracted to the reefs which spread the diversification. Nevertheless, only a few of them are supported in this place. A tour to the greatest sinkhole equips one with so much knowledge which can be significant for those who are learning as well as for those who are looking for adventure.
Why visit Belize's Great Blue Hole
The main reason for touring this place is to have fun and experience the beauty of the largest sinkhole on Earth. Another reason that attracts people from around the globe is for academic purposes. An educational tour to make what has been learned in class becomes a reality. There is this other group that is just curious and one wants to feel satisfied having visited this place. The fact that great people and scientists have been to this place makes these people so complete for being able to tour a famous place. They may not be involved in diving and their fun is found in just the feeling of being there. At least each and every person must fit into one of these categories. No matter the category, a tour to this place is simply an experience of a lifetime.
Heritage Center
There is so much to behold at this place that UNESCO made it one of its World Heritage Sites. This is due to the reefs that are present here make it a destination worth preserving. A lot of scientists are thus attracted to this place in an attempt to learn how to make it a better place as well as maintaining its integrity and beauty. Having these stakeholders manage part of this sinkhole, makes you understand the importance of visiting the site and its value.
Diving and accommodation services
Accommodation options for your trip is another major factor that must be considered in advance. It makes relaxing after a whole fun day comfortable. Both on the coast and remote islands, there are plenty of good hotels that offer great accommodation and access to the Great Blue Hole. The food, as well as entertainment, are on point to suit all your purposes. You can also go shopping and enjoy the tour of the places. The following hotels are a few of our favorites that offer great diving options. If you are a novice, you won't miss the diving experience at the greatest sinkhole. These hotels offer diving courses where you can obtain the necessary experience to dive the Great Hole. You can get a glimpse of these hotels below and get to see the options they have in store for you.
Victoria House
Victoria House is one of the few luxury resorts that provide its guests with the amenities that will ensure a splendid vacation. Starting from cutting-edge suites and villas, the hotel provides facilities which every traveler desires. Most importantly, its location, with easy and quick access to the Belize Barrier Reef enables the hotel to provide activities such as fishing trips and diving into the famous Great Blue Hole.
Hamanasi
Hamanasi is yet another famous and worth-visiting hotel, which provides each and every service at every detail. If you are to stay in this hotel, not only will you get a 'real touch' of relaxation, but you get to enjoy the guide provided by the hotel that leads to the best adventures such as Barrier Reef Diving and Snorkeling, Jaguar Preserve Night Hike, Jungle River Canoeing and many more.
Chabil Mar
Being one of the hotels which grace an exquisite landscape flourished by flora and fauna, Chabil Mar is another hotel which provides numerous attractions which visitors look for. Apart from its luxurious design and environment, Chabil Mar offers Snorkel and Scuba diving, Jungle Excursions, Maya Archaeological Excavations, Cave Swimming and Tubing, Zip-Lining in the Jungle Canopy, Kayaking, Sailing and Yachting and many other adventures that you do not want to miss.
Exploring Belize's Great Blue Hole is a lifetime experience that one would live to narrate. Starting from its isolated location to the natural features found there and also the fun activities like diving, make this spectacular place a must-see destination and an item on everyone's bucket list.
Keep reading about world-class diving off Ambergris Caye in Belize on our blog - Dive Sites near Ambergris Caye, Belize.
Want to speak with an expert now?