Costa Rica has a well-earned reputation for being one of the best destinations to offer plenty of unique opportunities for adventures. Thanks to its pristine beaches, the abundance of lush jungles, natural attractions and the greatest density of biodiversity in the world – there is no doubt that Costa Rica is the place to travel to if you're looking for an action-packed itinerary.
Whether you want to backpack or spend a month-long holiday with your family, Costa Rica caters to all types of travelers. Now let's take a look at all the heart-pumping activities you can partake in. Dense rainforests? Check. Raging volcanoes? Check. Mountainous hikes? Yup.
The adventures in Costa Rica will take your breath away – from unmatched landscapes to adrenaline-filled experiences that'll leave you wanting more. Here are our top 5 recommendations for the best adventures in Costa Rica.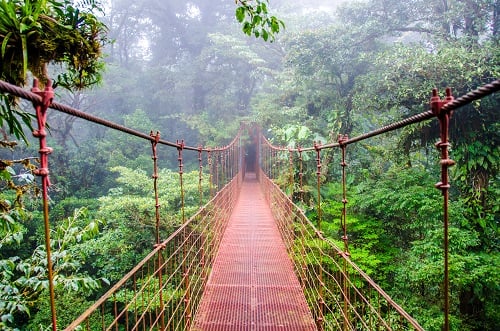 Ziplining
Imagine yourself soaring over low-hanging clouds, coasting speedily through lush rainforests, enjoying a birds-eye view of staggering scenery and breathing in the crisp fresh air of Costa Rica. Without a doubt, Costa Rica is one of the best places in the world to go ziplining in the world. In fact, it's the birthplace of ziplining and a rite of passage for any Costa Rican holiday. Whether you're going on an adventure holiday or a 2-week family trip – ziplining here is an awe-inspiring experience that promises to be an unforgettable part of your trip. Not only are there canopy tours almost everywhere around Costa Rica, but it's also considered one of the tamest adventures out there. Of course, the initial jump can be quite scary (especially when you're unsure of where exactly you'll be landing) but other than that, there really is nothing to worry about. There are different types of ziplining in Costa Rica including some you could do in pairs or even upside down. If you're feeling extra adventurous, you could try ziplining in the dark.
Where to zipline:
We highly recommend Monteverde Cloud Forest Reserve for incredible views of the clouds & the forest. It's a system made up of 3km worth of cables, and the lines range from 1 KM long ones to 220 meter-long-ones.
There's also the Arena Volcano National Park which is one of the best destinations for ziplining in Costa Rica, thanks to the plethora of canyons and treetops you'll zip through. Finally, there's Guanacaste which has one of the most extreme ziplines and the longest dual-action zipline in Central America. The cherry on top would be the sprawling panoramic jungle views.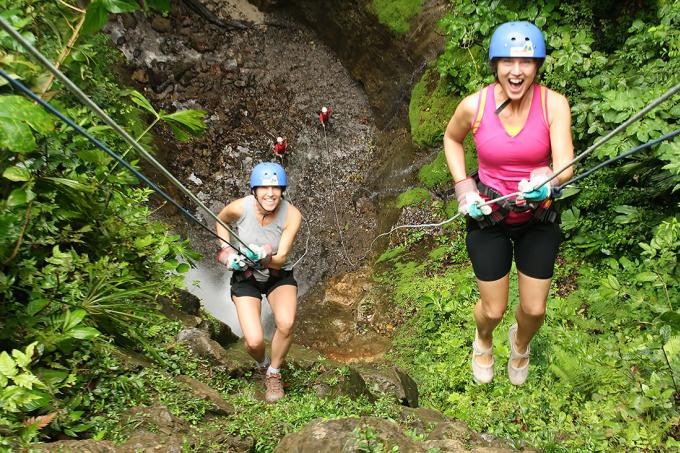 (photo credit: arenal.net)
Canyoning
Want to feel invincible for a day? Try canyoning in Costa Rica. It has long been a premier destination for canyoning. The exhilirating experience does require a little bit of courage and a lot of physical strength for some gravity-defying tricks. You'll spend your time repelling down waterfalls and scrambling through natural obstacles in a canyon. What makes Costa Rica such an incredible destination for canyons is how the majority of its mountainous areas are covered in rainforest. Meaning there are hundreds of waterfalls and canyons perched amidst most of its mountains. The best place to go canyoning in Costa Rica is in Arenal, followed by Monteverde, Jaco, and Turrialba.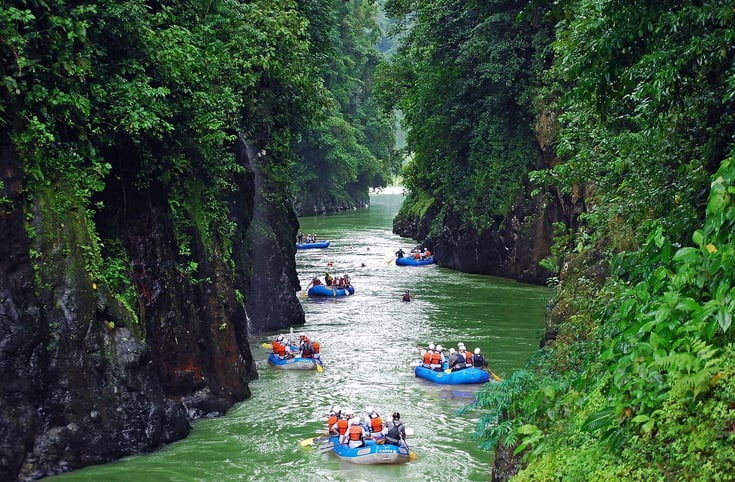 White Water Rafting
White water rafting is made for all you outdoor enthusiasts out there. It's one of the best ways to experience Costa Rica's natural beauty first-hand, while also indulging in some adrenaline-inducing activities as you paddle down roaring flowing rivers. The best thing? Most of the rivers are actually surrounded by miles of luscious flora and fauna adding exponentially to the experience.
If you're looking for some top-notch white water rafting spots amongst rugged landscapes and lush forests. We recommend La Fortuna rapids. It's the gateway to the Arenal Volcano National Park (which is the heart and soul of adventures in Costa Rica). La Fortuna Rapids is surrounded by different rivers that you can choose from based on your level of experience. There is also the Penas Blancas River which is ideal if you're on a family trip.
The river is quite different from the higher class rapids in other parts in Costa Rica and you could go on a safari float that introduces you to the unique wildlife and flora in the surrounding areas. Finally, Rio Toro is where you should go if you're looking for a heart-pumping and challenging experience. After all the name, which translates to Bull River, is nothing less of befitting to that aggressive river.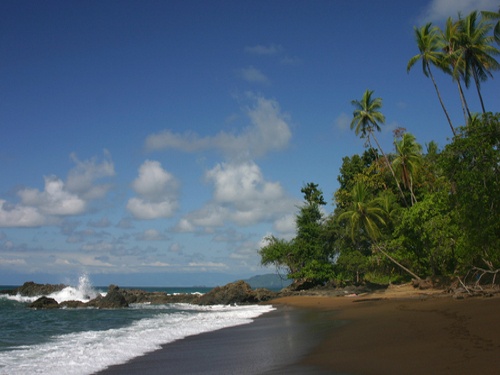 Surfing
Thanks to Costa Rica's warm waters, its friendly locals and its great weather, the environment there is ideal for all surfing-enthusiasts out there.
Whether you're a complete beginner or a professional, you'll find that Costa Rica is the perfect place to catch as many waves as possible. Some of our top recommendations include; Santa Teresa, Montezuma, Tamarindo, and Dominical. Most of these places offer lessons as well (which are essential if you're surfing for the first time) and you can even go on weeklong surf camps.
Playa Tamarindo is the best place for beginner and is known for its smaller, calmer waves while Playa Jaco is where you should go for some of the world's best breaks. If you're an expert surfer, head straight to Santa Teresa in the Nicoya Peninsula.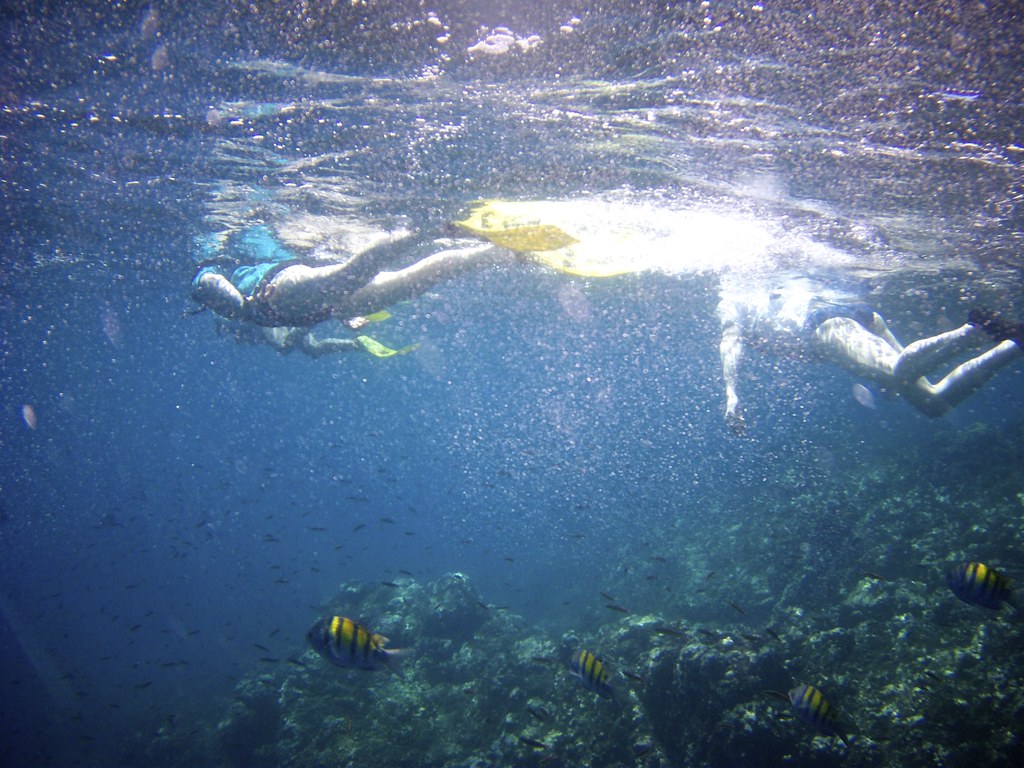 (photo credit: flickr)
Snorkeling or Scuba Diving
Costa Rica boasts an incredible display of biodiversity and its lush landscapes can be enjoyed, both, on land and underwater. Dive in and you'll be introduced to vibrant coral reefs, underwater volcanic formations, multi-colored aquatic life in every turn, shipwrecks, shark caves and so much more. Its inviting warm waters all provide rich opportunities for all types of snorkeling and scuba diving. Whether you want to float on top and spot the sea turtles, or you want to swim with dolphins and whale sharks, you'll find it all.
We recommend trying Gandoca Manzanillo Wildlife Refuge for spotting coral reefs, and if you're a beginner. Another great place for beginners is Cahuita National Park with shallow waters and plenty of snorkeling opportunities. The absolute best place to try snorkeling is on Cocos Island. The only downside is you'll have to take a long boat trip to reach the snorkeling destination. But trust us on this one, it's very worth it.
If you're ready for these amazing Costa Rican excursions, feel free to contact one of our experts today to start planning your trip. It's at no cost to you, and all trips are personalized and customizable to your interests. Before you know it, you'll be swimming and snorkeling in the tropical waters.