Tours and Excursions in the Atacama Desert
Activities in the Atacama Desert range from scenic trips to hikes, mountain biking and horseback riding. Special interest tours include ATV tours, volcano climbing, nighttime astronomy tours and full moon walks.
What to Do in the Atacama Desert – The Best Tours & Excursions
Here are some of the best:
Moon Valley - one of the most popular Atacama destinations and for good reason. For the Atacameño people, amateur explorers and adventurous travelers alike, there are few places as evocative as the Valle de la Luna or 'Moon Valley'. The myriad of peaks, rock formations and canyons are a bewildering natural spectacle. Best visited for sunrise and sunset.
Toconao Village and the Atacama Salt Flat - a local village known for its architecture, Tamarug's Forest and the Los Flamencos National Reserve.
Tatio Geysers - large pools of boiling water and mud, fumaroles and natural hot
Socaire and High-Andean Lagoons of Miscanti and Miñiques - a local village known for its traditional church and quinoa plantations; crystal water lagoons and sanctuary for local unique flora and fauna.
Cornisas - the hike to the cornices of the Cordillera de la Sal makes for the perfect introduction to Atacama's bewitching, moon-like landscapes. Travel through the Catarpe tunnel to the Valle de la Muerte (Death Valley), with a backdrop of the area's most imposing volcanoes and sweeping, fiery red rock formations. The hike follows the desert plateau at around 8,350 fet above sea level.
Guatin Gatchi Valley - hike through a giant cacti forest to the confluence of the Puritama and Purifica rivers.
Puritama Hot Springs - eight large geothermal pools located at 11,400 feet, around 20 miles northeast of San Pedro.
Machuca & the Rio Grande - home to alpacas, llamas, giant cacti and a wealth of desert flora.
Quebrada del Diablo & the Vilama Fortress - located in the Cordillera de la Sal.
Mountain Biking
Death Valley - a challenging ride with plenty of ascents with fantastic views of the Cordillera de Sal.
From Quitor through the gorges of the Cordillera de la Sal to Devil's Throat (Garganta del Diablo) and the village of San Isidro.
Arcoiris in the Domeyko Mounatin Range. Guanacos can be spotted in the area.
Horseback Riding
Rides can take anywhere from 2-6 hours. Destinations include:
Ayllus - located in Sequitor, Yaye and Checar, home to Atacameño farming communities.
Catarpe Valley - Cornisas and Garganta del Diablo (Devils' Throat), the Salt Ridge and the Salado River
Moon Valley, the Salt Ridge and the Cucuter ayllu
Mars Valley
Volcano Climbing
Here are the best, and highest, volcanoes you can climb:
Cerro Toco Volcano - 18,700 feet
Lascar Volcano - 16,600 feet
Sairecabur Volcano - 19,404 feet
Saciel Volcano - 18,598 feet
Licancabur - 19,413 feet. This is a 2-day expedition.
Off-road and ATV tours
On Safari Atacama offers exciting sand buggy and quad tours, Atacama motorcycle safaris (half-day, full-day and 2-day nomad tours). Details can be found here - https://www.onsafariatacama.com/index.html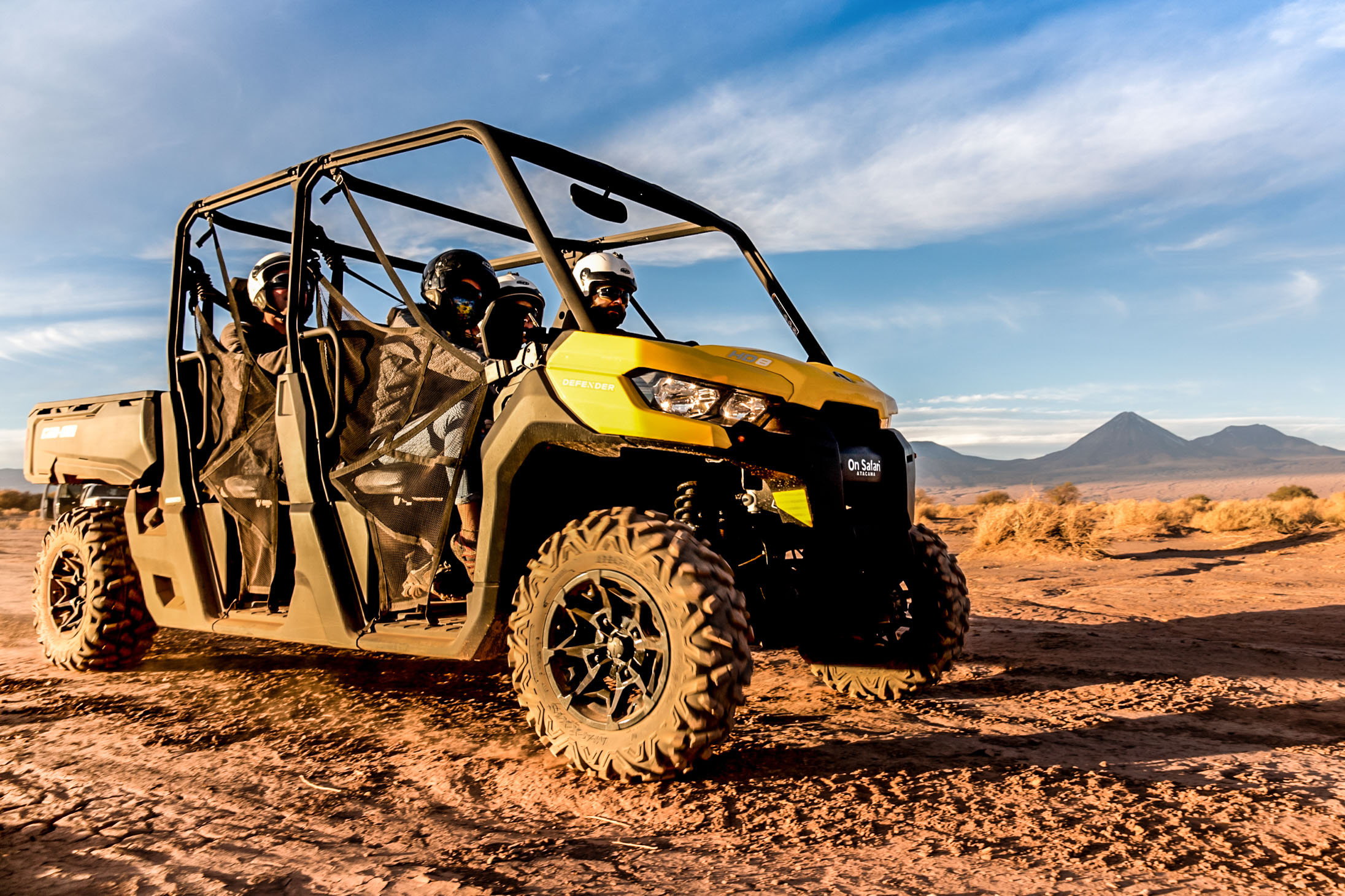 Read our companion blog "The Atacama Desert - Where to Stay & Where to Eat" for more travel ideas.
Also visit our "Travel to Chile: Where to Go and What to Do" travel planning pages to get started.
Ready to go? Get in touch now and one of our expert trip consultants will be happy to help.