Top Places to Stay in the Atacama
Where does one stay in the driest place on Earth? Believe it or not, for those adventure-seekers for whom the Atacama Desert is high on the bucket list, opportunities abound for every budget level. Here, we share our top accommodations in the region at the luxury and moderate level.
Top 4 Upscale Lodges in the Atacama Desert
Consistently ranked as one of the best resorts in South America, explora Atacama exploded onto the luxury scene about 15 years ago, launching the region into stardom and allowing well-heeled active travelers to combine their adventurous pursuits with ample creature comforts (think gourmet meals, sybaritic spa treatments and posh suites). Every program at explora (set in the oasis of San Pedro de Atacama) includes accommodations, airport transfers, all meals and beverages and a menu of 40(!) exploration experiences. Choose from days spent navigating huge sand dunes or barren salt pans, hiking, cycling, horseback riding, photographing flamingos and more. The resort's collection of 50 rooms takes full advantage of the serenity of the lunar-like landscape, encouraging guests to actively disconnect from their hustle-and-bustle lifestyle (read: no televisions or WiFi, although the latter is available in the hotel common areas). For the best Licancabur Volcano views, consider a Catur Suite.
Don't Miss:
• Gazing up at star-strewn skies (among the world's clearest) from the resort's private observatory
• Renowned Chilean wines and pisco sours
• Essential-oil massages in the Turi Puri room, or "House of Water"
• Guest gatherings at the quincho BBQ, enjoying traditional spit-roasted lamb and Andean music and dance
• Soaking your muscles in the four swimming pools or outdoor hot tubs
• Taking advantage of reserved spots for explora guests at the nearby Puritama hot springs
2. Awasi
Practically a private vacation, Awasi Atacama has just 10 rooms and every one of them is assigned a private guide and a 4WD vehicle – that means you can explore at your own pace, visiting where you want, when you want. With a name that means "home" in Quecha, the native language, this is certainly a lovely one – in fact, local historians led the design effort of the lodge's thatched-roof, adobe casitas to echo the region's pre-Inca ruins (although there are modern day touches, including iPod docking stations and solariums with alfresco rain showers). Here, like explora, daily excursions are included because, really, who comes this far without a primal need to get out and see this otherworldly landscape, so vastly different from, well, just about anywhere. And while, Chilean food doesn't typically top most foodie's must-try lists, Chef Juan Pablo Mardones impresses with Andean grains, herbs and roots from the desert, crispy fish and ceviche and Peruvian causas, all complemented by Andean merlots and malbecs.
Don't Miss:
• Dining under the stars at the open-air restaurant
• Special touches like chachacoma tea for altitude acclimatization, signature lemon-mint lip balm, walking sticks and underfloor heating
• A pisco sour or glass of Chilean red while you lounge in the pool or on a two-person daybed
• Breakfast at the foot of the Andean mountains, watching the sun greet the day and the steam rise from the Geysers of Tatio
• Gathering around the firepit at night with like-minded guests, sharing stories of the day's adventures
Placing a huge emphasis on mind and body wellness, Tierra Atacama is sensitive to its desert surroundings and Andean culture. The Uma Spa is a highlight – treatments are influenced by the desert climate, native flora and ancient therapies. First, dip in to the alfresco hot tub in full view of Licancabur Volcano, then head into the spa, with its natural stone walls and bamboo canopy, for a reenergizing spa circuit using the pools, steam room and relaxation space. Choose from spa combos tailored to your daily excursions – perhaps a reiki and crystal massage after a hike through Moon Valley, or a Saddle & Soak therapy after a long day on horseback. The lodge's rooms nod to the local culture at every turn – handwoven throws on inviting sofas, cowhide rugs and llama figurines carved from volcanic rock. And every room takes full advantage of the mesmerizing vistas, with views over the Andes, nearby volcanoes and vast desert.
Don't Miss:
• Toasting a day of exploration with a signature Rica Rica Sour with a board of cheese and handmade empanadas, or a slice of sweet kuchen cake
• Planning your days with the lodge's expert guides, depending on your interests and physical activity level
• Birdwatching in the wetlands of Putana and Machuca, glimpsing flamingos and Andean geese
• Exploring secluded Toconao village, breathtaking Salar de Atacama and captivating Chaxa Lagoon
• The chance to climb to the summit of Toco Volcano, with its memorable views of the Bolivian Altiplano and Salar de Atacama
4. Alto Atacama
Blink and you might miss it, so harmoniously blended with its environment is Alto Atacama. The lodge is quite literally surrounded by the natural landscape, the lush Catarpe Valley of the Salt Mountain Range. (If the tranquility and silence have you craving a more frenetic pace, the plaza of San Pedro is just over a mile away.) We would strongly encourage you, however, to unwind and relish the respite, whiling away the day on an outdoor terrace or dining alfresco on local Socaire potatoes, native quinoa and Chañar-based sweets. Despite its location in the driest of deserts, the lodge's Puri Spa takes advantage of the San Pedro oasis, offering sybaritic and soothing treatments and moments in the Finnish sauna and Turkish bath. Not only water, but lush gardens, are in surprising abundance at the lodge – every plant was sown using native seeds collected from the altiplanic area, and the tiles and stone bricks were handcarved on site.
Don't Miss:
• Relishing the luxury of soaking in water in the midst of the desert in one of six outdoor pools and an outdoor Jacuzzi
• Choosing from more than 30 tours and excursions to learn more about the Atacama and the desert highland plains
• Studying the night sky from the open-air observatory
• Sampling from the wine cellar – the cabernet sauvignons, the syrahs and the carménères
• Getting off the beaten track by foot or bike to meet local residents and hear their stories – more than half the lodge staff is from this region
Top Mid-Range Lodges in the Atacama Desert
1. Noi Casa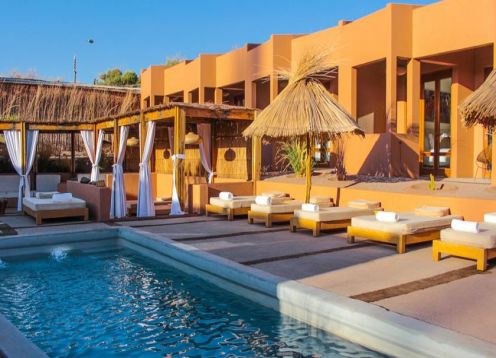 The boutique-style Noi Casa Atacama sits in the heart of San Pedro de Atacama at the edge of the desert, merging a homey ambience with a sustainable design. Every room and suite features native artwork and furnishings, 400-thread-count Egyptian linens, plush down bedding and a private terrace. Amenities include locally sourced dining in La Romerria restaurant, traditional treatments at the El Chanar Spa, an outdoor pool and adventure excursions ranging from hikes through the Valley of the Moon to llama caravans to archaeological tours of a Tulor village dating back 800 years. We're especially smitten with the moderately priced Noi Casa because it is northern Chile's first sustainable hotel, setting a high priority on ecologically responsible tourism and protecting and preserving the natural resources and local culture surrounding the hotel.
Don't Miss:
• Friday evening barbecues on the patio terrace, a feast of local specialties accompanies by fabulous Chilean wines
• Thoughtful, expert-led excursions, from hiking the Kari Lookout over the Valley of the Moon, to lunch admiring the high plateau from the Aguas Calientes Salt Flat and Tuyajto Lagoon
• Exploring the environs on one of the hotel's complimentary bicycles
• Walking five minutes to the historically significant Church of San Pedro de Atacama, thought to be the second oldest church in Chile
• Rejuvenating altiplanico therapies and ancestral spa treatments
2. Hotel Cumbres San Pedro de Atacama
Seamlessly blending the ancient architecture of Atacameños Ayllu with a modern aesthetic, Hotel Cumbres San Pedro de Atacama is a scant two kilometers from the heart of the village, on the edge of the desert. Here, in the shadow of the massive Andes, active-minded guests may set out on any number of exciting excursions, from hiking and mountain biking to archaeological tours and horseback riding. Back at the elegant hotel, there are myriad ways to relax and rejuvenate – treatments in the Oxygen Spa's five private rooms, soaking in the outdoor pools and hot tubs and enjoying your private outdoor shower. It's a real treat to be able to indulge in locally sourced cuisine in a region not typically renowned for its gourmet fare – the hotel's five-star cuisine that marries modern culinary techniques and ancient desert cooking traditions. Of course, make sure your meal is always accompanied by one of the fine Chilean wines on the extensive wine list or one of the bar's superb cocktails.
Don't Miss:
• Afternoon massages in the Kunza Spa, tucked away from the desert sun
• Hopping onto the complimentary minibus for a ride into town – they'll pick you up and return you to the hotel when you're done shopping and exploring
• Climbing volcanoes or going aloft in a hot-air balloon, accompanied by a specialized guide
• Mountain biking through the Gorge of the 7 Color and searching for petroglyphs
• Taking a yoga class in the desert
Where to Eat in San Pedro de Atacama
Dining in the Atacama Desert can look one of two ways – one, stay in a moderate- to high-priced lodge or hotel and go the all-inclusive route, or two, get adventurous and sample the fare in locally owned restaurants and food trucks along the town's main street, Caracoles. Keep in mind, however, that the latter may be a bit of a pricey proposition, and the quality can vary widely.
Center your quest for the best eats in San Pedro around Caracoles Street, the town's main drag and brimming with shops, restaurants and cantinas. The two central blocks are pedestrian-only. Take a quiet, shady respite in the town plaza – there's free WiFi – and grab a quick snack and drink from La Plaza, right on the square.
Now, for adventuresome foodies, we share the findings of our recent Atacama dining experiences:
The Best Places to Eat in San Pedro de Atacama
• Emporio Andina is a charming spot with some of the best empanadas in town – huge, deliciously filled with your choice of six different fillings and served up by a smiling, friendly staff. In fact, we stopped in every day we were there for our fix. Look for it at the east end of the pedestrian section of Caracoles Street.
• Lola's for decent Chilean cuisine and an inviting ambience. There's a cozy bar here that can get crowded the later the evening goes. Take the chance to sit back and people-watch as you feast on fresh pasta, tacos, pizza and empanadas. Look for it in the middle of town on the corner of Caracoles and Toconao, two blocks south of the main plaza.
• Chela Cabur for a convivial backpacker atmosphere. Loud, crowded and fun, this is the spot to meet young, budget-oriented global citizens, as well as locals, over pizza and beer. Look for it on Caracoles.
• Burger Garden food truck for what we think, hands down, is the best food in San Pedro. It was pointed out to us by our buggy safari tour guide: "The food there is good," he said, and the burgers proved him right. It was the best meal since the Cuban dinner we'd had in Miami before embarking for Chile.
• Baltinache for more upscale dining – think less food truck, more candle light. The menu changes nightly – perhaps river trout and rabbit one night, locally sourced vegetable soup another. The desserts made from desert fruits are tasty. Find it a short walk south from Caracoles.
No matter where you end up eating, try to sample Chilean specialties as much as possible. The most love and attention goes into these dishes, which reflect the natural surroundings and what is locally available. A few ideas …
Top 5 Things to Eat in the Atacama
Reineta: a renowned Chilean fish typically served with sautéed mote (wheat) and an olive-based sauce
Empanadas: Doughy, delicious and best served piping hot, these are filled with all manner of goodies – think cheese, beef, seafood and onion, among other ingredients.
Patasca: Native to the Atacama people of the desert and altiplano region, this hot stea is made with corn, potatoes, pork, beef and onion.
Rica Rica: A medicinal herb from the antiplano used for treatment a number of illnesses, but also enjoyed as a tea, ice cream or pisco sour. It's a must-try.
Pepino Dulce: A captivating oval-shaped, yellow and purple fruit that's related to potatoes and eggplant. Its melon-and-pear flavor is a delightfully refreshing, sweet taste and antidote to the desert heat.
Read our companion blog "The Atacama Desert - What to See and Do" for more travel ideas.
Interest piqued? Get in touch now and one of our expert trip consultants will be happy to help.