The Belize Barrier Reef is second largest in the world, and offers divers (and snorkelers) some fantastic opportunities for experiencing life underwater. It runs some 190 miles along the coastline of Belize, and is home to an astounding number of corals, sponges, invertebrates and fish.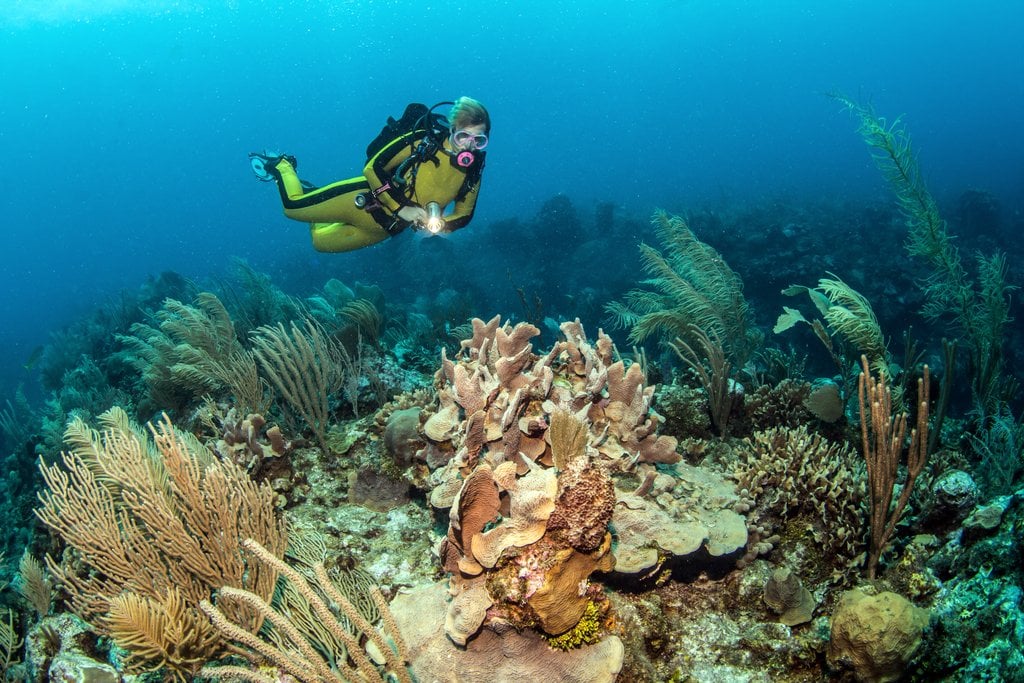 Ambergris Caye is an ideal base for SCUBA diving, as it offers a comfortable location from which to explore multiple dive spots, many just 10 minutes from your dock.
The list below is provided courtesy of Victoria House, one of my favorite hotels on Ambergris Caye.
Boca Del Rio/Christ of the Abyss
The site is about 10 minutes from shore by boat and is close to the Boca Del Rio Channel. This site starts showing coral hills that give way to sand banks at about 35 feet deep. Here you have an abundance of marine life that hide under the protection of coral ledges that meet with the sandy banks and help to create overhangs, caves and channels. This sort of coral formations/hills run parallel to the coast line and eventually gives away to the outer edge of the reef that can plummet up to 130 feet deep, which house large coral heads as well. Near the mooring is a concrete statue of the Opened- Armed Christ. This site has lots of Stag horn Coral, sponges, tubes and sea fans. Close to the drop off you can often see groupers, Green and Hawksbill Turtles, as you make your way back to the shallower portion you can come across Sting and Eagle Rays, Nurse Sharks, colorful schools of smaller fish among others.
Tres Cocos
Typical Depth Range: 50-100 ft (15-30 meters)
Typical Current Conditions: None
Typical Visibility: 100 ft (30 meters)
Expertise Required: Novice
It only takes eight minutes by boat to this site. The mooring buoy is a short distance beyond the protection of the reef, which can be helpful on rough days. Tres Cocos is a spur-and-groove reef with deep and locally narrow canyons running perpendicular to the reef line. It is similar to Cypress in depth and relief. The coral spurs crest at 50-80 ft whereas the sand-floored canyons fall off rapidly to depths of 110 ft. Like a giant plowed furrow, the canyon and coral formations run straight and true. If you follow the mooring line down it will lead you to a spur covered with a forest of soft corals swaying to the rhythm of the ever-present wave surge.
Tres Cocos offers a wide variety of marine life. Even without leaving the vicinity of the anchor line you can see more than 50 different kinds of fish, coral and other invertebrates. Here harlequin bass, trumpet fish, French grunts, dusky damselfish, pork fish, blue chromis, schoolmasters, stoplight parrotfish and squirrelfish commonly dart among the coral cover. Yellowtail snapper, gray angelfish, bar jacks, black durgeon and Atlantic spadefish patrol the waters just above the reefs or in the canyons. Lettuce, boulder, brain, pencil, blushing star, club finger, mustard hill and stag horn coral are only a partial list of the reef builders found here. Colorful sponges, delicate orange crinoids and branching anemones add to the list of marine life.

Tackle Box Canyons
Typical Depth Range: 66-100 ft (20-30 meters)
Typical Current Conditions: None
Typical Visibility: 100 ft (30 meters)
If you want photographs of divers in tunnel mouths or descending through gaps in cavern roofs, Tackle Box Canyons is your dive site. Named after the Tackle Box bar that was situated directly onshore, this site features several deep, narrow canyons with vertical walls.
As with most dive sites near San Pedro, Tackle Box Canyons has a mooring buoy that provides dependable access to the rugged reef terrain on this part of the barrier. By following the narrow channel next to the mooring line seaward, you will come across a short tunnel decorated with sponges and other colorful encrusting organisms. Beyond it is a cavern with a gap in its roof, large enough for a diver to pass through.
Marine life is generally sparse and unpredictable in the caves and tunnels. Lobsters regularly take advantage of the protective recesses and horse-eye jacks may gather in the upper reaches of partially roofed-over caverns. Another resident seen here is the nocturnal glassy sweeper. This small fish with oversize eyes typically congregates in the darkness found just inside small cave mouths.
Cypress Canyons
Typical Depth Range: 50-109 ft (15-33 meters)
Typical Current Conditions: None
Typical Visibility: 100 ft (30 meters)
Expertise Required: Novice
Cypress is a spur-and-groove reef with deep and narrow canyons running perpendicular to the reef line. Coral spurs crest at 50-70 ft whereas the sand-floored cuts fall off rapidly to depths of 100 ft. The mooring line attaches to coral at 48 ft. You enter the water near the midpoint of the coral spurs. Here, the reef takes on a rugged relief. South of the mooring pin, vertical spurs rise 14 ft above the brilliant white sand floor of the adjacent channel.
Coral growth on the spurs mushrooms next to the mooring pin to form undercuts. Just a little bit farther seaward, two ridges have created a low swim-through, which is straight and floored by coarse rippled sand. Like so many other places along the barrier, there is a dazzling variety of shapes and colors present. Elkhorn, stag horn, lettuce and boulder coral create an abundance of branching, platy and mound shapes right around the mooring line. Huge overlapping sheets of coral shingle the reef top farther seaward. This site is home to vase sponges, red boring sponges, orange crinoids, green cornflake algae and a wide variety of tropical fish accent the reef with color.

M&M Caverns
Typical Depth Range: 60-90 ft (15-33 meters)
Typical Current Conditions: None
Typical Visibility: 100 ft (30 meters)
Expertise Required: Novice
Distance is about 7 minutes from shore. This area is widely populated by Black Grouper and Jacks. This is probably one of the best dives found off the barrier reef on Ambergris Caye, located only a mile from our Dive Center. It is a very unique dive spot, due to huge coral mountains that grow right out of the sandy ocean floor, the diver can explore many tunnels and caverns. As you descend down to a depth of 90' you see the entrance to the first tunnel which has a length of 30' to the exit which comes out at a depth of 60'.
Because of the deep water surrounding these tunnels, there are always schools of horse eye jacks and a good opportunity to see deep water pelagics roaming the reef. A dive not to be missed!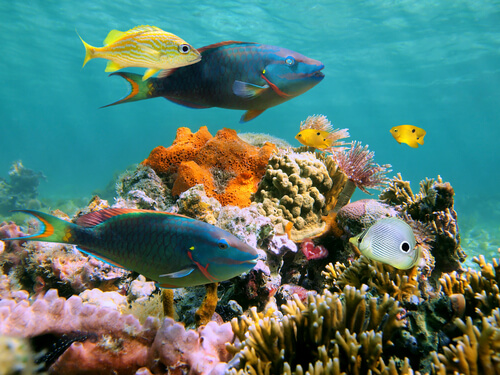 Pillar Coral
Typical Depth Range: 40-70 ft (12-21 meters)
Typical Current Conditions: Slight
Typical Visibility: 100 ft (30 meters)
Expertise Required: Novice
Pillar Coral is a spur-and-groove reef similar to Sandbar. Around the anchor site a coral rubble apron is forested with soft coral. Channel sand, bearing symmetrical ripple marks, is formed due to the persistent wave surge felt even on relatively calm days. Although coral development on the ridges is similar to that at Sandbar, the shapes of corals are more dramatic at Pillars. About 700 ft southeast of the mooring line in 55 ft of water, there is a cluster of the namesake pillar coral, which spikes upward above the spurs. Recently, Pillar Coral came under the protection of Hol Chan Marine Reserve. Inclusion of this site in the marine park brought about several changes, such as the $10.00US fee to dive here. Like Hol Chan, the number of fish has increased dramatically.
Large schools of yellow Chub, Bar Jacks and yellowtail snapper patrol the water above the reef. On some days, schools of more than a dozen spotted eagle rays pass through making this site a most unique site for Fish Life. This Site is a favorite among our Dive Masters.

Eagle Ray Canyon
Typical Depth Range: 50-70 ft (12-21 meters)
Typical Current Conditions: None
Typical Visibility: 100 ft (30 meters)
Expertise Required: Novice

Distance is about 10 minutes from shore. This site houses an abundance of Eagle Rays, Yellowtails among others. This site is just outside the Hol Chan Marine Park Channel and due to tidal currents, we keep meeting schools of spotted eagle rays. The reef itself is accentuated by huge barrel sponges and a variety of big groupers. Snappers like to hang out in-between everything. A $10.00US admission fee is charged due to it being part of the Hol Chan Marine Reserve itself.
Esmeralda Canyons
Experience required: novice
Depth: 60-80ft
Location: South Ambergris Caye

Located just a few minutes from San Pedro Ambergris Caye, is Esmeralda Canyons. This dive site offers a large abundance of fish life including a resident Moray and lots of tropical fish. Esmeralda is also known for its usual encounters with reef and nurse sharks that frequent the area. This makes for an exciting dive. The corals are abundant and generally the visibility is very good. In shallower waters you'll see some swim-throughs and tunnels within the reef and near the wall. On the way back to the end of the dive you'll find some sand channels with overhangs filled with colorful marine vegetation, ideal for underwater photography. Average depth of this site is 50-75ft and suitable for all levels of diver.


Border to Border (The Border)
Experience required: novice
Depth: 55-70ft
Location: South Ambergris Caye

This dive site is characterized by a deep and beautiful reef located South of San Pedro. If you follow the reef towards the drop-off, you'll find a few swim-throughs and interesting overhangs to explore. The deep sandy cracks lead to an utter drop-off, at a depth of about 70 feet. This site presents an interesting bottom topography, excellent visibility, light currents and its access is made by boat. It also offers fascinating seascapes, ideal for underwater photographers.
In terms of fauna and flora, the most common species are tube sponges, barrel sponges, corals, toadfish, nurse sharks, eagle rays, lobsters, scrawled filefish, crabs, jacks, spadefish, blue head wrasses, stag horn corals and African pompanos.


Other Off Shore Dive Sites located further away.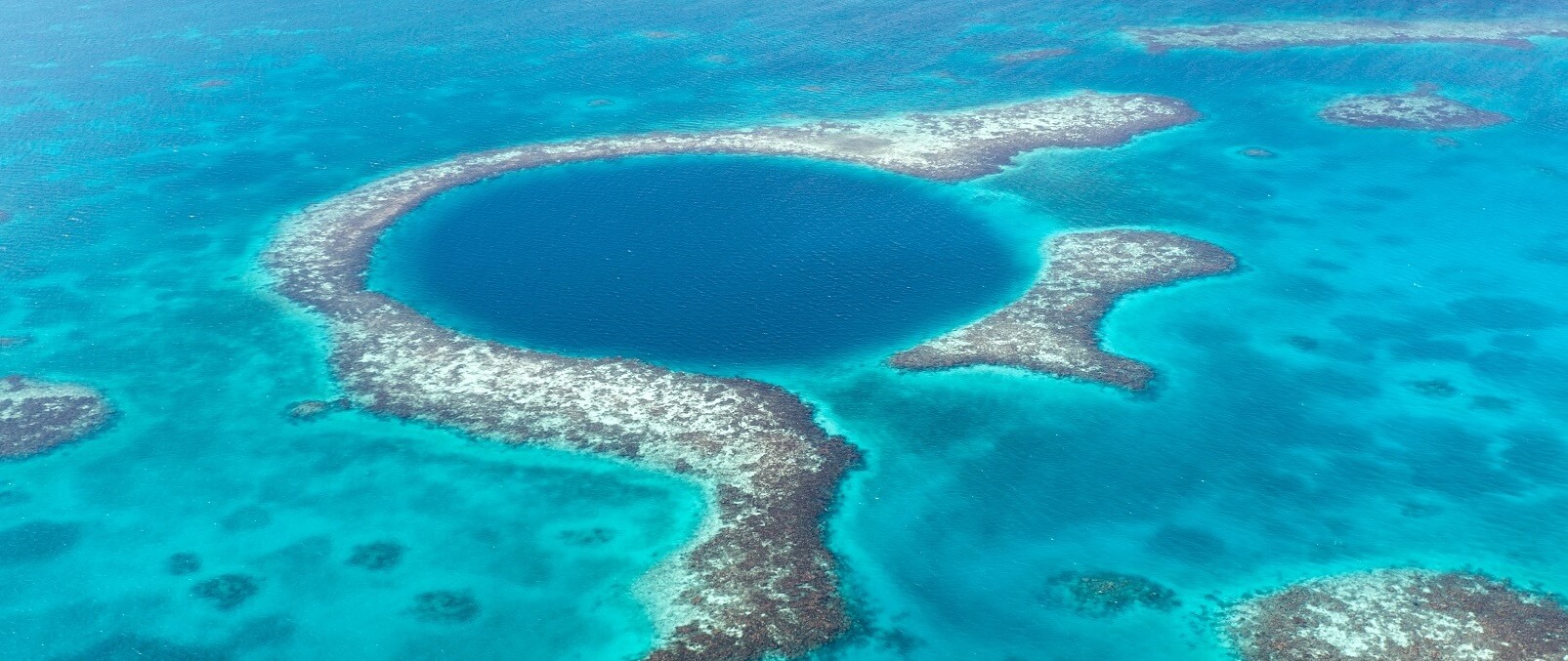 Great Blue Hole
Typical Depth Range: 5-412 ft (2 to 126 meters) to unlimited (wall)
Typical Current Conditions: None
Typical Visibility: 100 ft (30 meters)
Expertise Required: Intermediate
Distance is about 2- 2 ½ hours from Ambergris Caye. The origin of Blue Hole dates back to an ice age about 15,000 years ago. Enough sea water was frozen in glaciers during this time to lower sea level more than 350 ft, exposing the limestone of Lighthouse Reef. Huge subterranean caverns formed when fresh water flowed through the limestone deposits. Since then, the roof of the cavern has collapsed to form the sinkhole. Its diameter at the rim measures 1,045 ft, whereas its maximum depth is 412 ft. Except for two narrow passages on the eastern and northern rims, The Blue Hole is completely rimmed by living coral.
For the advanced diver this site is well worth the trip.
The plan is usually to dive either the north or south side to a depth of 100-130 ft where the shallowest cave features are found. Your no-decompression bottom time is short, thus making your decent a fast one. As you descend, you will notice that the wall crests between 40-55 ft and continues as a vertical cliff to a depth of 90-100 ft before receding at a 55° angle. The resulting overhang forms a cavern ceiling from which hang stalactites more than 3 ft in diameter and up to 20 ft in length. Also found adorning the ceiling are numerous dripstone pillows. More than 50 ft below the crest of the ceiling, the cave floor is riddled with a collection of fallen stalactites, muddy sediment and an opening to a cave system. Surprisingly, the dimly lit walls of the cavern are covered by a variety of filamentous green algae, boring sponges and encrusting worms. Little other marine life appears present in the cavern, but the walls above are covered with cornflake algae and isolated growths of gorgonians. Sharks and turtles may be found here, but their presence in Blue Hole is unpredictable

Half Moon Caye Wall
Typical Depth Range: 30 ft (9 meters) to unlimited (wall)
Typical Current Conditions: None to minimal
Typical Visibility: 100 ft (30 meters)
Expertise Required: Novice
Distance is same as Blue Hole, 2- 2 ½ hours from Ambergris Caye. Half Moon Wall is an exceptional dive site, and is part of Half Moon Caye National Monument on Lighthouse. Here, you can make several different types of dives without moving the boat, and between dives you can take time to picnic or observe the Booby bird colony on Half Moon Caye. It is one of the favorite dives because the reefs are so spectacular and varied.
Located on the south side of Half Moon Caye are two striking reef features. First, the coral formations form a narrow rim at the edge of the wall which, in most places, is only 100-200 ft wide. Second, extensive gently sloping, seemingly barren sand flat separates the reef rim from shallow reefs along the shore. As you glide down to the reefs 30 ft below, you will see the reef rim has a spectacular development of spurs and grooves. The living spurs are massive coral accumulations subdivided by seaward sloping grooves up to 30 ft deep at the wall. Many grooves are quite narrow, but easily negotiated by a diver. One of the exciting aspects of this dive is entering one of the grooves and following it seaward. Muddy sand floors the grooves and divers should take special precautions not to stir up the bottom with their fins. Many grooves feature pronounced overhangs that combine to form tunnels, also known as Grover's Grottos. All tunnels are short and straight so no special dive equipment or experience is needed. As the tunnels near the wall they reach depths of 70 ft or more.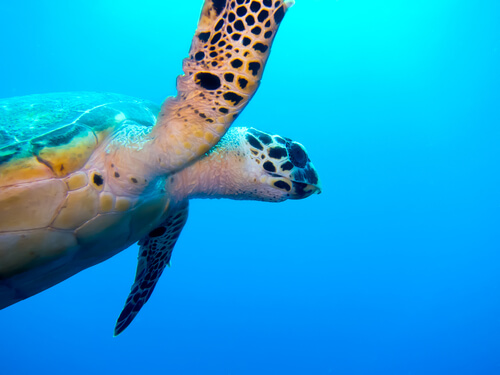 The Aquarium
Typical Depth Range: 30 ft (9 meters) to unlimited (wall)
Typical Current Conditions: Minimal to strong
Typical Visibility: 80 ft (24 meters)
Expertise Required: Novice
Distance is the same as the Blue Hole, 2- 2 ½ hours from Ambergris Caye. Off the northwestern corner of Long Caye, the main reef trend turns abruptly to the east. In doing so, it forms a major point and begins a significant change in reef topography. Well-defined, long coral ridges and sandy canyons run parallel to the reef line here and farther eastward. These begin shallow, extending seaward to 60 ft or more below the surface. Like Silver Caves, the coral ridges have many holes and grottos, providing a haven for all kinds of invertebrate and fish life. Currents along the point generally sweep across the reef from the East, but are moderate and easy to maneuver. To minimize the effect of the current, divers should drop down to the reef surface. By swimming east at the start, you will enjoy an effortless return trip to the boat. The dive master will make his own dive plan accordingly.

Named for its varied invertebrate life, the Aquarium is a good place to see the common and unusual. Sea feathers are of special interest here during the day. Many of these animals, which are normally hidden deep in the reef elsewhere, are more visible at the Aquarium. A good place to look for them is near the crest of the wall. Their orange or yellow feather-like arms are fully exposed here. Only the small body and appendages are tucked beneath the coral formations. Deep-water lace coral and black coral are other common animals along the top 50 ft of the wall. Most extend horizontally away from the wall with their network of branches oriented perpendicular to the slight current that occasionally sweeps the reef.
Regardless of your diving expertise, visitors can enjoy a huge variety of diving opportunities while in Belize. And the proximity of Ambergris Caye to the barrier reef makes it a popular diving location.