What it may not boast in size, the small nation of Ecuador certainly makes up for in natural beauty and unforgettable adventures. From the canopy of the Amazon rain forest to the shores of the Galapagos, Ecuador offers a broad range of enchanting, exciting travel opportunities. And while the latter does have its fair share of enticing marine and wildlife, it's the draw of one of the most biodiverse places on Earth that brings more than 10,000 wildlife-seeking travelers a year to the Ecuadorian Amazon and its Yasuni National Park.
Yasuni – a UNESCO International Biosphere Reserve that was untouched by the last ice age – occupies a wildlife biologist's dream location, between the Curaray and Napo rivers, at the base of the Andes and near the equator. It's easy to spend a week or more exploring this northern section of Ecuador, brimming with upland tropical forest, flooded forest, marshes and countless bodies of water. For the most immersive experience, work with a renowned tour operator who employs local guides. They'll have the inside scoop on where and when to introduce you to the park's riches, including:
200 mammal species (more than 60 percent of the country's mammals, including pumas, tapirs, jaguars and the pygmy marmoset, the world's tiniest monkey)
596 bird species
382 fish species
150 amphibian species
121 reptile species
200 butterfly species
countless insect species.
With so many square miles to cover and a mindboggling variety of animals to see, here's a preview of favorite activities in the Ecuadorian Amazon:
Hike the Amarun Nambi Trail. Make your way to the Yaku Kausay interpretive center, where you can learn about park history, its resident communities and its flora and fauna. Local women will introduce you to their culture and cuisine and offer you delicious China de Coca or Guayusa.
Visit the Saladero de Loros. This riverside salt lick attracts hundreds of parrots each morning. You'll view the birds by boat, never getting too close, but getting a great glimpse through your binoculars or telephoto lens.
Take an early-morning canopy walk. Yasuni boasts one of the world's only self-standing canopy walkways. From its well-located observation decks, get a bird's-eye view of the forest.
Trek to the Big Ceibos. This is the largest of all Ceibos trees at over 16 feet wide and nearly 165 feet tall. Walk to the nearby Pink Boa Tree, with a huge pink root system that snakes its way along the forest floor.
Meeting indigenous residents. There are several groups of people – including the Waorani, Tagaeri and Taromenane – living in Yasuni and eager to share their lifestyle with Westerners. Look for opportunities to visit and live amongst them, learning their culture, cuisine and traditions.
Meet an anaconda. Head out by canoe on Lake Lagartococha to a swamp rich in anacondas, caimans and capybaras. Then paddle through the flooded rain forest to capture photos of colorful birds and ancient trees.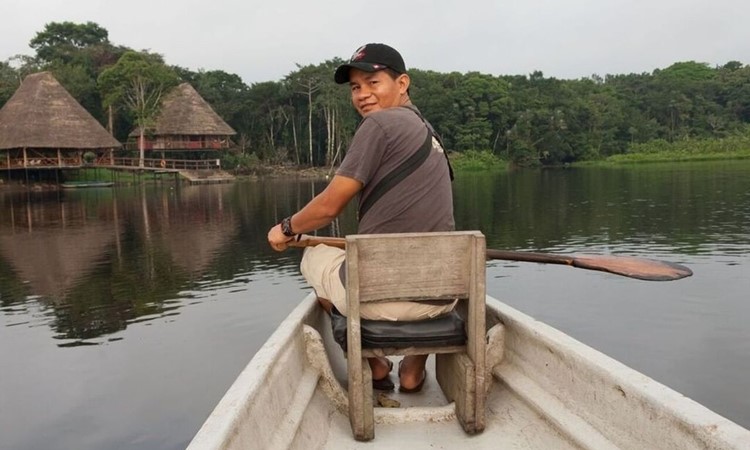 Where to Stay in the Ecuadorian Amazon
A number of Amazon lodges have popped up over the years, providing a welcome respite after a day exploring the rain forest. Here, a few of our favorites:
Napo Wildlife Center: Stay in one of the Amazon's newest lodges and prepare to be one with the rain forest. Local Kichwa Indians run the show here, ensuring that guests have an incredible cultural and wildlife vacation with minimal impact on the natural environment. It's a total retreat from the every day – ride by motor canoe for a couple hours from Coca down the Napo River, then enjoy being paddled two more hours to Anangu Lake inside Yasuni National Park. Only then have you reached the lodge, an enclave of ten thatched-roof bungalows. Climb the canopy observation tower for limitless views, visit with two local communities and savor every moment of your time in the heart of the Ecuadorian Amazon.
Kapawi Lodge: This award-winning ecolodge is a slam dunk for those hoping to travel consciously and contribute to the conservation of the Amazon rain forest. The lodge team works closely with and supports the Achuar indigenous community. From Quito, drive along the Avenue of Volcanos to the Amazon plateau, then fly for less than an hour to the the Kusutkau Achuar community – then, a final boat ride down the Capahuari River to the lodge (look for Amazon river dolphins along the way!) Activities include observing local families, visiting with a local shaman, birding, hiking and more, all accompanied by bilingual naturalist guides.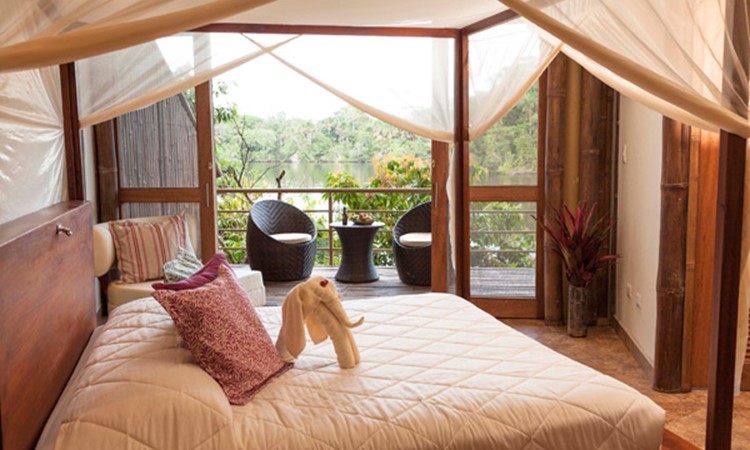 La Selva Jungle Lodge: On the shores of Garzacocha lagoon, La Selva boasts spacious suites in a design that pays homage to the homes of local residents, with amenities that range from rainfall showers to hammocks and tubs on a private porch. Experienced guides accompany guests on night excursions in search of fishing bats, nightjars and caimans, on day hikes to appreciate the unique flora of the region and on private visits to Panacocha, home to nine species of primates.
Cruising the Ecuadorian Amazon
If you love to travel on the water, make your home base a boat. There are several reputable tour operators who host guests up and down the river, allowing for those elusive pink dolphin sightings. We're partial to the vessels operated by Anakonda Amazon: the decidedly upscale Anakonda, the only luxury river boat on the Rio Napo, and the Manatee, while not quite as fancy as its sister, still supremely comfortable.
Choose from the award-winning Anakonda or welcoming Manatee's four-, and five- and eight-day itineraries. From pink dolphins to rainbow-colored macaws, you'll have a front-row seat through your suite's huge windows. Both vessels employ local naturalist guides who have planned immersive activities for an authentic Amazon experience. Grate yuca with the local Secoya people in their homes. Hike with the Cofans and learn which plants they use for medicinal purposes. Work with the Mandi Wasi organization on the Charapas Turtle Project and release tiny turtles into the wild. On board, listen to enriching lectures about the biodiversity of your surroundings and learn to cook Ecuadorian cuisine like juicy lomo steaks.
Ready to see the wonders of this amazing rainforest for yourself? Contact one of our travel experts today for a free consultation, and begin planning your Ecuadorian excursion.