Hello from Patagonia! Well, actually more specifically the ice fields over Patagonia. I am just departing from a week of exploration and adventures in the South Patagonia region. Both areas are so amazing and have such a wide variety of experiences and activities for people of all ages and fitness levels. I was lucky enough to see the three major glaciers most people explore when visiting this area. Which glacier is the right one for you to visit? Perhaps you want to visit all three? Hopefully, this post will help clarify things a little bit in your decision making process!
Perito Moreno Glacier - the most popular glacier in Los Glaciares National Park. Everyone wants to see Perito Moreno if they go to El Calafate. Its perfect white formations are truly awe-inspiring to behold. In addition, it is the only glacier with catwalks surrounding a large portion of the glacier, expanding more than 4km and with 13 different viewpoints. You can also do ice trekking on this glacier, however this is a very popular activity and can often be quite crowded during peak season. It is also not possible for travelers over 65 to experience the ice trekking here, unfortunately. Its close proximity to El Calafate (only 1 hour) makes it the easiest glacier to get to, and along with a 1 hour optional cruise, the mini-trekking and1-2 hours spent on the catwalks can be done in an easy day trip, or less than 7 hours with drive times.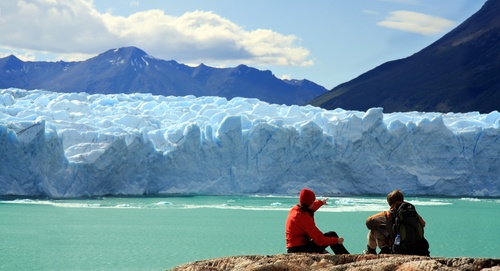 Viedma – I am starting with my favorite and the largest of the three. Located a 35 minute drive and 1.5 hour navigation one-way on a beautiful catamaran from El Chalten, Viedma is an adventure lover's dream. One must stay in El Chalten at least one night, but a minimum of two or more would be better. El Chalten is a quaint and very small mountain town availability can be limited during peak season of November – January. Most hotels, restaurants and excursions close at the end of April and don't begin again until late September, so keep this in mind when planning. I thought going at the beginning of April was ideal because it was the least busy, but I was also very lucky with perfectly sunny and clear skies, which is quite rare in Patagonia!
Viedma is my favorite because it is a bit off the beaten path, I really enjoyed El Chalten and the other trekking and activity options available, such as Cerro Fitz Roy and Cerro Torro. If ice-trekking is your thing, this is a fantastic place to experience this. There are far less people here with much smaller groups than Perito Moreno. It also does not have the age limit of 65 that Perito Moreno has.
After the navigation, we climbed over some pretty steep rocks for about 20 minutes until we got down to the ice. Not perfectly white like Perito Moreno, the ice with visible sediment deposits dips (called morenas) and rises as far as the eyes can see. My group of 16 spent more than 2.5 hours traversing the ice, climbing up and down the icy hills in crampons (metal blades that go over your shoes). We had 2 amazing guides, English and Spanish speaking, and two additional helpers for when we crossed narrow pathways and steep embankments.
At first, I admit, I was a little nervous of slipping or falling, as we climbed some pretty steep areas and crossed some really narrow ice bridges. The views were incredible and I never did fall. (Pro tip - bring at least one pair of good gloves, as they are a must in case you do fall on the sharp ice.)
This is the place to go if you don't want to fight the crowds at Perito Moreno and if you want to have a more off the beaten path trip to El Chalten. Though keep in mind, accommodations in El Chalten tend to be a bit more basic and wifi or cell service is non-existent. Also, this is a great option for those who are fit but over 65 and want to ice trek.
Upsala – Upsala is the second largest glacier in Argentina, but is inaccessible for ice trekking due to the way the ice breaks and the vast and near impassable landscape surrounding it. It is a phenomenal glacier to visit on a navigation though, as the floating ice burgs are massive and so impressive and you can usually get pretty close to them, if the weather is good. It is a roughly 30 minute drive and 3 hour boat navigation one-way. If you just want to see a glacier and icebergs, while enjoying a nice visit to a Patagonian estancia, such as Estancia Cristina, this is the glacier to visit. I thought this was the best of several boat navigations I have taken this week, and there is also the exclusive Lares experience where you can enjoy a 5 star culinary experience while sailing past the giant icebergs. It is truly an incredible experience and you can visit Upsala from El Calafate on a day trip.
So, which glacier is the right one for you to visit? Perhaps you want to see all 3! There are also several others, more obscure and lesser known, but also more difficult to get to that are better suited for hardcore, active adventurers. I will have to save these for another day though!
More resources can be found at our Patagonia Travel Planning page.