"There's a place I know, where the train goes slow." So sings Tom Waits, in one of his come-ye-who-are-thirsty moods.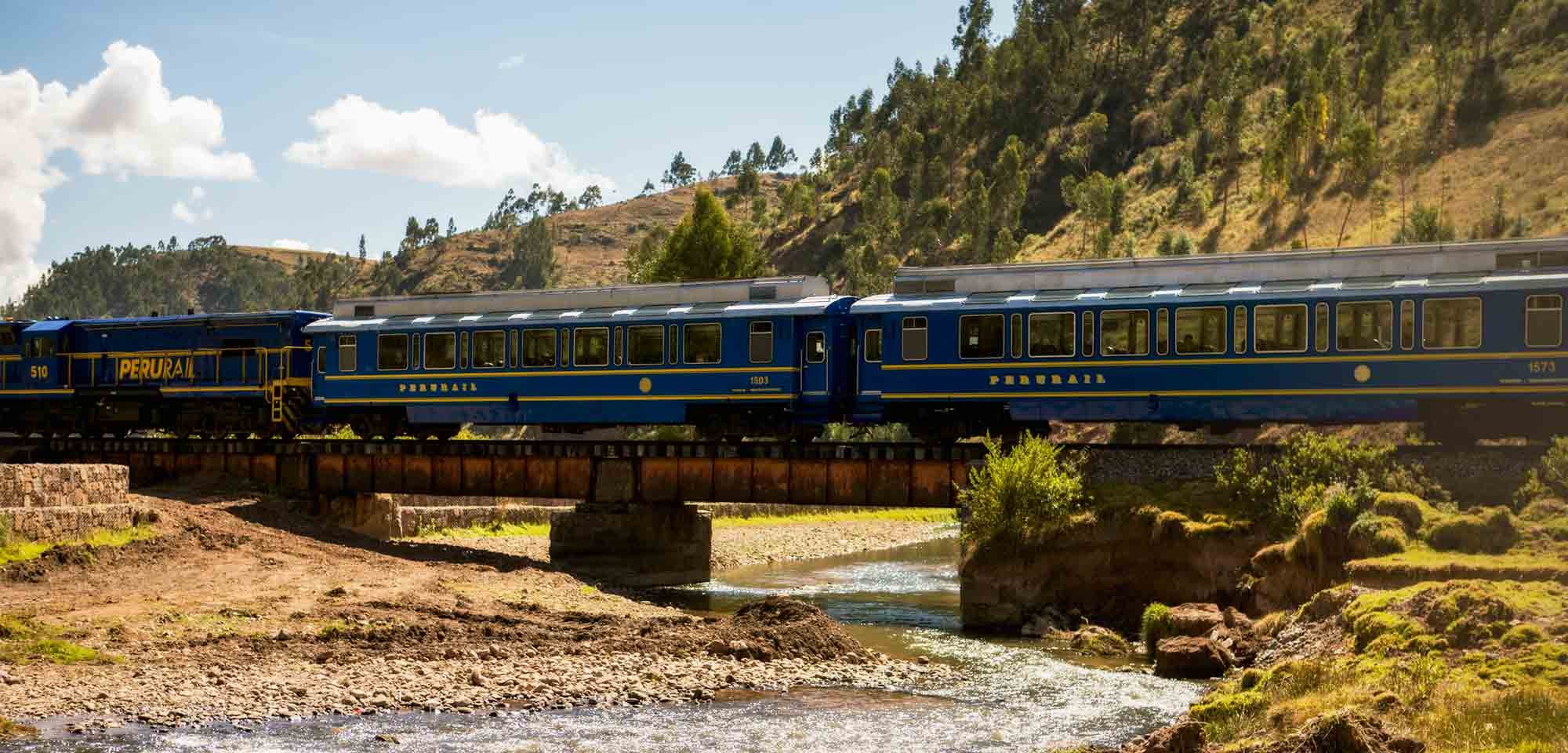 In Peru, the Man with the Smokehouse Voice would relish the Sacred Valley outside Cuzco, where the leisurely pace of the clacking railway cars and slow slide of landscapes outside 180-degree glass domes are conducive to traingoers' own personal soul-replenishing—in this case, while gazing at the soaring peaks and sun-dappled copses that flank the approach to Machu Picchu.
That slow amble along the Urubamba River has been, for over a million visitors each year, an unforgettable highlight of the Peru experience. A gateway to el Perú profundo, the "deep Peru" that's beckoned to travelers for centuries.
But how to choose between Inca Rail and PeruRail, the two lines that make the run to the Inca citadel? What amenities are standard on each line? And which departure point allows for maximal exploration time at the ruins themselves.
As part of our 'Luxury Travel in South America' series, this post gives everything you need to know to take full advantage of your railway jaunt to Peru's most photogenic World Wonder. Only, be sure to keep your eyes peeled: the landscape changes magically, sierra to lush rainforest, just as you chug into that final stop.
All aboard…
Times and Places
For most travelers, two train stations provide the setting-out points for the excursion to Aguas Calientes, a.k.a. Machu Picchu Station.
The first, Poroy, is 20 minutes outside of Cuzco and offers only a handful of trains on any given day. The second, Ollantaytambo, is about 90 minutes from the city, but offers trains almost every hour. (A third station exists, at Urubamba, but it's mainly for guests at the Tambo del Inka Resort Hotel.)
How to choose between the two stations? It's not easy. Prices for both are similar, and both are alike in offering service from each. What's more, the total travel time from Cuzco (bus transfer to the station plus train ride) is approximately the same.
In the end, your best bet is to look at the two companies' websites and choose the option that best fits your schedule. All trains from Poroy leave by 9 a.m. at the latest, while Ollantaytambo also features afternoon trains for those who want to overnight at Aguas Calientes prior to visiting the ruins at sunrise.
Nota bene, though: during the Andes' rainy season, which runs from January 1 to April 30, you may find your decision's been made for you. That's because at this time of year, the Poroy station is closed, due to the danger of mudslides along a track stretch between Cuzco and the Sacred Valley. If you plan to be in Peru during this period, you'll probably end up using Ollantaytambo willy-nilly.
Inca Rail vs. PeruRail
IncaRail and PeruRail at times seem like two sides of the same coin. The two offer similar service options to Machu Picchu, and for similar prices. The difference, insofar as it exists, is in the details.
IncaRail currently has three alternatives for the Machu Picchu-bound. The Voyager, their basic service, features comfortable seating (two seats on each side of the aisle), broad side and top windows, free non-alcoholic drinks and snacks (though no meals), and complimentary Andean music.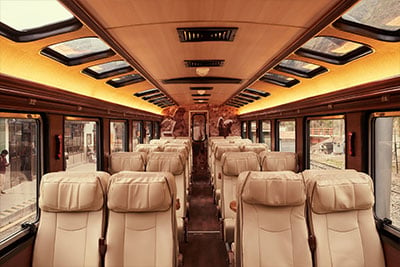 The 360°, which is one step up, is similar, but with panoramic windows extending to the roof of the carriage, and free access to an outdoor observation car.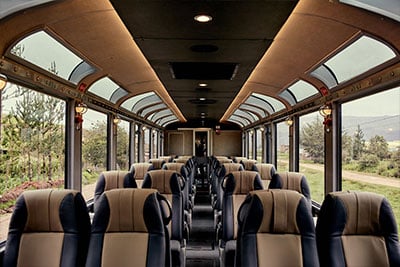 Meanwhile, for those wanting lunch or dinner, there's also First-Class Service. Here you get a welcome cocktail and gourmet organic cooking, such as Andean trout and quinoa salad, as well as more commodious seating. If you're looking to splurge, you can also reserve a private car for your party.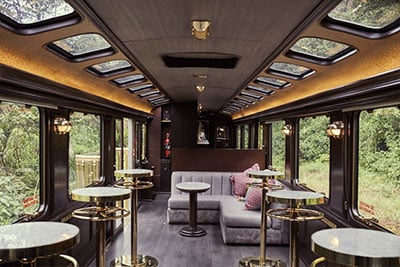 PeruRail, meanwhile, offers similar services, but slanted slightly more towards the high end. Their Expedition and Vistadome trains are rough equivalents of IncaRail's Voyager and 360°, while the Sacred Valley Train offers classy 1920s-style dining and observation cars and gourmet meals.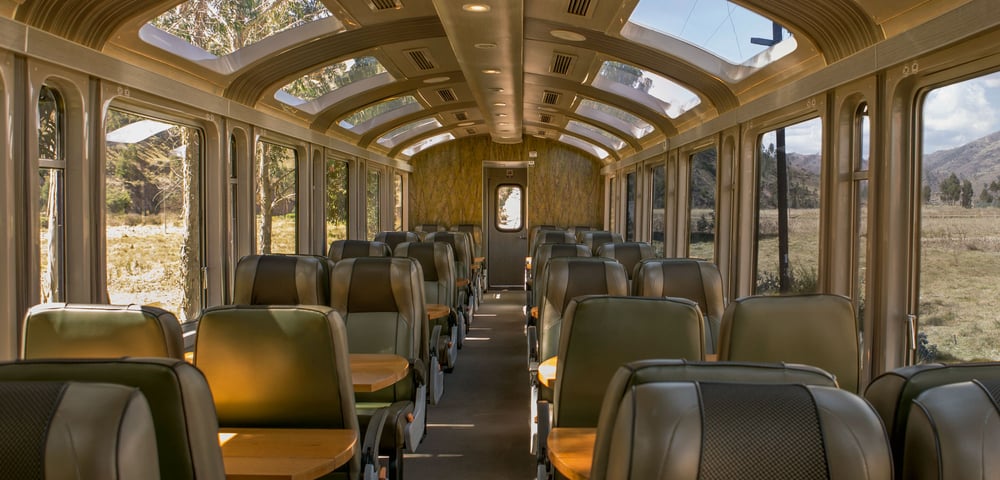 If the Pullman-car ambiance is especially appealing, you can go all out and take the Hiram Bingham, which comes complete with polished-wood-and-brass interiors, armchairs, live music and dancing, and VIP service both on board and at the station.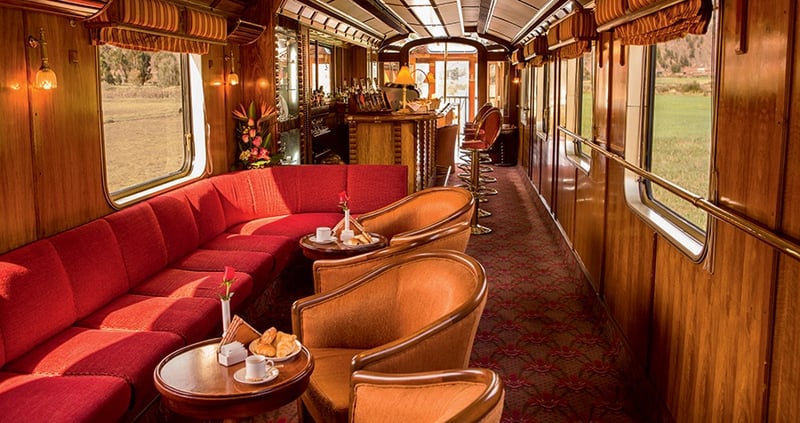 Lazing along in a slow train is one of the most sumptuous ways to see Peru's Sacred Valley. Further proof of what Waits said in another context: "Ain't nothin' sweeter than riding the rails."
Still have questions? Click on the following links to the Lost World Adventures website for more details:
Both companies have recently revamped their own websites, making them highly user-friendly for English-speakers.
Interested in riding one of the luxury trains to Machu Picchu? Click on Free Consultation and a Lost World Adventures consultant will contact you.