The Uyuni Salt Flats, located in the south of Bolivia, are famously known for their stunning surface that holds a mirror to the sky. Beyond the salt flats themselves, however, Uyuni contains other surprising and interesting landmarks. Whether you're a photographer seeking that perfect shot or simply a traveler hoping to admire the unique, tranquil landscape of this surreal region, don't forget to check out these hidden gems of Uyuni.
1. Palacio de Sal, the Salt Hotel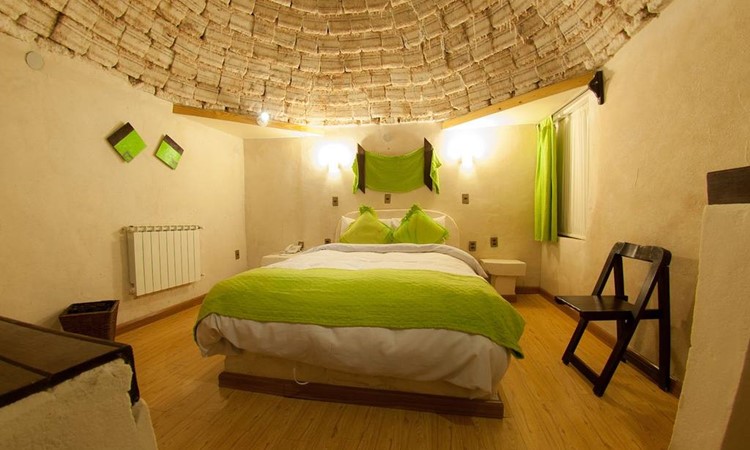 Many people have Himalayan salt lamps in their bedrooms, but how about an entire room made of blocks of salt? That's what you'll find at the Palacio de Sal, a hotel with 42 igloo-like, comfortable rooms accented with real Bolivian salt.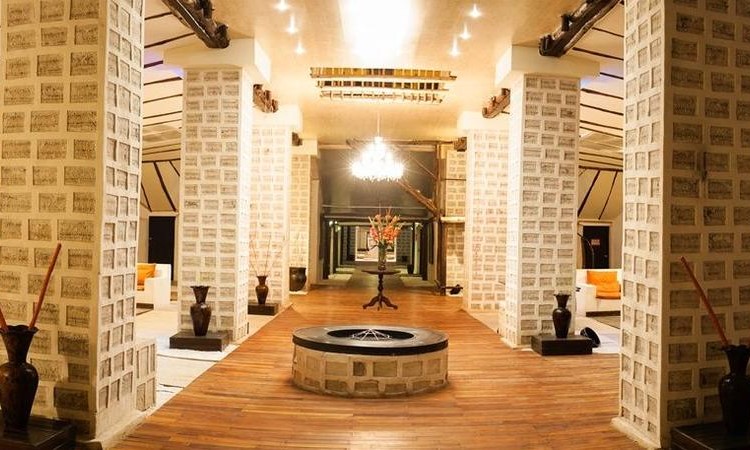 While salt hotels can now be found in several places around the world, this hotel was the first of its kind. The hotel features a spa which utilizes the natural healing properties salt from the surrounding flats, and some may say just sleeping among the salt is rejuvenating. It's important to note that licking the walls or furniture is prohibited.
2. Great Train Graveyard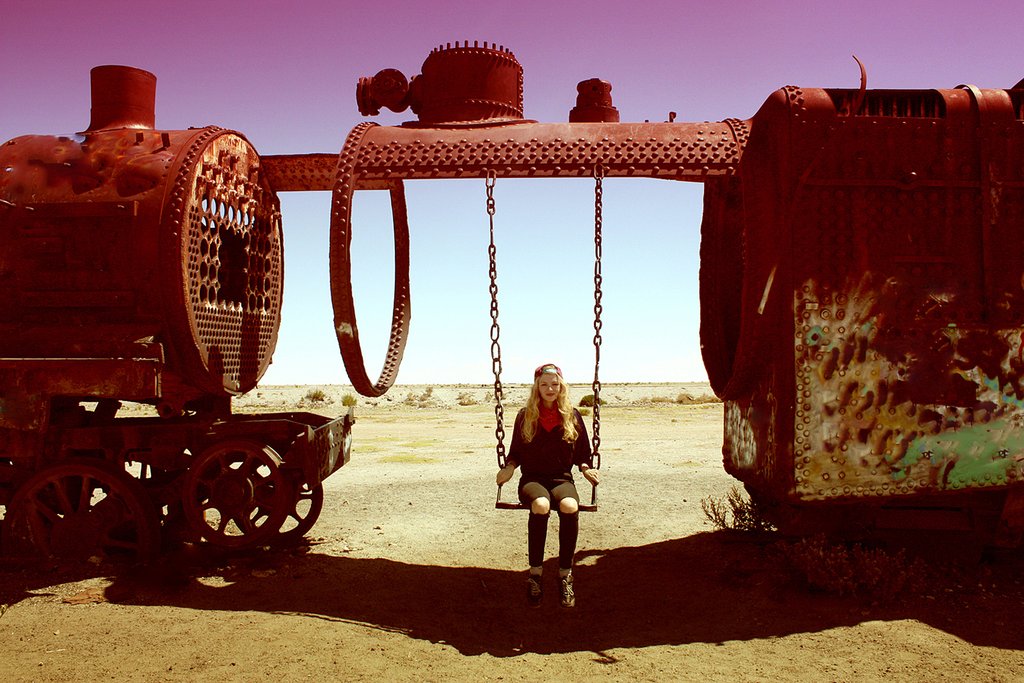 These abandoned trains in the middle of the desert may seem like something out of a Mad Max movie. In reality, these hollowed-out, rusted metal beasts are remnants of an effort to expand Bolivia's once-thriving train transport in the 19th century. The project was left unfinished, and more than 100 train cars were left to be whittled away by the grating salt winds. Visitors now have free range of the train skeletons, which have been modified with makeshift swings and see-saws and scrawled with graffiti.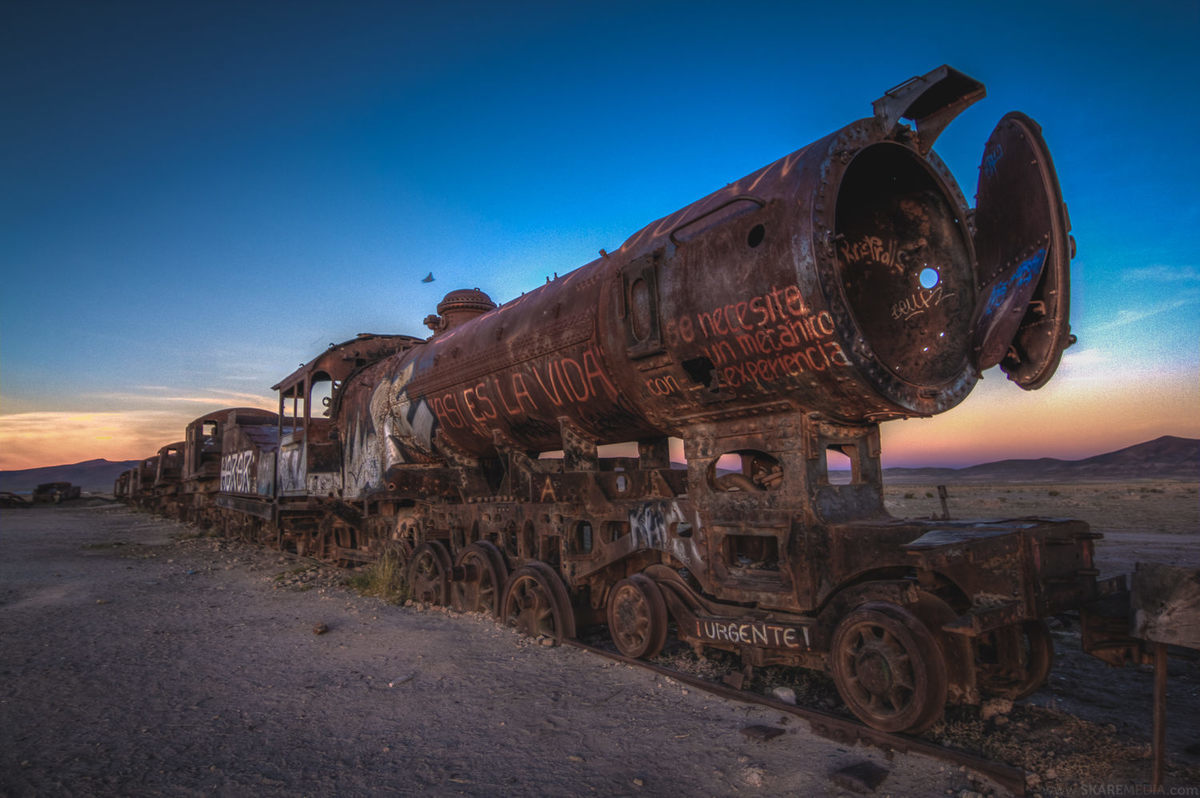 (Atlas Obscura)
3. Isla Incahuasi, the Island of Cacti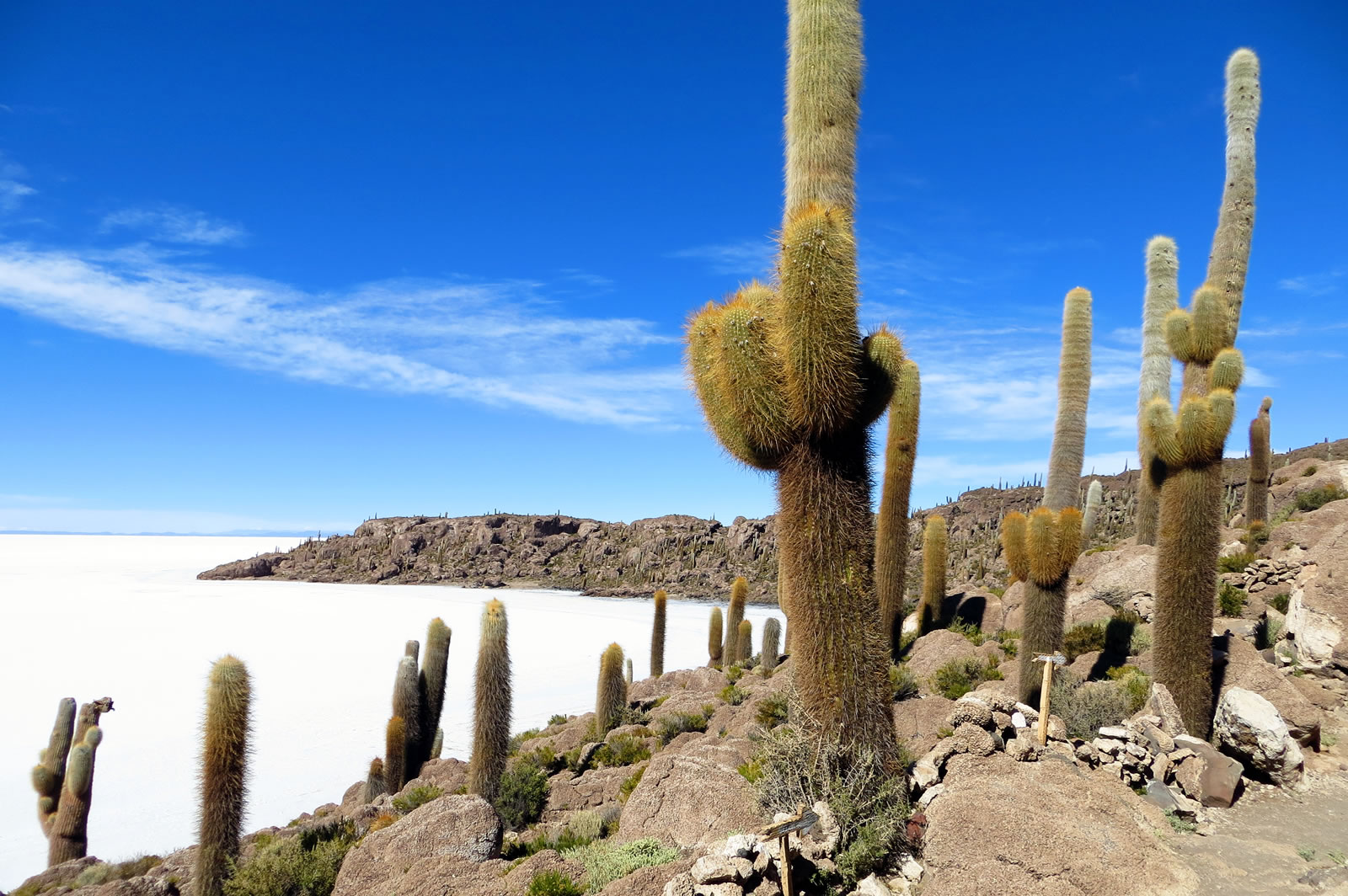 Isla Incahuasi is enchanting, but maybe a little drier than your succulent terrarium at home. The "island's" name means Inca House in indigenous-derived Spanish. This rocky mound of land is found in the middle of the Uyuni Salt Flats and features innumerable giant Trichocereus cacti reaching upwards to the endless sky, reminiscent of Joshua Tree. Isla Incahuasi is also known for its incredible panoramic views of the surrounding salt flats. Why not poke around for a while?
4. Tunupa Volcano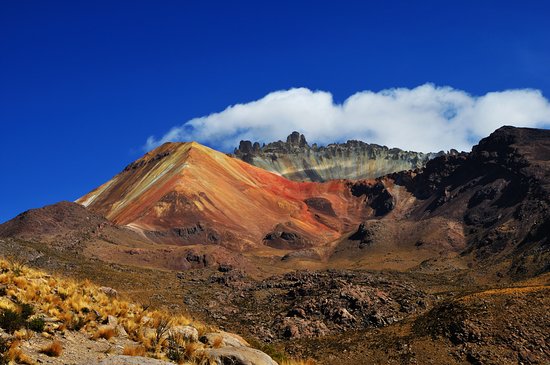 This 17,457-foot dormant volcano is named after the god of thunder, who according to local legend died in this spot. Wildlife such as flamingos and domesticated llamas roam the base of the volcano, and there is a small museum containing artifacts. On clear days, the amazing natural colors of the volcano can be seen.
While views are stunning from the base of the volcano, some tours lead a soft trek higher up the mountain, which usually takes three to four hours. On the way up, visitors can see a cave with preserved mummies.
5. Arbol de Piedra Rock Formation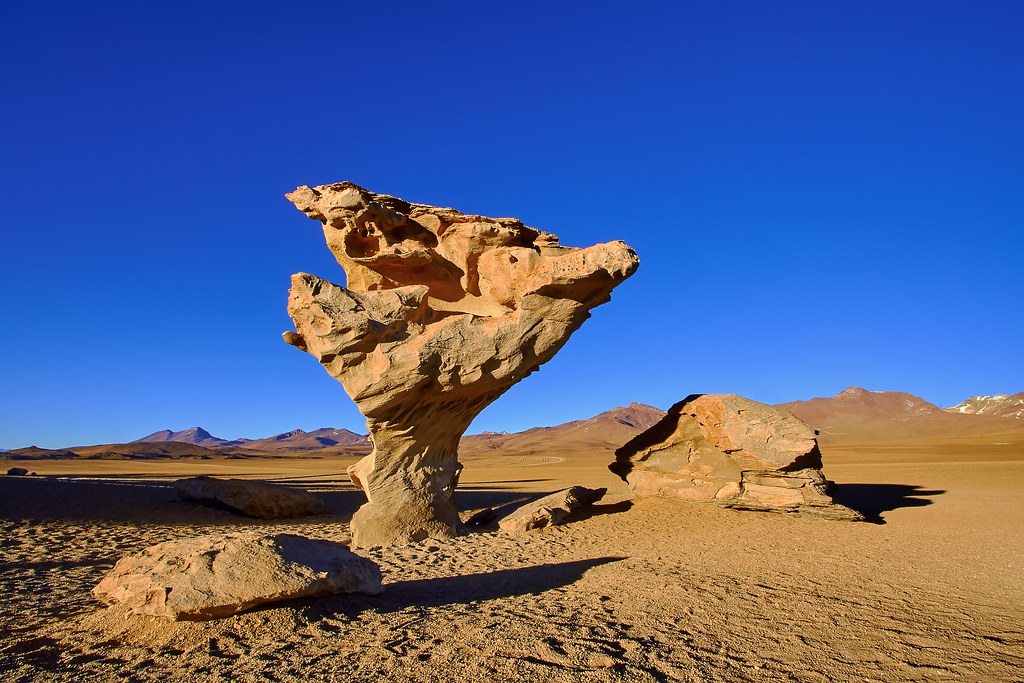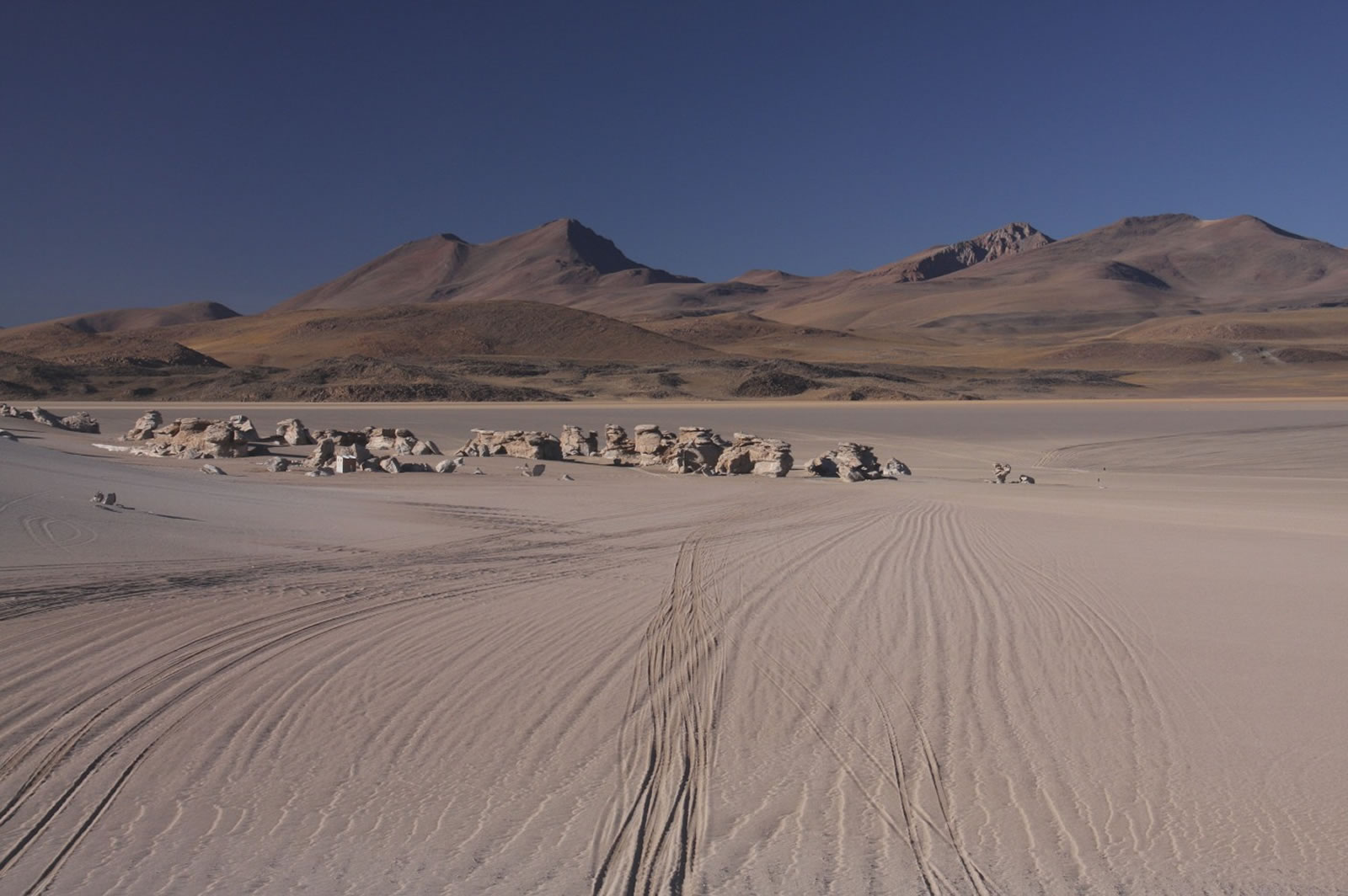 The Arbol de Piedra, or Stone Tree, is a tree-shaped rock formation formed by the work of erosion and wind over millions of years. This massive formation of sandstone is surrounded by smaller formations, like Uyuni's own native Stonehenge. The rock formations provide amazing photo opportunities, as well as a place to simply reflect upon the power of the wind in this untouched, natural landscape.
Have the unique attractions of the Uyuni Salt Flats piqued your interest? Reach out to one of our consultants today for a free consultation, and start planning your trip to Bolivia.