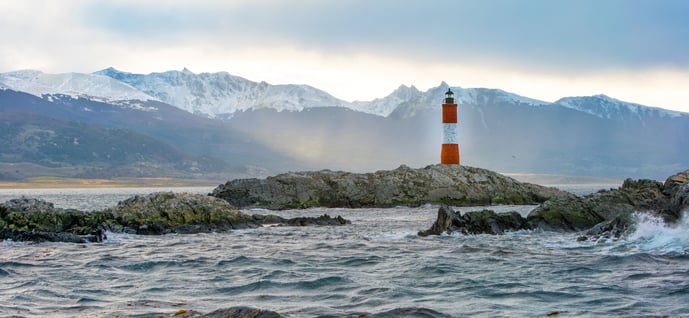 It is the end of May, school is out, the weather is getting toasty after a long winter, and the pools are opening. Now why in the world would you want to travel to the other hemisphere, back to winter, down to the most southern point of Patagonia where the weather is harsh and the environment is unforgiving. These are the thoughts that were rolling around as I packed my down jacket which I had just put away in my "winter clothes" box for the summer. Tierra del Fuego was on the top of my bucket list so I wasn't going to pass this opportunity but is winter, which is just a short (albeit turbulent) boat crossing to Antarctica, really the best time to enjoy this destination? Well I am back from my adventure, here to tell you that southern Patagonia, specifically Tierra del Fuego offers as much in the winter months as you would find in the summer and 1% of the crowd. So what is there to do in the winter months of southern Patagonia? Well I have put together this list of some of the most incredible, and memorable experiences from my 12 day trip to the end of the world and I can tell you first hand that there is plenty to do in Tierra del Fuego in winter.
Helicopter Ride In Ushuaia:
I am not usually one for helicopter rides while traveling, mostly because they cost too much and never last long enough, but this was different… 4 of us packed into a small helicopter, and with confident ease, the pilot lifted us up and headed right for the mountains that surround Ushuaia. There were 2 other helicopters in our fleet, and seeing the red specks with the backdrop of the massive snow speckled mountains was surreal. As we flew higher and higher, and the city of Ushuaia became smaller and smaller, I realized that were headed right for the peak of the largest mountain that towers over the city. Our helicopter landed at the crest and we stepped out, hugging each other, adrenaline pumping through our bodies as we took in the incredible views on all sides of us. The pilots poured us a glass of champagne and we gave an enthusiastic "Salud;" everyone in pure disbelief of the experience.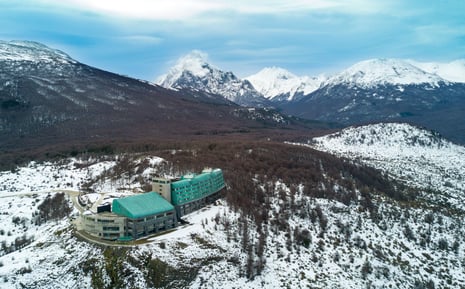 See views like this from a helicopter above Ushuaia
Small Cruise/Sea Kayaking in the Strait of Magellan
Warm weather and cruises go hand in hand, but that doesn't mean it has to be the Caribbean tropics to enjoy a good navigation. Winter environments can lead to some stellar boating experiences and my time in the Strait of Magellan was no different. On a 2 night cruise, we saw massive glaciers that were crumbling with a thunderous echo right before us. We marveled at a huge leopard seal that was lounging on an ice float. It gave us a lazy flipper wave and then slid its way into the water. We sea kayaked with humpback whales. The pod of whales would breach all at once, shooting a forceful mist of water out of their blowholes. If winter in Tierra del Fuego is not cold enough, you can always take it one step further by jumping into the Strait of Magellan. What started as a dare, turned into a group of us diving into the ice cold water and while I wouldn't recommend this to everyone, I have to say it was one of the more memorable experiences of the trip. Check out the Stella Australis to see some incredible departures across the Magellan Strait.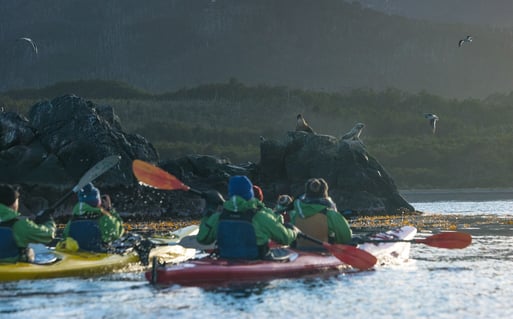 Condor Hike up Cerro Pietre Grande
If you want to visit a landscape that is so remote and exemplifies the Patagonian vastness, then look no further than Karukinka Park. In this park you will find Cerro Pietre Grande, a mountain with a beautiful and strenuous trail to the top. After an arduous journey up this trail we were offered some spectacular 360 views of Tierra del Fuego. As the fog rolled over the endless Patagonian landscape, we couldn't help but feel like we were in a dream as we took turns taking pictures of each other. Throughout our hike, we had seen a few condors flying above us. It is no wonder pretty much everyone in South America considers them spiritual. With their massive wingspan, they glide through the sky hardly even flapping. As we headed down from the peak, we had gone no further than a quarter mile, when we approached a flock of condors perched on a tree no less than 50 yards away from us. Our guide told us that they are deaf so that we could approach them if we wanted. The majestic creatures let us get within 15 yards of their perch and it was then that we realized how colossal these birds were. Eventually the Condors took note of us and all at once they took off from the tree. The sound of their flapping wings thundered through the air and they had a prehistoric quality as they flew into the distance. Needless to say we would have never had this type of experience in the summer when people frequent the trail, and the wildlife stays clear.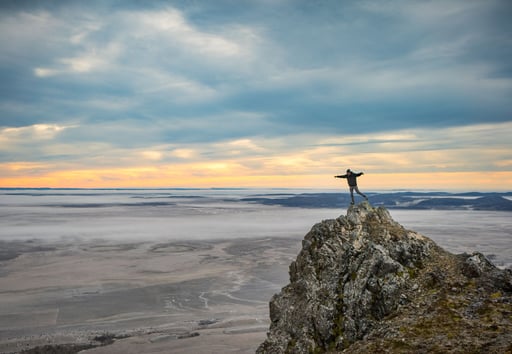 Moonlight Snow shoeing in Ushuaia
For our first few days in Ushuaia it was cold, yet there was no snow on the ground or in the sky. We were wondering how "wintery" this trip was going to be. Then on our 3rd day, the clouds released their powder and hammered the city and the surrounding areas with several feet of fresh snow. As the evening set in, and the powder piled up, we were all questioning if we were still going to do the hike through the Tierra Mayor Valley that we had planned. Well, fortunately, our guides had prepared for these conditions, and we were all equipped with snowshoes and a headlamp. As a collective tribe, we hall hiked through the valley in complete white-out conditions. I thought back to the lecture we had received earlier about the Selknam, the indigenous people, who withstood these extraordinary conditions with barely any clothes on their back, and somehow found a way to survive. This was a short hike and we had Gor-Tex boots, waterproof jackets, and insulated pants, yet I felt like I still got a slight taste of what these people must have gone through. Our hike ended at a teepee in the woods, and inside was a roaring fire, and a local Argentinean playing his acoustic guitar. We passed around hot wine, and steak that had been roasting above the fire. Looking around, there was not a face without a smile, as we all enjoyed the music, food, and comfort that we had been provided for us in the middle of this harsh environment.
4X4 Off roading in the snow
Off roading is part of the Ushuaia experience. There are long courses that wind through the mountainous terrain, offering an exhilarating experience with well trained drivers and guides. When you add snow to the mix, it adds another level of thrill. Our fleet of land rovers moved through the trails like bulls, charging up the hills, and swimming through large pools of water. Because of the winter storm, occasionally a tree would be perfectly fallen to block us from moving forward on the trail. It was at this time that we would all jump out and team up to push the trees out of the way. There was a great sense of camaraderie as we cleared the trees. Occasionally a snowball would come flying from someone's hands directly hitting someone. This would turn into all out war, bringing out the childlike playfulness in all of us as we all remembered how fun snowball fights are (that is, until someone gets hit in the face).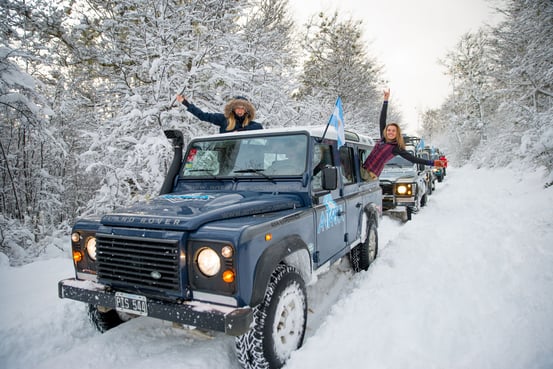 These are just a few of my experiences in Tierra del Fuego, our days were packed with incredible activities that showed me how much there was to do in this destination during a season that no one thinks to travel there in. Traveling somewhere with winter conditions (that is not a ski town) means that you will avoid the crowds and get to see the destination in a different light than most other travelers. Now that I have been in both seasons, I can highly recommend visiting Patagonia in the summer AND the winter, so strap on your waterproof boots, put on your down jacket, and book your trip to Tierra del Fuego with Lost World Adventures today!
Are you interested in a trip to Tierra del Fuego? Fill out the our inquiry form and receive a free consultation, that includes your own customized trip proposal!
Keep reading about Tierra del Fuego and Patagonia on our Patagonia Planning Pages.