If you find the prospect of a large cruise ship with thousands of fellow travelers overwhelming, but want to preserve the comfort of a luxury experience, why not consider traveling aboard a catamaran or yacht? By experiencing the Galapagos in this small, familiar setting, you'll be tracing the path of Charles Darwin as you marvel at the native wildlife and flora of the islands the way he did some 180 years ago. Marine iguanas, sea lions, Darwin finches, and giant tortoises are just some of the incredible wildlife you'll see during your journey. Whether you're looking for relaxation among nature or adventure along the coast, we've compiled a list of our favorite luxury boats in the Galapagos to help you find your perfect sea adventure.
Ocean Spray Catamaran
The Ocean Spray Catamaran offers an intimate experience of 16 passengers and 11 crew members, including a bilingual Galapagos National Park Naturalist Guide and a Quality Control Manager who ensures that all of the minute details that work together to create this high class experience, run as planned. This smaller ship allows experienced travelers to enjoy the scenery and wildlife of the Galapagos with a closer group of people. The ship's features include private balconies on all cabins, a jacuzzi, areas to socialize with other travelers, and kayaks on board to experience the islands like a true voyager.
Cormorant Luxury Catamaran
Enjoy the comfort of these spacious suites and private balconies while exploring the islands on this quaint yet beautiful ship. The Cormorant Luxury Catamaran holds 16 passengers and a crew of 11 professionals, including a Galapagos National Park Naturalist Guide. Itineraries range from a 4-day introduction to the Galapagos to a thorough 15-day exploration.
La Pinta Yacht
Become immersed in the environment of the Galapagos aboard the La Pinta yacht. Even while relaxing in your cabin, you can enjoy the incredible view from the floor-to-ceiling windows featured in all cabins. Panoramic windows allow the ship's social areas to have a constant perspective of the islands, including an observation deck. This yacht holds 48 passengers and a crew of 27 professionals, including four naturalist guides and a medical officer. Adventurous possibilities for travelers aboard the La Pinta include snorkeling, sea kayaking, and observing the beauty of the ocean through a glass-bottom boat.
Santa Cruz II Vessel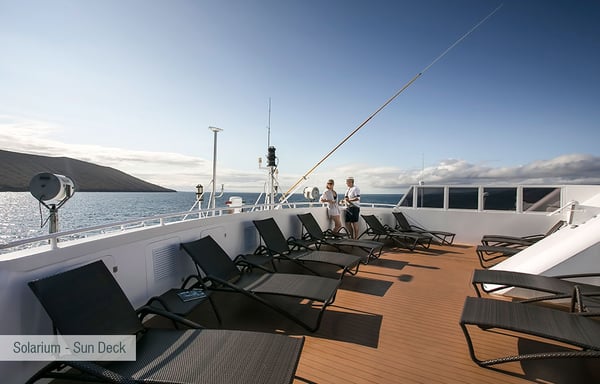 Perfect for those looking to combine recreation and relaxation, the Santa Cruz II is a slightly larger luxury ship with a capacity of 90 passengers and a crew of 52 experts, including 6 naturalist guides and a medical officer. Larger vessels can more smoothly navigate the ocean while still providing the comfort and privacy of a smaller boat. Relax on the vessel's sun deck and enjoy dining, a bar and lounge, and hot tubs, or explore the local nature by renting kayaks, snorkeling equipment, or dinghies and explore the coast.
Celebrity Xperience
Experience the wonders of an expedition-style adventure on the comfortable Celebrity Xperience, a ship large enough to handle the "motion of the ocean", but small enough to preserve the intimate atmosphere and exclusivity of a yacht. This ship accommodates 48 passengers, just half the number of passengers usually found on a ship this size, meaning more peace and comfort for you to relax in. Enjoy snorkeling, kayaking, or a dinghy ride, then return to the calming open-air spaces aboard this ship.
Which expedition will you choose?
We've covered smaller, comfortable exploratory boats from the exclusive yacht to the more spacious luxury vessels in which you can experience the beauty and natural world of the Galapagos islands in comfort. If none of these seemed to fit your needs quite right, we offer even more luxury Galapagos explorations on our website.
If a trip here piqued your interest, we can't wait to talk to you about your wishes and plans for your trip. We offer free consultations to discuss the specifics of your travel plans, with no fees or commitment necessary. Contact us at the button below and one of our travel consultants will reach out to you to help you develop your personal travel itinerary at no cost.