Genuine Colombian coffee is often regarded as some of the world's best. The city of Armenia, Colombia is the center of coffee production in the area, and is even home to the National Coffee Park, a nonprofit theme park with rides, educational exhibits, and the stimulatingly-titled "Coffee Show." However, if you'd prefer to get into the gritty details of coffee production, from bean harvesting to the cup of aromatic goodness, visiting a coffee farm is a great way to educate yourself. After embarking on one of these tours, you'll return from your Colombia trip with enough cafe knowledge to impress even your most pretentious barista friend.
Coffee farms owned by families are called fincas, and they are incredibly abundant in the coffee-growing region. New York Times travel writer Gustave Axelson describes the breathtaking view off one of the region's cliffs: "more than a dozen Andean peaks rolling out as far as could be seen, with bushy coffee plants climbing up every mountainside."
Wondering where to stay? Here are some hotels as cozy and authentic as a cup of coffee.
Hacienda Bambusa
The Hacienda Bambusa is immersed not just in coffee plants, but a plethora of Colombia's most delicious and famous edible exports. Plantain, manioc (also called yuca or cassava), orange, and pineapple plantations, among others, surround the area. The Hacienda Bambusa house is built in the traditional coffee region style, utilizing clay tiles and tropical bamboo. The hotel's eight impeccably furnished rooms are spacious and comfortable, ideally arranged for rest and relaxation, with a view of the swimming pool or the hotel gardens. All rooms have a private balcony or terrace, a sitting area, and a hammock. They are all provided with fine bed and bath linen, a satellite TV, minibar, a safe, Wi-Fi, and air conditioning.
Hacienda Castilla
The Hacienda Castilla has been a historic part of the city since 1716! These tranquil accommodations have been updated with modern comforts and are an excellent place to witness Colombian wildlife such as iguanas, squirrels, parrots, and many types of wild birds. Hacienda Castilla's in-house restaurant features international dishes cooked with local ingredients from environmentally-friendly suppliers. The location is optimal for visiting places such as the Park of the Nevados, Santa Rosa Hot Springs, Calima Lake, La Pastora, Cocora Valley, and Salento, and cities like Manizales, Armenia, and Cali.
Hacienda Buenavista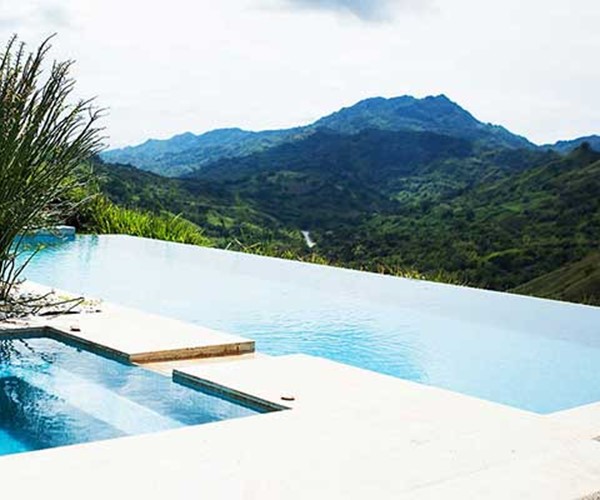 Standing high above the river and with breathtaking views of the surrounding mountains, Hacienda Buenavista offers tranquility and comfort as a luxury boutique hotel in Quindío, Colombia. It is an adults only hacienda, so it is great for honeymooners, or anyone else who wants a relaxing getaway.Enjoy the views of the valley, the river and surrounding mountains from your private balcony or the infinity pool.
The food is constantly changing based on the local harvests but also utilizes international classics as well. There is an extensive wine list as well as everyone's favorite, the homemade sangria. Whether its a short or long stay, you really can't go wrong with this romantic hacienda.
Hacienda Buenavista
Are you interested in a coffee vacation that is both energizing and relaxing. Well then Colombia is the perfect destination for you. Talk to one of our travel experts today by filling out this form for a free consultation.