Patagonia - the name evokes images of glaciers, turquoise lakes, hikes on windy plains, penguins and romantic isolation. Those who have been seem to speak of it with a dreamy sanctity.
Classic Patagonia - Torres del Paine National Park
So, where exactly is Patagonia?
Patagonia is a vast region making up roughly the bottom third of Chile and Argentina. At over 400,000 square miles, it's more than twice the size of California.
There are many cities in each country that make up Patagonia, with diverse landscapes and attractions. Which areas should you visit and why?
#1 El Chalten - If you enjoy long or short beautiful day trip treks to iconic mountains like Cerro Fitz Roy or Cerro Torro, the small mountain town of El Chalten, Argentina is a worthwhile stop for at least 3 nights. A 3 hour drive from El Calafate, this area boasts exceptional trekking and hiking, white-water rafting, and easy access to Viedma glacier, which is significantly less-busy than Perito Moreno glacier in El Calafate for ice-trekking. There are also some fantastic lesser-known multi-day trekking options available in El Chalten, such as the Huemul Circuit, a lovely and challenging 4 day option that ends with breathtaking views of Viedma Lake.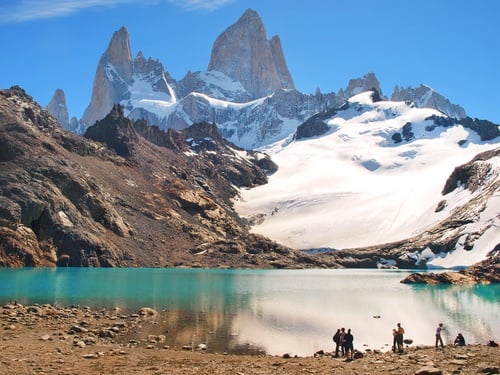 Laguna de Los Tres on the Fitz Roy trek in El Chalten
#2 Torres del Paine - If silence, privacy, and spaciousness of the surrounding landscape with award winning architecture and a backdrop of one of the most famous and awe-inspiring views in Patagonia sounds appealing to you, look no further than Explora Patagonia in Torres del Paine, Chile. With over 50 different guided hikes and horseback riding options with different difficulty levels ranging from easy to expert, you will never be bored unless you want to. Of course, the food is critically-acclaimed and the spa a palatial retreat making this our top pick experience for at least a 3 night stay in Torres del Paine!
For more budget-minded adventurers, the W trek circuit is a must. With 5 day, 7 day and 9 day trekking options, you can decide ho much time to devote to this region. Over-nighting on the trail is in eco-domes, tents or refugio-type accommodations. It is also a much more popular trek than Huemul in El Chalten, so expect to see many others on the trail with you!
Owner of LWA, Andrew Gilchrist, at the base of the three towers, Torres del Paine
#3 Chubut Province - This area includes Puerto Madyrn, Peninsula Valdes and Punta Tombo. Puerto Madyrn is a beach town and a great jumping off point to explore Peninsula Valdes and Punta Tombo, especially if you have a car. Peninsula Valdes is an extremely important nature reserve inhabited by marine animals and is a supreme location to observe whales from May until December. Spend 3 nights or longer at Bahia Bustamante, the perfect spot for whale and bird-watching and penguin observation just 3 hours south of Puerto Madyrn! No other location in Argentina offers this type of marine and wildlife observation. Punta Tombo is home to thousands of seals and Magellanic penguins and makes for a great day trip from Puerto Madyrn.
Whales ahoy in Peninsula Valdes!
#4 Aysen - A very off the beaten path region in Austral Patagonia and perhaps one of the most surprising geographically, this area is very lush, green and mountainous. Take your time here and enjoy every minute of the serene, remote beauty. Experience The Marble Cathedral, Exploradores Glacier, and Queulat National Park and its enchanted forest. We recommend 4 nights at Mallin Colorado Ecolodge followed by 4 nights at Puyuhuapi Lodge and Spa to really get the full experience of this region! See our example itinerary here!
Still don't believe me? Check out this amazing trip report!
Marble Caves of lake General Carrera in Austral Patagonia... unbelievable!
#5 El Calafate - no Patagonia must-visit list would be complete without El Calafate. A 3.5 hour flight south from Buenos Aires, it is one of the most easily accessible areas of Patagonia. Though you won't find famous treks like the W Circuit here, you will find the most famous glacier in the world, Perito Moreno just 50 miles east of the town of El Calafate. Perito Moreno is a true natural wonder of the world and millions of travelers flock to see it each year. For those 10-65, mini-trekking on the ice is a must, though prepare to be joined by many other fellow travelers, especially around Thanksgiving, Christmas and New Years!
You must fly into El Calafate to get to El Chalten, so it can make a very nice stop over on your way in or out. There are also some great, though rather unheard of, treks available from the lovely Estancia Nibepo Aike, if you have the time to stick around for awhile. If you find yourself with 2 or 3 hours, the brand new Glaciarium museum is worth a stop to learn about the glacial phenomena and important scientific studies performed in the region. There's also a free shuttle with hourly departures from the parking lot of the Tourism Bureau of the Province of Santa Cruz 09:00 am to 07:00 pm so getting there is easy!
Perito Moreno glacier - no question, a worthy bucket-list experience
Alright, that's a wrap of our top 5 favorites in Patagonia! Of course, there are so many other charming cities and scenic spots to visit in Patagonia that I could spend many more hours writing about. There's Bariloche for skiing, Ushuaia at the end of the world, Cape Horn, Puerto Natales for biking, Neuquen for wine and Pucon for the spectacular volcano Villarrica (the most active in Chile!). If you find yourself still a bit undecided on where to go or how to connect all of these incredible destinations, we would love to chat with you!
More resources can be found at our Patagonia Travel Planning page.