Aqua Expeditions' riverboat cruises through the Peruvian Amazon offer an unexpected perk: Pedro Miguel Schiaffino serves as executive chef in the ship's kitchen, making your dining experience as beautiful as your surroundings.
Chef Schiaffino has been studying the Amazonian food and cooking traditions since 2001, even working with anthropologists and environmental scientists. Schiaffino calls the rainforest his "natural habitat" and skillfully incorporates sustainable produce and ingredients from the Peruvian Amazon into his cooking. 70% of the chef's ingredients are sourced from the Amazon.
---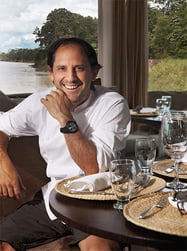 "When I hear from friends in Iquitos or villagers along the river about an unfamiliar dish or ingredient, I would start asking questions. Starting in Lima, I speak to anthropologists and other experts. Then I'll go to the Amazon, sometimes heading off on a speedboat for eight hours or more in search of ingredients to taste and experiment. It's amazing how the Amazon constantly offers up tastes and flavors I've never imagined before." —
Chef Pedro Miguel Schiaffino
---
Schiaffino's expertise comes from his training at the Culinary Institute of America and the Italian Culinary Institute for Foreigners. He has won several awards including the American Express Icon Award 2019 for Latin America's 50 Best Restaurants, the "Manka" award from the Peruvian Government in 2006, the Chef L'Avenir award from the International Academy of Gastronomy in 2010, and recognition in 2016 from the Peruvian Ministry of Environment for his work in supporting Peru's biodiversity.
Both Aqua Nera and Aria Amazon offer the chef's unique talents, as well as customized market tours, cooking masterclasses, and interactive Q&As with Schiaffino.
The chef's cuisine is mostly plant-based, and relies on the native plants of the surrounding Peruvian region.
Some of his signature dishes include causa with shrimp escabeche (causa is a Peruvian mashed potato dish, and escabeche is an acidic marination technique), coconut tapioca with mango sorbet, and crisp quinoa with roasted vegetable salad.

Chef Schiaffino's culinary talent will surely enhance your already-amazing experience aboard either the Aqua Nera or Aria Amazon. If you're interested in one of these cruises through the Peruvian Amazon, contact us today to start planning your trip.