When it comes to wildlife, there is no doubt that the Galapagos Islands deliver. Almost every savvy traveler has the Galapagos high on their bucket lists, and for all the right reasons. The archipelago is one of the world's greatest natural wonders, with over 4,000 species (40% of them found nowhere else in the world), and plenty of stunning natural wonders – nothing really prepares you for visiting the exotic Galapagos Islands.
All parts of the islands are equally remarkable and the species there, from Darwin's finches to giant tortoise, will stun you. Only a few hundred years ago, it took around four years to get to the Galapagos from Europe or the U.S. Luckily, things have taken quite a drastic change. Some travelers like getting a more intimate experience with the islands and choose land-based tours that allow them to fully discover every area they stay in, while others enjoy water-based cruises.
Water-based cruises include eating, sleeping and resting aboard a luxury boat – whether a catamaran, a sailboat, a yacht or a cruise ship. The water-based cruise offer land excursions as well that will take you right in the heart of the islands so you could encounter the prehistoric species and the rare reptiles and iguanas. You'll get up close & personal to endemic land iguanas, the blue-footed boobies, the Galapagos penguins and the renowned albatross – and much more.
Going on a boat cruise or a yacht cruise will give you the diversity of the land and marine life in one where you'll enjoy the luxury that comes with being aboard a luxury ship and the adventure that comes with being at the Galapagos. We've hand-picked some of the best yachts in the Galapagos for the ultimate luxurious trip.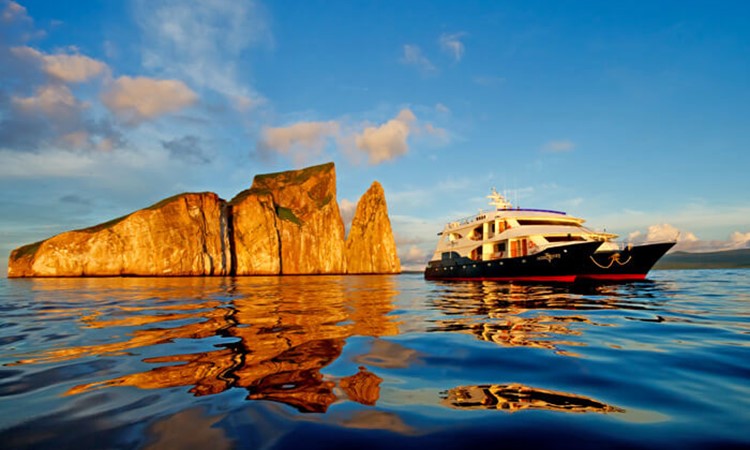 The Galapagos Ocean Spray is a perfect choice for anyone looking for a cruise adventure. The new mega-Catamaran perfectly blends in comfort, top-notch performance, and luxury. You'll first see that in its design: a huge sundeck where you can spend your mornings sunbathing, Jacuzzis, private balconies for your cabins and a lot more. You can choose from different itineraries – starting from 4-day cruises (with kayaks included) to 15-day mega cruises as well. The ultra-modern luxury vessel is also renowned for unrivaled spaciousness. So if you're looking for a boat that provides speed, comfort, stability, and some of the largest cabins on any yachts in the Galapagos – you know what to choose.
Now when it comes to the amenities:
There are nine spacious double cabins each with a private bathroom, private balconies and your own luggage storage units. This all makes the Ocean Spray ideal for couples.
The crew is incredibly experienced and there is a certified naturalist guide adding to the quality of service offered on the yacht.
There are advanced navigation systems and safety equipment on board.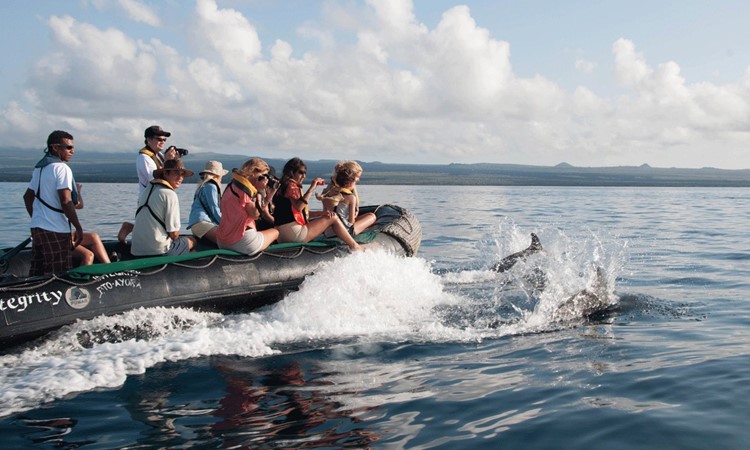 Staying on Integrity feels very similar to staying at a fancy boutique hotel in the middle of a secluded island. The 16-passenger cruise has been designed with a painstaking attention to architecture, design, and luxury. The juxtaposition of its tasteful décor and the mesmerizing ever-changing scenery is enough to make it very hard to leave the cruiser.
Some amenities include:
The simple, yet tasteful décor, with hand-harvested hardwood adding to the sheer delight of staying on the cruiser.
There are 8 double cabins with comfortable seating, huge windows with ocean views, individually-controlled cabin temperatures, a mini-fridge stocked with food & drinks, and an ensuite bathroom.
There is a cozy lounge as well that's perfect for unwinding after a long day exploring.
The on-board naturalist will brief you daily about the natural history of the Galapagos Islands and the different wildlife & landscapes that you pass by.
Varied menus with healthy food & a buffet-style breakfast.
There will always be dessert, coffee, and tea and if you're on a special diet, the crew will readily accommodate you.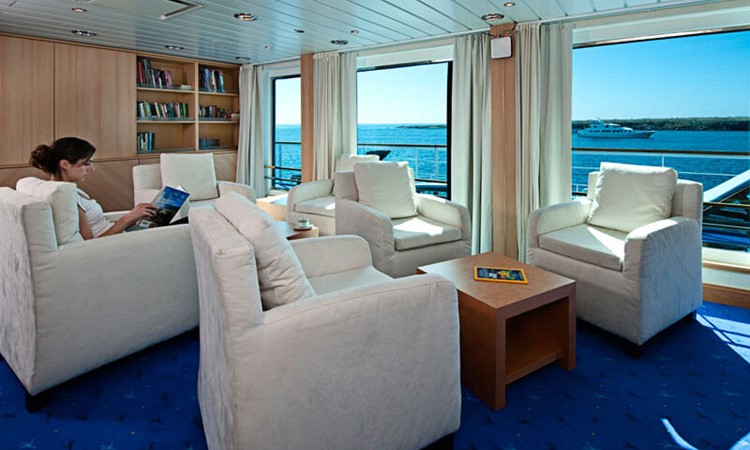 La Pinta has an astounding reputation when it comes to its up-to-date vessel, great service and most importantly – diversity and variety of activities you can partake in onboard. It can take up to 48 guests, making it perfect for family vacations all-year-round.
When it comes to the amenities:
La Pinta consists of nine comfortable double bedrooms.
All bedrooms come equipped with ocean views, a private bathroom, personal safes and you can individually control your air conditioning.
The cabins are massive and they're among the most popular for their floor-to-ceiling windows in all their staterooms.
You can also choose to book extra-large connecting suites, which is especially beneficial if you're traveling in a big group.
There is a large observation lounge and a Sky Bar.
A restaurant serving top-notch international & Ecuadorian cuisine.
There is an exercise room, a Jacuzzi and a library with hundreds of natural history-related books.
You can also choose to spend time in the social area which offers unparalleled panoramic vistas of the islands and superb whale, dolphin and shark watching opportunities.
La Pinta also has expert guides that will take your wildlife encounters to the next level with your deep knowledge of the flora & fauna of the Galapagos.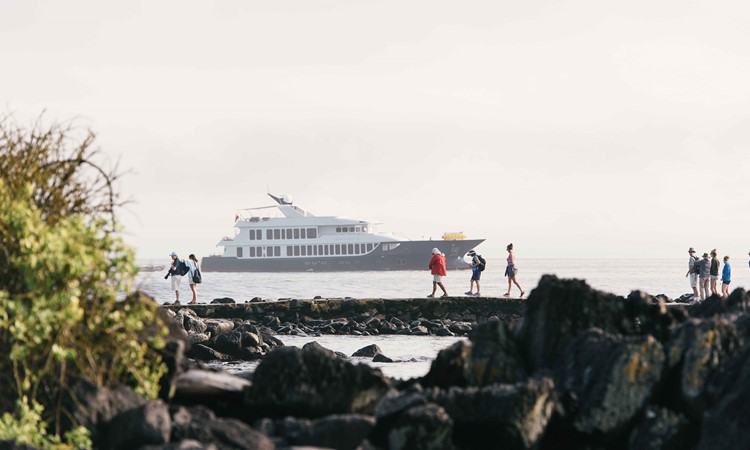 Next, it's time for us to present Origin. The dreamboat was named after Charles Darwin's "The Origin of Species" and is an effortless blend of tasteful décor, luxury, environmental efficiency, and amenities. If you're all about environmental sustainability then Origin will cater to your needs – the boat was built to ensure maximum fuel efficiency and comfort.
When it comes to the amenities:
There are 10 spacious staterooms, each with large windows, private bathrooms, storage space and a sundeck where you can enjoy the hammocks and day-bed.
There is an outdoor shower, a bar, and a four-person Jacuzzi on deck.
You will find two expert naturalist guides on board providing personalized expert tips, hand-picked educational material, and exceptional service.
There is a fitness room equipped with all types of cardio machines.
You can choose from multiple activities including kayaking, paddle boarding, snorkeling or diving.
There is a library and a computer station.
Hopefully this blog has piqued your interest in a Galapagos cruise! If you're interested in booking an excursion on any of these ships, or any of our other fleet of yachts and catamarans, please don't hesitate to contact us today for a free consultation, no strings attached. Start planning your Galapagos getaway today!