Boutique wine tasting, breathtaking natural backdrops and exclusive hotels make for a perfect wine-lover's vacation. And while many wine regions around the world can offer one or two of these ingredients, Chile hits it out of the park with all three. For wine enthusiasts vacationing in Santiago, it's easy to visit a number of wineries, all within a 100-mile radius of the city.
Here is one of our sample itineraries that feature the wineries of the Central Valley -
Santiago, Wineries & the Coast
It's not just about the tantalizing tasting opportunities … there's a rich history to the region as well. Learn about the French influence on the Chilean landowners who borrowed techniques and brought home grapes from Europe, including the sauvignon blanc, merlot, Malbec, cabernet sauvignon and carmenère you'll enjoy during your visit. Delve into the organic, biodynamic agricultural practices of Chilean wineries, who continue to experiment with the country's oldest vines and varied terroir.
Where to begin? In general, white wine enthusiasts will find their favorite vintages west of Santiago, in the Casablanca Valley. Those with a penchant for reds will want to head east toward the Andes the mountains. Here, a peek into where to go, what to sip and how to sleep amongst the vines.
Casablanca Valley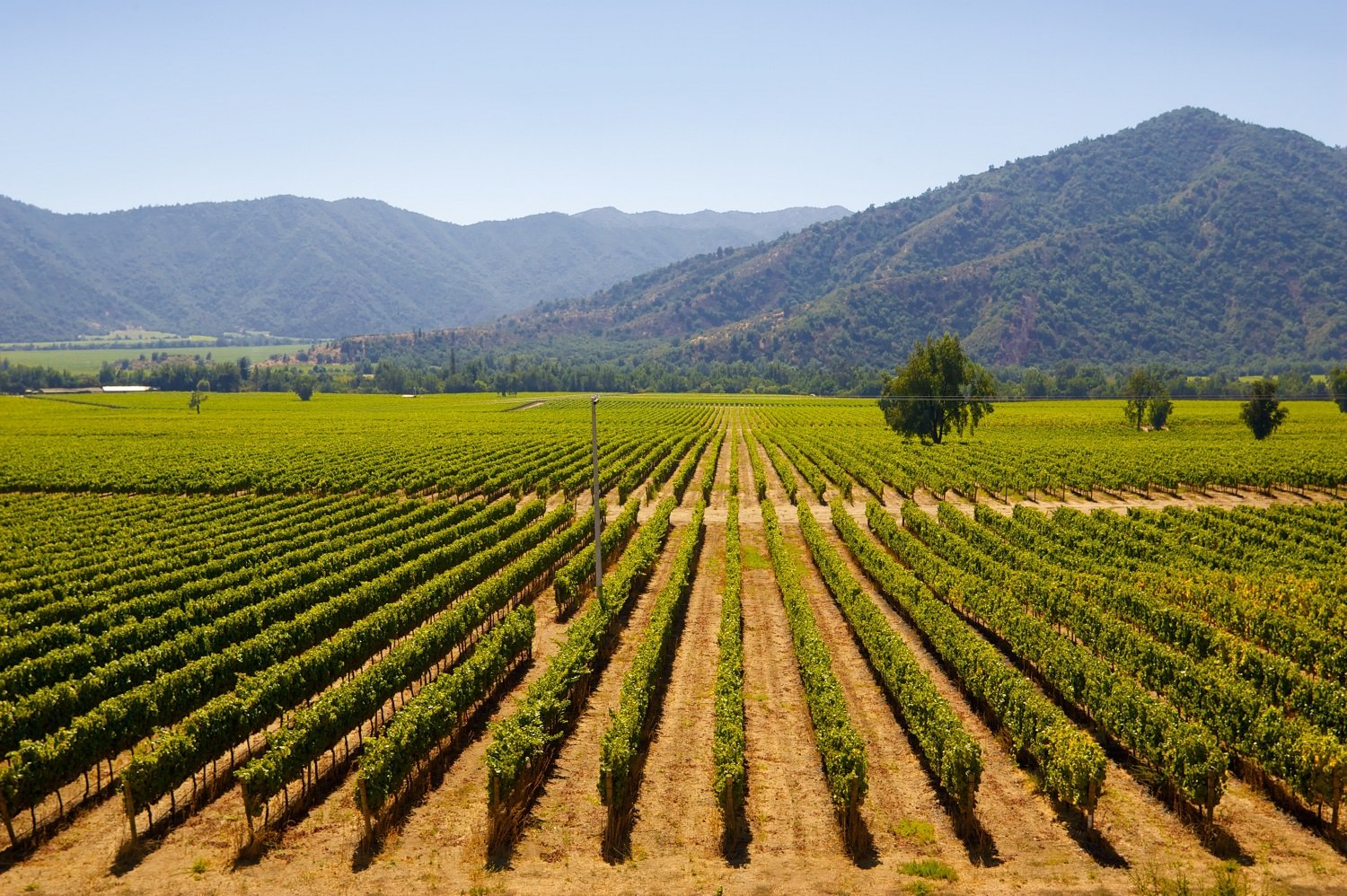 Set between Santiago and Valparaiso, about 40 miles west of Santiago, the Casablanca Valley is home to a burgeoning wine scene. Many of the boutique wineries here are relatively new and utilize the most modern techniques in wine-making while remaining committed to earth-friendly, biodynamic practices. The valley has quickly become synonymous with impressive chardonnays and sauvignon blancs. The Mediterranean-esque climate makes for great growing conditions and is similar to areas of Sonoma and Napa.
Colchagua Valley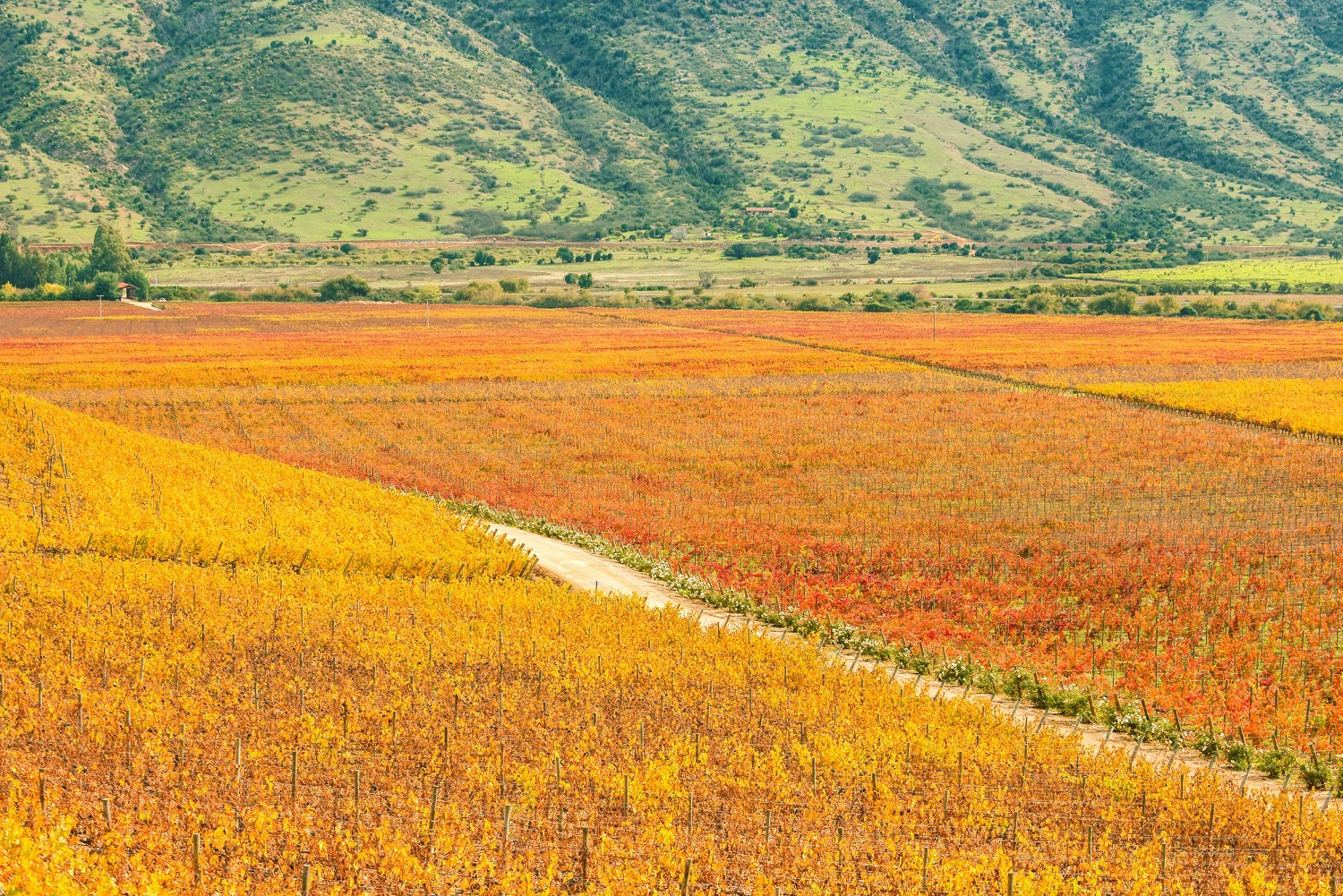 South of Santiago by just over 100 miles, and hemmed in by mountains, the Colchagua Valley is best known for its carmenères, syrahs and malbecs. The region is often featured in world's best wine lists and well worth a visit by the avid oenophile for these impressive reds and the chance to stay and soak up the peaceful surroundings. Wine production has had a long life here, with vineyards first introduced by Jesuit missionaries in the mid-16th century. Chile's unique carmenère grape, was rediscovered in the region in the 1990s and has become one of the country's iconic grapes.
Maipo Valley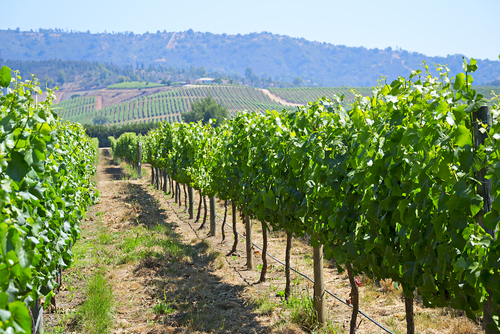 Head south and east from Santiago toward the Andes and into the sunny Maipo Valley for some of the world's leading cabernet-based wines produced on more than 7,000 acres of vineyard. Bordeaux grapes were imported from France in the 19th century and since that time, the region has gained much respect and recognition within the wine community for its bold reds, including cabernet sauvignon, merlot, carmenère and syrah. If you're staying in Santiago, it's super easy to get to the Maipo Valley – it's so close you can just hop in a taxi and be sipping wine within a half-hour.
San Antonio Valley
If you're in Casablanca Valley already, head a bit south into the San Antonio Valley. The cold-climate conditions here make for wonderful sauvignon blancs, chardonnays, pinot noirs and syrahs.
Aconcagua Valley
Heading toward Valparaiso from Santiago, you'll discover the Aconcagua Valley about 45 miles north of the capital. Rugged conditions prevail here, and while originally it was thought that the hot, dry summers would prevent wine grape production, a wine pioneer named Don Maximiano Errazuriz had other plans. In the 1870s, he started the first vines and today, his family's winery as well as the entire valley, is known for excellent cabernet sauvignons, syrahs and merlots.
Taste Chile's Signature Carmenère Grape
No wine visit to Chile would be complete without tasting the country's notable carmenère grape. Found mostly in the wine regions surrounding Santiago, it's worth seeking out. History leads us to believe that carmenère was first used to produce Bordeaux wine, likely planted by the Romans. When wealthy Chilean landowners visited France around 1850, they brought back the grapes and, over the decades, Chile amassed the world's largest planting of carmenère. Fun fact – back then, many of the carmenère plantings were confused with merlot. It wasn't until 1994 that many wine growers realized they had so much carmenère, not merlot. Look for this distinct variety mainly in the Colchagua Valley. It has been described as a "hoppy wine" – particularly enjoyed by fans of Chinon's Cabernet Franc. Give it a try with a bottle of De Martino Legado Reserva Carmenère 2012 from the Maipo Valley.
Where to Sip and Stay
VIK Chile (Colchagua Valley)
Guests are immediately struck by the technologically advanced, yet earth-friendly design of the VIK cellar. Much of the building is located underground, while upstairs, high glass walls give a clear view of the winery, the outdoor pavilion and the Andes in the distance. It's here that oenophiles are led through an insightful tour of the VIK experience, from crushing to tasting, learning about the techniques used to craft the winery's holistic vintages.
Stay in one of 22 individually decorated suites of the winery's boutique-style retreat. Expansive windows frame gorgeous views of the Andes landscape and vineyards, while local artwork adorns the walls. At The Wine Spa, soak in a wine bath to relieve muscle aches and soften skin, then indulge in a grape-seed-oil massage. Meals are feasts of South American specialties at Milla Milla. Can't rouse yourself from the infinity pool for a full meal? Grab a couple lounge chairs and order wine and snacks to be delivered poolside.
From your perch in the infinity pool at Clos Alpata Residence, your view encompasses the far-reaching vineyards of Colchagua Valley's spectacular Apalta Vineyards. Choose from one of four individually designed casitas – a small number that makes for a exclusive, intimate ambience – each reflective of the four varietals that make up the Clos Alpata blend.
The impressive cellar is six levels, with four of them underground in Alpata granite for natural cooling and ageing. The cellar was built especially for Clos Alpata production, the winery's most renowned vintage.
Bike or ride on horseback through the organically cultivated vineyards, trek through the native forests, tour the winery and indulge in private tastings and dine on seasonal cuisine inspired by each wine. Perfect for both the expert oenophile and the more casual wine enthusiast, Clos Alpata Residence is a tranquil retreat from which to explore this famous wine country.
Love a good syrah? Start your viticulture vacation at Matetic Vineyards, pioneers of cool-climate syrah in Chile. The family has been in the area since 1892 and today, the fourth generation oversees vineyards in the El Rosario Valley within the San Antonio appellation about an hour and a half from Santiago. Syrah isn't the only headliner here – sample sauvignon blancs, chardonnays and pinot noirs as well.
The boutique winery is as committed to the visitor experience as it is to its fantastic wines. Private tours showcase the wines as well as the organic and biodynamic viticulture practiced here. Taste the celebrated Corralillo and EQ lines with a vineyard enologist – be sure to include the "chocolate and wine shots" to cap off a perfect tasting session.
Stay at pretty-as-a-picture La Casona Guesthouse. The unassuming, terracotta-tiled boutique hotel quickly feels like home with its flower-bedecked gardens, palm trees and neighboring cows and alpacas (in addition to being a vineyard, it's also a working farm). Check into one of eight rooms, each named for a grape varietal, and all with huge tiled bathrooms, high ceilings and warm, wooden furnishings. Equilibrio's menu is focused on local ingredients like Rosario Valley lamb cooked in syrah and cheesecake with local goat cheese. Work it all off with horseback riding and hiking excursions throughout the valley. A lovely pool area and sun loungers, as well as a cozy fire pit, make for dreamy days in Chilean wine country.
Continue reading about the best of South America's wines at our Guide to Mendoza's Deluxe Wineries blog post.
If you have time to combine Chile and Argentina on a winery-themed trip, here is a sample trip that features the wineries of the valleys around Mendoza in Argentina
Uncorking Argentina - Food and Wine Tour
Ready to start planning your visit to the Chile Wine Region? Speak with a Lost World Adventures consultant.