The highest navigable lake in the world and home to Quechua and Aymara people whose traditional lifestyles are still intact. On day trips from Puno you will visit one or more of the islands or peninsula communities located on Titicaca. Local homestays can be booked and are the most intimate of Titicaca experiences.
Whether you are on a day trip or on an overnight homestay we recommend Amantani, Yachon or Luquina for a more direct and experiential contact with the local cultures. Taquile island is one of the most well-known islands, and therefore the busiest with visitors.
Amantani Island is located 28 miles east of Puno. The island, inhabited by over 3,500 Quechua-speaking Indians, is known for its two pre-Inca temples dedicated to earth's fertility. Built on different hills, these places are sacred, and ceremonial rituals are still practiced by "Andean Yatiris" there. Amantani's great concentration of energy and range of magnetic fields are an attraction to many who visit the island. Activities on Amantani include walks to Pacha Tata and Pacha Mama. Overnight stays are at local homes but there is no hot water or private bathrooms.
Taquile Island is located 24 miles east of Puno in Lake Titicaca. Taquile is home to over 2,000 Quechua-speaking Indians and is world famous for its hand weavings and an ancient communal way of life.
Llachón is a community located 19 miles from Puno on the Peninsula of Capachica. Here you will appreciate their Quechua communal way of life. You can join their daily activities such as farming.
Luquina is a small community located on the Chucuito Peninsula, about 1½ hours by boat from Puno. Several families in Luquina have been given training in the tourism sector and offer very personal and comfortable homestays. Rooms have private bathrooms with hot water.
The floating islands of Uros are made of dried totora reeds. The Uros Islands will usually be visited en route to Taquile, Amantani or Llachón whether on a day trip or overnight homestay.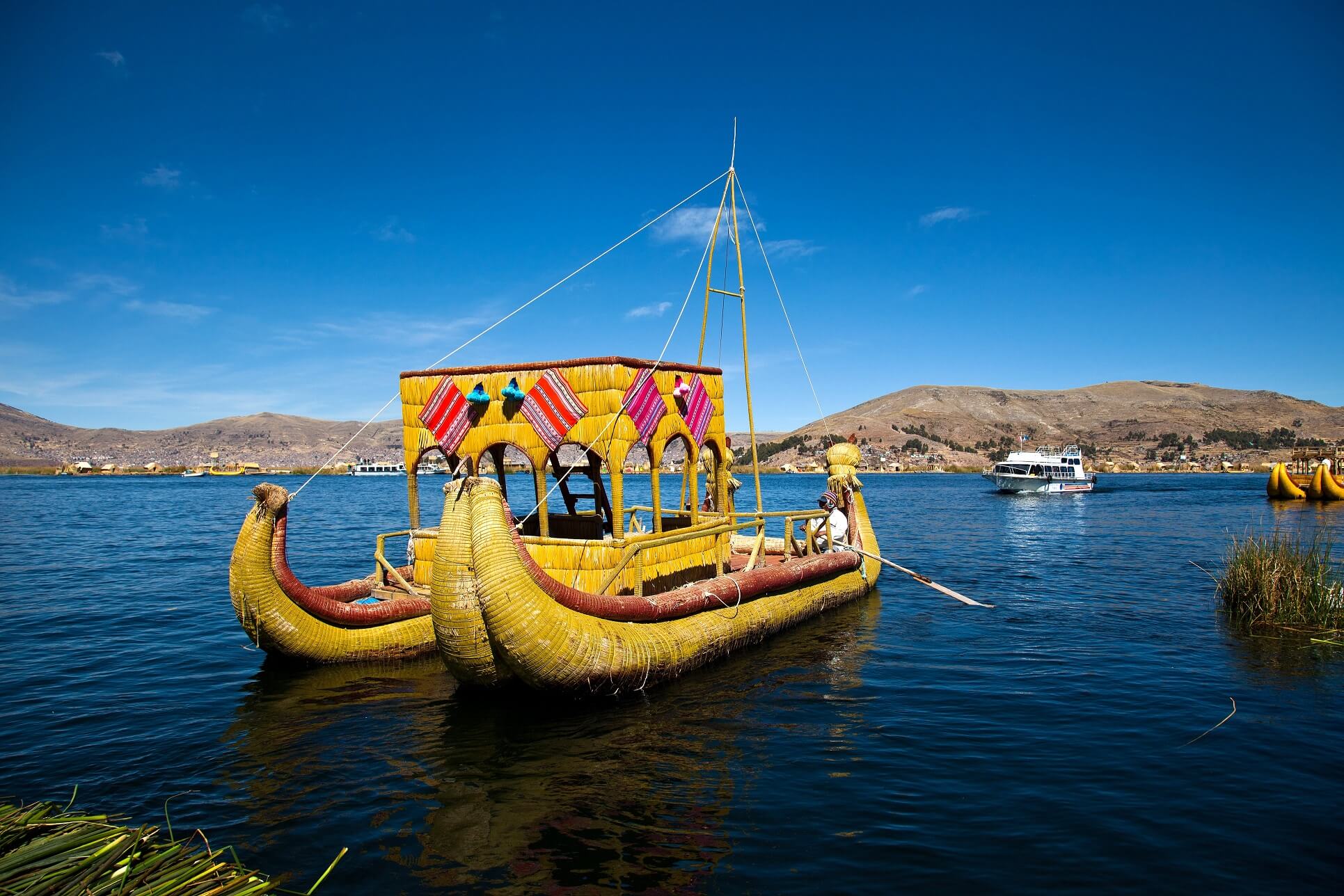 Places to Stay
Titilaka is the premier Lake Titicaca experience - an 18-room all-inclusive luxury lodge and member of the Relais & Chateaux fellowship. Titilaka offers packages that include upscale accommodations, meals befitting a Relais & Chateaux property, and a menu of excursions exclusively for guests and led by expert guides. All rooms have lake views.
Libertador Lake Titicaca - located on a private island, Esteves Island, with 360º views of the lake. Hotel facilities and services include Wellness & Relax area, gift shop, business center (24 hours), 24-hour room service, laundry service. Los Uros restaurant offers international dishes made with local produce, surrounded by one of the greatest views of the lake. At night, enjoy a typical Coca sour at the Taquile bar.
Casa Andina Premium Puno – perched on the edge of Lake Titicaca, offering guests extraordinary views at 3,800m (12,500 ft) above sea level. A majority of the hotel's 46 rooms boast unparalleled lake views; the hotel's gourmet restaurant is enclosed by a glass wall framing the lake and gardens; and a large, sunny terrace invites guests to contemplate Lake Titicaca's seemingly endless expanse. Unique among Puno hotels, oxygen is available in all rooms (a bonus for guests having difficulty adapting to the high altitude).
Sonesta Posadas del Inca Puno – also located lakefront, Sonesta Posadas del Inca Puno is a haven for warm and traditional Peruvian hospitality. From its guest rooms, restaurant and bar, the Posada offers panoramic views of the world's highest navigable lake, surrounded by snow-capped mountain peaks. Hotel facilities include a business center with Internet access.
Amantica Lodge is located on Amantani Island. Amantica Lodge has only two suites with a maximum capacity of 6 guests. Only one party will be booked at any time - if just one suite is booked the other suite will be closed. Suites are equipped a two-sided gas fireplace - one side facing the room, the other side facing the terrace, 600 thread-count sheets, a bathroom with a view to the Titicaca Lake. Luxury facilities include a granite Jacuzzi and large Italian shower. s.
The Suite has two panoramic views - one to Taquile Lake and the other to the Royal Andes of Bolivia. Equipped with a king-size bed, TV and wifi, two terraces - one is heated with a table and chairs. The other is open and looks onto the lake with two comfortable sofas. Maximum capacity – 2 guests.
The Family Suite has two queen-size beds, a solar heater, a closet, and magnificent views, one looks onto Taquile Lake and the other to the mountain range. It has a wooden structure, isolated with local reed called Totora, stones, clay and mud are used to blend with the surroundings. The floor was made with an antique mix of sand lime and red mud which is well known to retain the heat. It also has a Jacuzzi made of stone. Maximum capacity – 4 guests.
Activities are include and provided by the lodge:
Hike to the highest point of the island – Pachatata - where brunch will be served.

A sacred coca leaf reading is an ancient, millenary and sacred activity is practiced by a Shaman. It is performed on important dates within the Andean Cosmovision. You will experience an intense and unique moment with the Shaman.

The Pachamama Ceremony - a ceremony to the mother earth is a symbolic way where mankind pays back to the Pachamama (earth) what has been taken from her. The main purpose is the reciprocity between man and nature.

Guided by a local specialist in astronomy you will have the chance to discover night sky constellations. The view at 4000m above sea level will be unique and breathtaking.

Fishing - you will board a typical boat where the captain will share his knowledge about the local ways of fishing.

Cooking class -

Adeli, the Gusto School-train chef from Gustu School, will tell you all her cooking secrets. You will cook two typical dishes and sample these amazing meals to awake your papilles (tastebuds).

Kayaking - i

n total harmony with nature, you will kayak along the lake to see this place with a different eye. If you would like to, you could bathe in the lake and feel all the mystical vibes.

Pachatata. Guided with a local, you will go to the highest point of the island called Pachatata. On the way you will visit some communities and share moments with the locals. When you get to the top you will be able to feel the immensity of the lake. Between the blue sky and the apus (gods) you will enjoy the view with a drink made of natural herbs.
From Puno there are three excellent trip extensions:
From Puno to Cusco -
Overnight journey on the Belmond Spirit of the Andes. The Andean Explorer has been recognized as being among the 25 greatest railway journeys in the world and one of the two best South American journeys by the International Society for Railway Passengers. The Andean Explorer's glass-walled vantage car provides spectacular views of the Andes cutting crisp blue skies, colorfully dressed people, small villages on the meandering Rio Huatanay, and vicuña and alpaca foraging on this beautiful patched-work.
*PeruRail Titicaca offers a full-day trip between Puno and Cusco on Mondays, Thursdays, Saturdays.
Lake Titicaca crossing to Bolivia -
Transfer from Puno to Copacabana, Bolivia, a beautiful town on the shores of Lake Titicaca. After a stroll around town you will depart on a 1-hour boat ride to the Island of the Sun, an ancient sacred and ceremonial site, which the Incas appropriated. After a short visit and lunch on the island you will continue by boat to the Island of the Moon for a short visit. Return to Copacabana and transfer to La Paz.
Overland transfer to the Colca Canyon -
From Puno you will depart with your private guide for a 6-hour trip by private car Colca. Along the way you will see splendid landscapes of the Andes. You will pass through the National Reserve of Salinas and Aguada Blanca, remarkable for the preservation of vicuñas, guanacos, llamas and alpacas. Stops will be made at Salinas and Aguada Blanca Reserve, "Chinitos" Restaurant for lunch, the Mirador de los Andes in Patapampa. Additional visits to Sibayo, Sillar Route and Lampa can be arranged.
More in our "Things to do in Peru" series
Contact a Lost World Adventures consultant for more details or a trip proposal -