South America makes it easy to gain a sense of place with its impressive hotels and lodges spread throughout the region. Whether you're an oenophile hoping to lay down your head amidst the vines or an adventuresome type who longs to sleep hanging off a cliff side, there are lodges across the continent that fit the bill. Here are a few favorites that seamlessly combine a richly local experience found nowhere else in the world with first-rate service and amenities.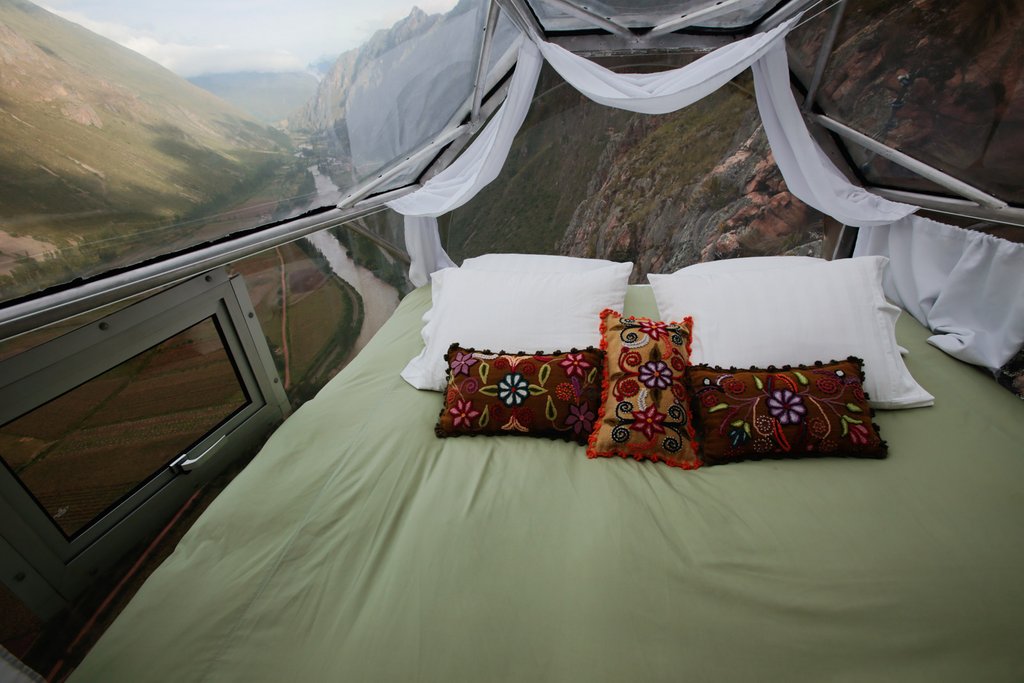 Where: Sacred Valley of Cuzco, Peru
What: Vertically hanging, glassed-in capsule suites at the top of a 1,200-foot mountain with a 300-degree view of the Sacred Valley.
Why: You've never spent a night like this – hanging off the side of a mountainside, with a condor's eye view of the mystical Sacred Valley below. Not for the faint-of-heart, this once-in-a-lifetime overnight requires guests to hike or zipline in, then rewards the effort with a night in a transparent suite, complete with four beds, a dining area and a private bathroom. Each suite is comprised of six windows and four ventilation ducts that promise a comfortable atmosphere, despite the elevation, as well as solar-powered lighting and high-quality bedding. Don't worry – there are privacy curtains if you prefer not to have your fly-by neighbors, the condors, peeking in at you. Your stay includes breakfast over the Valley, a gourmet dinner with wine, transfers to/from Cuzco and the service of professional, bilingual guides. Photographer service is available for an additional fee to capture your adventure.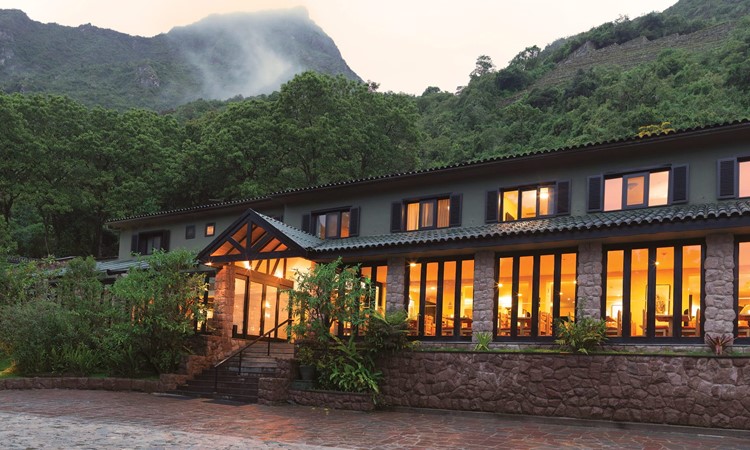 Where: Entrance of Machu Picchu
What: The only hotel at the gateway to the famed Machu Picchu citadel, with 31 immaculate rooms and suites, gourmet Peruvian cuisine and an orchid garden.
Why: When you stay right at the entrance to Machu Picchu, you can easily beat the crowds flocking to the Lost City. Visit at daybreak or sundown, enjoying downtime at this oasis of calm. Perhaps you'll take a yoga class, take part in a traditional shaman ceremony or learn to read coco tea leaves. Private sunrise breakfasts and pisco tastings put a special local touch on the experience. Of course, you'll want to explore Machu Picchu in depth and the hotel can arrange for guided excursions, whether walking to the Sun Gate or attempting the challenging climb up Huayna Picchu. Later, indulge in local Oxapampa cheeses, hearts of palm and Sacred Valley mushrooms at Tampu, where floor-to-ceiling windows frame your privileged view.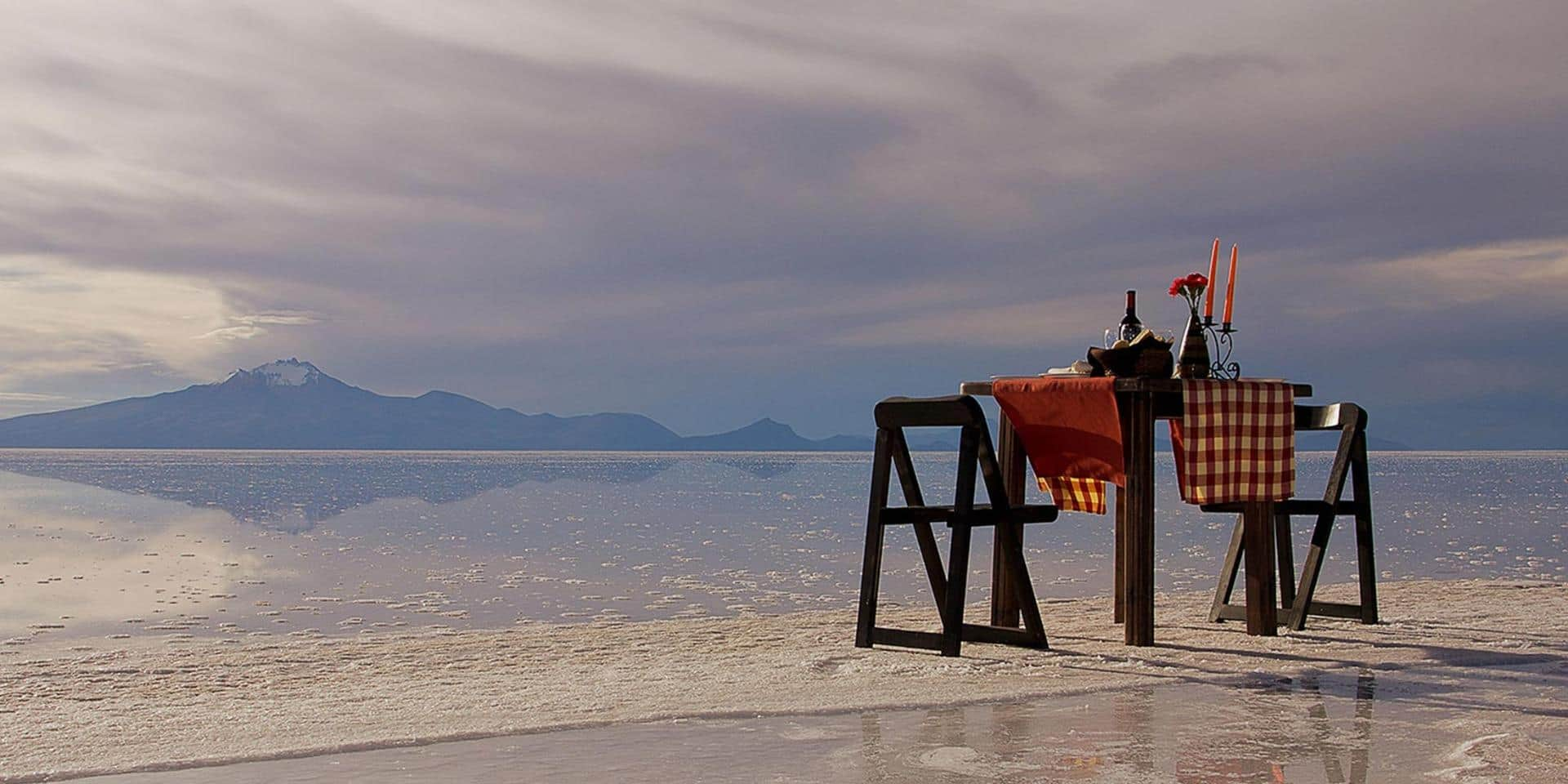 Where: On the banks of the Salar de Uyuni salt flats in Bolivia
What: An upscale and unusual hotel on a white desert that changes colors with the sunset and sunrise.
Why: It's the world's first hotel built entirely of salt blocks – approximately one million, in fact. Everywhere you look, you'll see salt – from the walls and floors to the ceilings and furniture of your room. The palatial, 42-room hotel offers creature comforts (private bathrooms, hot and cold water, central or electric heating and more) and refined personal service in a remote and unique landscape. You'll dine on exquisite meals at El Mesón, featuring – of course – salt, including llama and lamb dishes, and the hotel specialty, salt chicken. A spa influenced by Andean traditions offers the latest in body treatments, as well as a swimming pool and fitness center. From May to November, guests may golf on a 9-hole salt golf course. Just remember – in an attempt to maintain the integrity of the structure, it's forbidden to lick the walls of the hotel.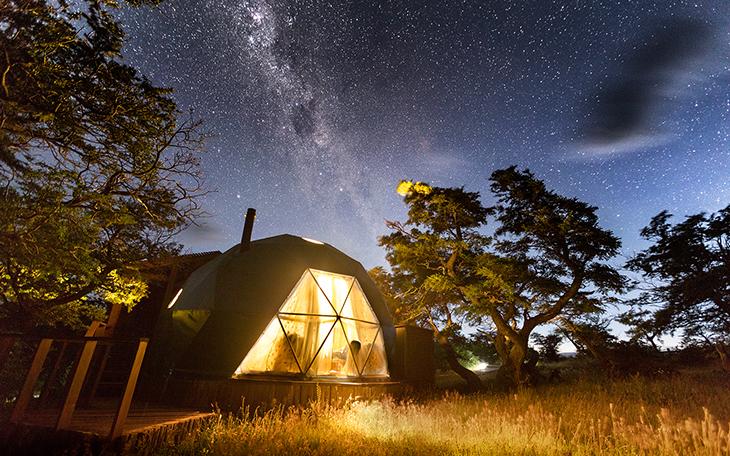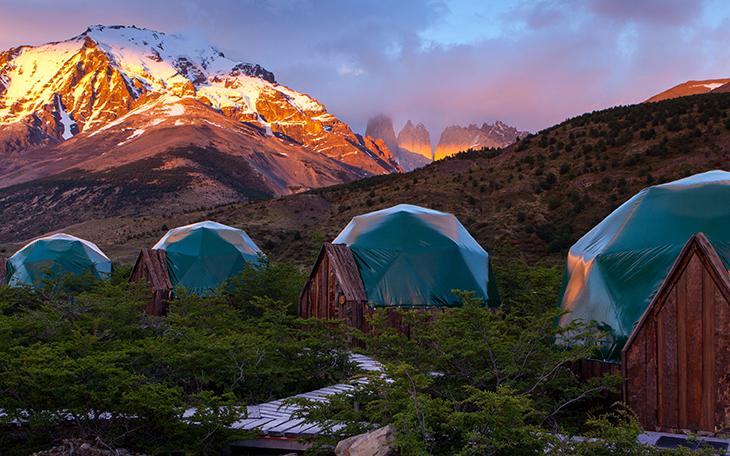 Where: Torres del Paine National Park
What: The world's first geodesic dome hotel.
Why: A chance to stay in the heart of Torres del Paine National Park in accommodations modeled after the ancient shelters of the region's Kaweskar people. In harmony with its natural environs, the lodge offers completely sustainable dome accommodations that don't adversely impact the fragile landscape and, instead, complement its endless outdoor adventures. Hikers on the W or O circuits relish the comforts of the various domes, with amenities ranging from private bathrooms to low-emission wood stoves to terraces for sunset viewing (there are also windows in the ceiling for star gazing from bed). Some of the domes feature an interior loft, allowing small families or groups to stay together in style and comfort. Community domes are the hub of activity, where guests gather for authentic Patagonian lamb barbecues and mingling over a glass of Chilean wine.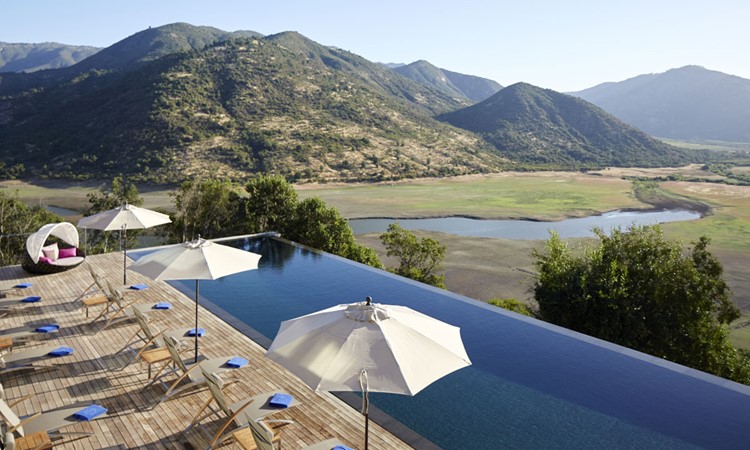 Where: San Vicente, O'Higgins, Chile
What: A surreal, architecturally fabulous winery hotel.
Why: For those who relish fine wines, first-class service and fine art and architecture, Viña Vik is one for the bucket list. From your perch above 11,000 acres of vineyards and lake, the very best view just may be from the hotel's dreamy infinity pool. Inside the Frank Gehry-esque glass and concrete walls, 22 ultra-chic rooms, all designed by Chilean and global artists, offer a vineyard stay like no other. For the ultimate indulgence, consider the Vik Suite, with a hammock-style bath fronting a panoramic window. Guests are encouraged to explore the countryside by horseback or by bike – or to simply stay, sip and spa (wine bath, anyone?). Later, savor a four-course dinner (all meals are included), with everything from Chilean eel to homemade ice cream and, naturally, Villa Cala and Vik wine.
If you're interested in one of these unforgettable and scenic stays, please contact one of our experts today for a free consultation.